ENGLISH CLOCKS FOR THE EASTERN MARKET
By Ian White. The artistry of clocks for the Chinese and Ottoman markets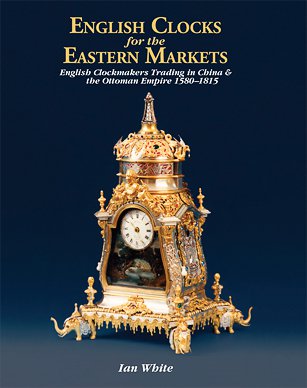 The AHS is delighted to announce the publication of this impressive book on a subject that has perhaps not received the attention it deserves. The artistry of clocks for the Chinese and Ottoman markets represented an important break from the more austere and rigid design formats of most of the clocks intended for the Western European market around the beginning of the eighteenth century. Some amazing works of art were produced that are increasingly being recognised as an important facet of eighteenth-century English art, rather than just ingenious contrivances.
The book is cloth bound, 28cm x 21cm, containing 398 pages and is illustrated with 285 photographs, diagrams, contemporary documents and other illustrations, mostly in colour. Appendices include details of all English clock and watch makers known to have traded with the eastern markets. The book is extensively annotated, and has a bibliography and an index.
Contents:
1 Chinese & Ottoman Time
2 Anglo-Chinese Trade
3 Anglo-Ottoman Trade
4 Luxury, Money & Bankruptcy
5 The Life of James Cox
6 James Cox: The Market & the Money
7 James Cox's Amazing Clocks
8 Design & Artistry: The Chinese Market
9 Ottoman Market Clocks
10 Decline & Loot
In his preface, the author, AHS member Dr Ian White, tells us that his purchase of an eighteenth-century musical clock movement by the London watchmaker George Clarke of Leadenhall Street was the event that breathed life into the idea of writing this book.
Available now.
ORDERING BY PHONE OR POST
Orders may be placed by telephone and paid for by credit or debit card (please note that we are unable to accept American Express at present).
Telephone 020 7062 7479, international +44 20 7062 7479 (24-hour answering machine)
Alternatively, please send your order together with the appropriate remittance to:
The AHS
4 Lovat Lane
London
EC3R 8DT
Cheques should be made payable to 'Antiquarian Horological Society'.
Back to Books