THE MAJESTY OF THE CHINESE MARKET WATCH
By Ian White. The Life and Collection of Gustave Loup of Tientsin and Geneva (1876-1961)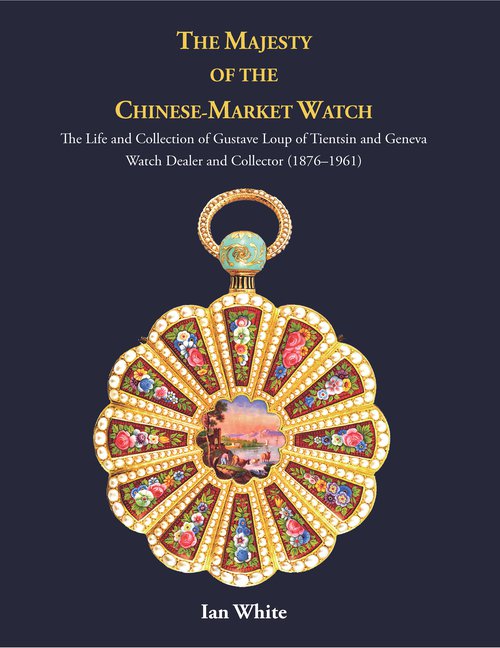 This important new AHS publication charts the history of a remarkable nineteenth century phenomenon—the Chinese market for the finest horological artefacts—and the life and times of the key European collector and dealer in that market, Gustave Loup.
In the chaos following the 1899-1901 Boxer Rebellion, Loup (Chinese-born and fluent) benefited greatly from the depressed values of the exquisite gold, enamelled and jewelled timepieces that the Swiss had exported over the last century into a previously buoyant Chinese market. Living in China, Loup assembled a fabulous collection, but his fortunes later waned, back in Switzerland in the 1930s, and bankruptcy saw the collection broken up. This book charts his remarkable life, the market in which he operated, and examines in detail over 100 of his best pieces. Julia Clarke, the internationally acclaimed Sotheby's expert in gold boxes, enamels and automata, has contributed the chapter on the 'Geneva Fabrique', and co-authored with Ian the section on 'bijouterie' from the Loup collection.
The book is of 384 pages, with over 280 illustrations, mostly in colour, casebound, 270mm x 210mm, in a buckram cloth cover and on 150gsm art silk paper, with head and tail bands and silk ribbon, and a printed dustjacket. Usual price £20, plus postage and packing. The book is extensively annotated, and has both a detailed bibliography and an index.
Contents:
Ch. 1: The Life of Gustave Loup
Ch. 2: Chinese-European Relations, 1835–1950
Ch. 3: Collectors who bought from Loup
Ch. 4: The Geneva Fabrique: Watch Case Makers to Enamel Painters, by Julia Clarke
Ch. 5: The Loup Collection of Watches
Ch. 6: The Loup Collection – Bijouterie, by Ian White and Julia Clarke
Ch. 7: The Loup Collection of Clocks
Ch. 8: Commentary
Appendices
1: A Journey from Tientsin to Peking
2: Report of the Swiss Ambassador to Tokyo
3: An Interview with Gustave Loup
4: The Manufacture and Application of Half-pearls
5: Items bought by Maurice Sandoz from Gustave Loup
6: Makers cited in the Loup Collection
ORDERING BY PHONE OR POST
Orders may be placed by telephone and paid for by credit or debit card (please note that we are unable to accept American Express at present).
Telephone 020 7062 7479, international +44 20 7062 7479 (24-hour answering machine)
Alternatively, please send your order together with the appropriate remittance to:
The AHS
4 Lovat Lane
London
EC3R 8DT
Cheques should be made payable to 'Antiquarian Horological Society'.
Back to Books