Northern Section
To be held at Trinity Methodist Church, Trinity Road, Sale, Cheshire, M33 3ED at 7.30pm, unless otherwise stated
Return to current year
Meetings - 2017
Christmas Social   Horological ephemera  (December 2017)
This was a festive evening of food, drinks and horology. Under the heading, 'Ephemera', members brought in many items which are usually short lived, either because of changes in technology or because of their fragile nature.  Collections of auction catalogues were displayed, some covering the sales of famous clock and watch collections dating back as far as 1968. One illustrated the one-lot sale of a special orrery in 1974, and another covered a library sale. There was a display of clock and watchmakers' stationery, invoices and receipts, a number of watch manuals and a copy of William Congreve's 1808 rolling ball clock patent.  Also on display was a fascinating set of four copper printing plates made for the tool catalogue of Peter Stubs Ltd of Warrington in the mid nineteenth century. A rare clock with with an electrical solenoid rewind system had spent many decades 'resting' under its glass dome. It had no maker's name and was unfamiliar to all members present.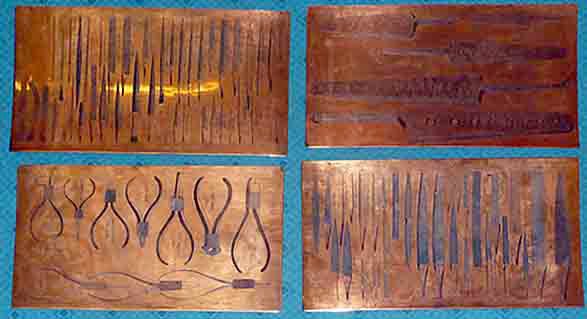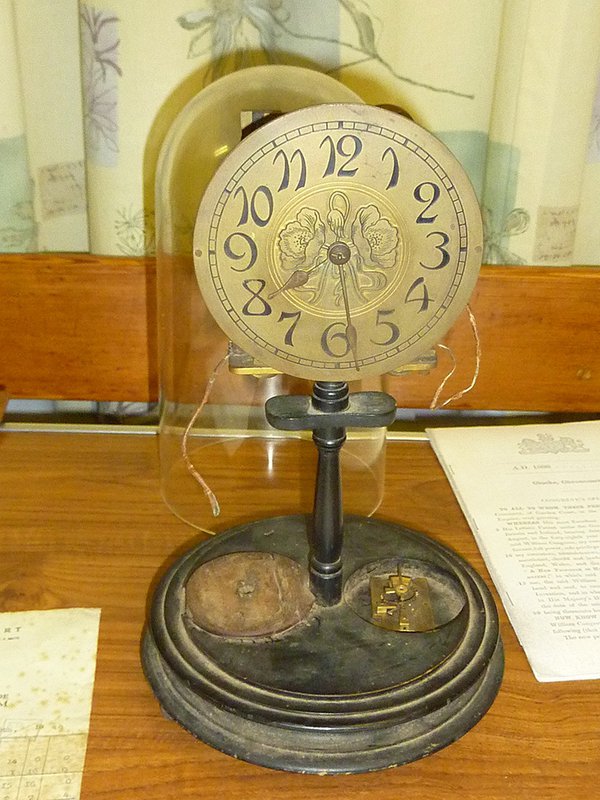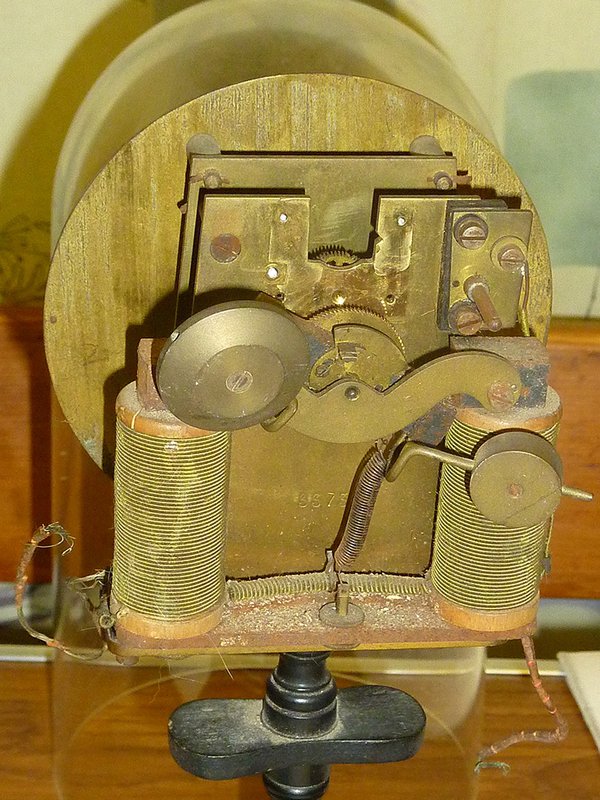 Watch Jewelling   (November 2017)
Ian Greaves spoke on the subject of jewel making which began in England using diamond tools and powder to cut and polish rubies and sapphires. This craft process, used here for more than two hundred years, was difficult to apply and required highly-skilled labour. Scientific innovations in the late nineteenth century by French chemists and the use of 'modern' machinery led to the large scale manufacture of jewels from synthetic ruby in Switzerland, with smaller industries in England, Germany and the USA. During WWII, England and Germany both required imports of jewels, other components and machine tools. For the English, continuity of supply from neutral Switzerland was fraught with difficulties. Ian described the ingenious covert operations which were necessary to ensure our supply.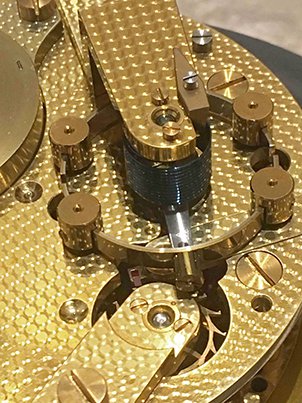 Visit to two collections based in Cheshire   (October 2017)
Members gathered to see two private collections. Cheshire clocks included examples by Gabriel Smith of Barthomley and John Smallwood of Macclesfield, a longcase with pull-quarter repeat by Joseph Smith of Chester, a grande sonnerie longcase by Seddon of Frodsham and a John Buck of Chester lantern clock. Amongst the early London clocks were marquetry longcases by Christopher Gould and Henry Jones, a Dutch longcase once part of the Wetherfield collection and two very fine solar time clocks by Joseph Williamson. Nine turret clocks dating from c.1720 to 1900 were displayed, all bar one were working. There was also evidence of current restoration projects including a new marquetry case in the course of construction, a musical bracket clock requiring attention to its musical train and a moon dial in need of restoration whose lunar age numbering had been over-painted with gloss paint. Members visited the collections in two groups and met up at lunchtime for food and conversation. It was a very enjoyable day.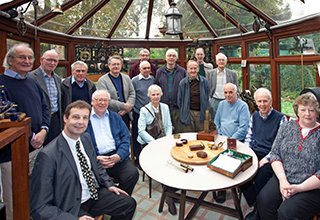 Horological Inscriptions   (October 2017)
Watches, longcase and railway clock dials, sundials, documents and an alarm clock were brought to the October meeting for display and discussion. Inscriptions ranged from makers' names, proverbs, maxims, historical records, sentimental or formal records of achievement and long service, to the details preserved on the graves of clock and watchmakers. Of particular interest was a gold watch signed: 'Lépine inv. & fit' on the dial and a record of its use shortly after the Battle of Waterloo in the British HQ, Paris 1815, was inscribed inside. In a lighter vein, a post WWll children's alarm clock had a verse about the tortoise and the hare inscribed on its dial.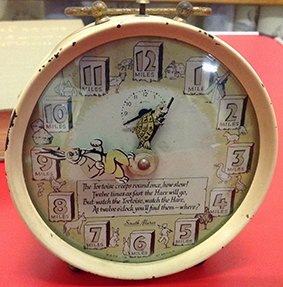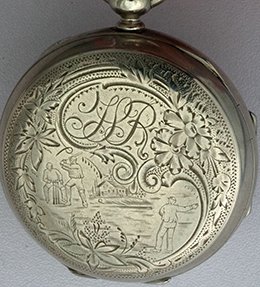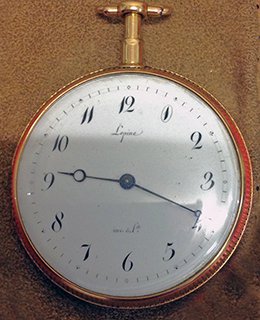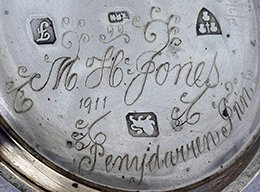 Thomas Cooke: forever on the cusp between greatness and bankruptcy (September 2017)
Darlah Thomas presented the results of recent research into the York firm, T. Cooke & Sons.  From very humble beginnings, the products of Thomas Cooke rose to national and international notice. A large product range was finished to the standard of fine scientific instruments. This came at a price, which was not passed on to purchasers in a bid to be competitive in the market-place. Fame came initially from the quality of their telescopes and from the company's ability to work with processes and materials which others in the same business could not. Cooke's turret and astronomical clocks are works of art which are held in high esteem today. The order book was always full - why then was the company constantly teetering on the brink of insolvency?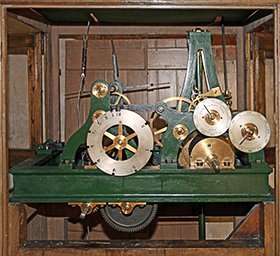 Railway Timekeeping (August 2017)
Members were treated to a display of watches all having been made for railways in the UK and overseas by companies based in the UK, Europe and the USA. Accuracy was vitally important so that trains could run according to timetables and for safety. The latter was vividly illustrated by one member who told us about the Kipton, Ohio, rail crash of 1891 which led directly to the Ball specification for railway watches, which was in use there until trains could be controlled by radio. There were many watches representing several railway companies in the UK, one from Russia, some Swiss examples and several from the USA including the Hamilton below, which was made to Ball's Standard.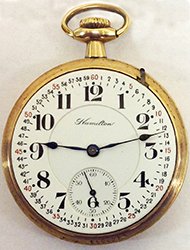 Exhibition Visit  (July 2017 )
A group of members from the Northern Section recently enjoyed a visit to Tennant's Auction Centre in Leyburn to view the 'Clocks of the Vales and Dales' Exhibition. A fascinating collection of clocks from these localities had been brought together by Dr David Severs and his team in aid of the MRI Scanner appeal at the Friarage Hospital, Northallerton. On display were forty-eight longcase clocks, wall and table clocks, watches and barometers, all made between 1720 and 1900. Members enjoyed browsing the exhibits and lunch afterwards.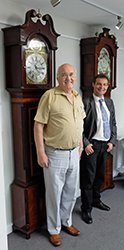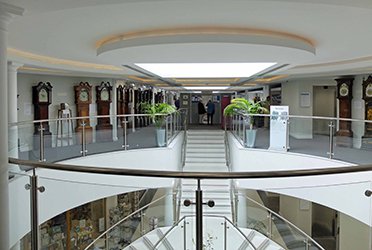 Isle of Man Clocks – Autumn 2016 slideshow (July 2017)
The July meeting was a slideshow of the clocks of the Isle of Man presented by Northern Section member, Colin Walsh. Colin had joined the Midlands Section tour last autumn and had photographed almost every aspect of his trip. Two highlights were the important historic clocks seen in a private collection and the former watchmaking workshop of George Daniels, now run by Roger Smith. High quality hand-crafted watches are still made there and command respect as well as high price-tags. In addition to looking at the horology of the island, the group explored the range of Manx heritage transport.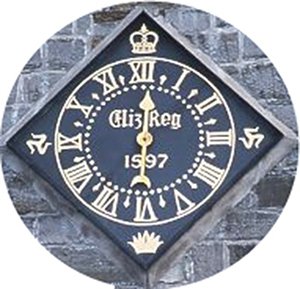 Sun Dials (June 2017)
This was a club night with the theme of sun dials. Members brought in a variety of dials for discussion. There was a typical garden dial with the date 1795 and examples of portable 'shepherd dials' which were easily carried and simple to use. There were two other portable dials. One was a 'Sun Watch Compass', probably made in the late twentieth century, which had instructions for use in its lid and a patent number, maker unknown. The other was similar to the Porter Patent Portable Dials, known as pantochronometers, which combined a floating compass and dial. Users who required as correct a reading as possible could use the equation of time which was pasted inside the lid. An item which aroused much curiosity was a Pilkington & Gibbs Helio-Chronometer, which could be used to determine Greenwich Mean Time. These were patented in 1906 and were manufactured in Lancashire until the outbreak of the First World War.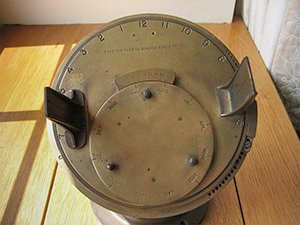 European Turret Clocks (May 2017)
At our May meeting, Andy Burdon gave a talk on turret clocks in England, Switzerland, Germany and Sweden. He treated us to a 'tour' through the manufacturers of turret clocks in the latter three countries and for England, outlined his research on the Loseby family of clockmakers of Leicester.
He also gave us details of a current project involving a clock in a school at Nymfaio, West Macedonia, Greece. This clock by an unknown maker was the subject of much international speculation on the internet regarding its place of manufacture and how and why many strange alterations had been made to the mechanism over the years. Andy had the knowledge and experience to enable him to identify the maker as Jacob Gottlieb Bär Senior of Switzerland. He has since visited the clock and advised on its restoration.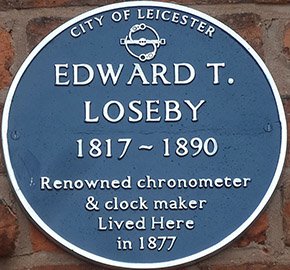 Bring and Discuss: Letter S (April 2017)
April's club night theme was 'Bring and Discuss: Letter 'S'. Members brought in a large selection of pocket watches – stopwatches, split seconds, watches made by makers whose names began with S and those whose makers were located in towns beginning with S, a Breguet 'subscription' watch, and King George V silver jubilee pocket watches. There were three longcase clock dials and movements made by Jerimiah Standring of Bolton and one by Abraham Smith of Wrexham. The electric clocks on view exhibited a plethora of 'S' examples: synchronous movements, self-starting movements, some with subsidiary dials, seconds hands, silvered dials, a slave dial, and Smiths Sectric, Siemens and Synchronome clocks.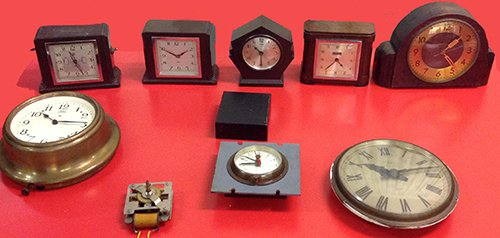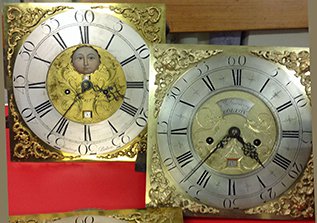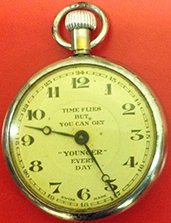 Writing a Horological Book (March 2017)
Our speaker for the evening was John Platt whose talk was entitled 'Writing a Horological Book'. John took us through the stages of archival research, photography and transcription and the stages from the creation of a Word document through to the organisation of images, style sheets, credits and acknowledgements and to the production of files ready for setting out in book form. He outlined the steps to ensure appropriate permissions to publish and where necessary, fees paid, before further progress can be made.
Pitfalls for the unwary were identified and members were given useful advice on finding a publisher. John achieved a balance between entertaining and informing us with great clarity and humility.
John's message to any members who have ever contemplated writing a book was to do so, as his experience, although frustrating at times, had given him years of pleasure in the making, and much fulfilment when the book was produced.  
John's book is entitled 'The Lancashire Watch Company History and Watches'.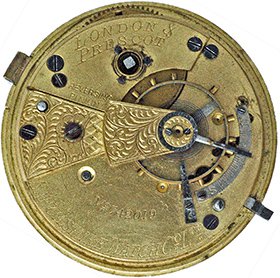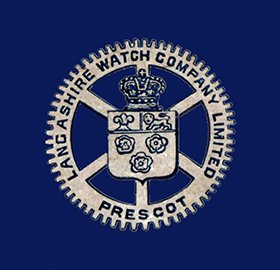 Torsion Clocks (February 2017)
February's club night theme was torsion clocks, and a varied collection of items dating from c.1900 to the 1980s was brought along by members for display and discussion. Clocks included several models by the Gustav Becker and Jahresuhrenfabrik factories, a mid-century Atmos clock, two examples by the Danish company Telavox and many anonymous clocks, the manufacturers and age of which were open for discussion and conjecture.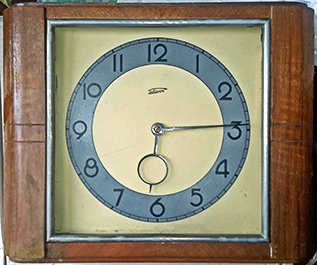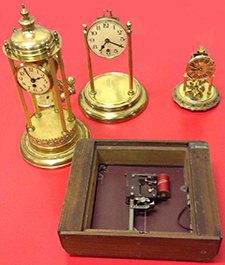 AGM and Making the Harrison H4 Replica (January 2017)
The meeting opened with the Section's 48th AGM. Following this, we were shown the fascinating DVD entitled 'Derek Pratt and the making of the H4 replica'.