Current issue of Antiquarian Horology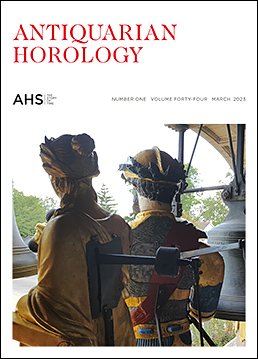 Volume 44, Issue 1 March 2023
The front cover shows a detail of a rear view of jacks and bells, showing fixings, from Sir John Bennett's shopfront on Cheapside, London, re-erected at the Henry Ford, Dearborn, Michigan, USA in 1930. Photo © Mark Frank, 2018. For more information see the article on Jacob Winter's shopfront in Stockport, Cheshire, in this issue.
This issue contains the following articles:
'Prototype lantern clocks. Part 2: Newly discovered clocks'
by John Robey (pages 23–33)
'Two precision clocks by William Nicholson'
by Jonathan Betts (pages 34–42)
Summary: This article describes the two known clocks signed by natural philosopher and scientific journalist William Nicholson (1753–1815). For a short summary of the life and work of this significant figure of the Enlightenment, see the Notes from the Librarian in this issue. (Read this article here)
'An early demonstration of the spiral balance spring by Isaac Thuret'
by Rory McEvoy (pages 43–55)
Summary: In 2009, an unusual seventeenth-century table clock by Parisian clockmaker Isaac Thuret came to light in a French auction room. The unique shape of the case and empty holes on the movement plates strongly suggested that the clock had originally been made to demonstrate the then-new technology of the spiral balance spring. Through study of the clock, its restoration, seventeenth century sources, and recent scholarship, the article presents the dispute over patent rights to the spiral balance spring and opens a discussion on methodologies for dating religieuse clocks of the 1670s.
'Daniel Quare (1648–1724): Yorkshireman, activist, Quaker horologist and businessman'
by Ann McBroom (pages 56–81)
Summary: Excellent accounts already exist of Daniel Quare's horological legacy; 1, 2, 3 this paper is intended as a supplement. A painstaking search for a birth record for Daniel in Somerset, where he reportedly was raised, yielded nothing. 4 The evidence presented here is that he was a Yorkshireman, baptised Daniell Quaer at All Saints Wistow on 1 January 1649, the son of Robart Quaer. 5 My hope is that this will unlock new information about Quare's early life and where and with whom he trained. Daniel Quare was a life-long activist. He worked tirelessly to achieve full toleration for Quakers, but his activism was far broader and included efforts to combat societal injustices in Britain and overseas. The current paper considers how, as a Quaker, he may have navigated his personal and business options.
'The Lepaute tower clock of the future King Louis XVIII in Versailles (1780)'
by Denis Roegel (pages 82–90)
Summary: The clock described in this article is one of the earliest known tower clocks made by Lepaute, and the oldest such clock known with a pendulum length adjustment. It was installed in 1780 in a private mansion in Versailles owned by the future King Louis XVIII. It is in storage in the Musée des Arts décoratifs in Strasbourg.
'Jacob Winter's shopfront in Stockport, Cheshire: its history, context and conservation. Part 1: Jacob Winter 1865 to 1904'
by Steve and Darlah Thomas (pages 91–100)
Summary:Jacob Winter (1865-1935) was a first-generation watch, clock and jewellery retailer who began trading in Stockport around 1890 and whose business continued for a century. His shopfront was adorned with a projecting clock and three automata which chimed ting-tang quarters and struck the hours. Intended to draw public attention to the business, the daily displays did just that and became the town's major attraction. What inspiration lay behind this? We will consider the possibility that sight of John Bennett's emporium on London's Cheapside inspired a young boy, and the coincidences of location and selection of clockmaker which came into play. We look at two clocks made thirty years apart to perform similar tasks and at the recent efforts to conserve one clock's place in the life of a northern town.
'A sphygmochronograph for registering the pulse'
by Thomas Schraven (pages 101–105)
Summary: An ongoing hunt for unusual short-time measurement devices by the Jaquet firm led to the discovery of an early clockwork item for recording the human pulse. This article describes its origins, development and operation.
'Unfreezing Time #13' by Patricia Fara (pages 106–107) (Read the whole series of articles here)
The issue totals 144 pages and is illustrated mainly in colour, and is completed by the regular sections Horological News, Book Reviews, AHS News, Notes from the Librarian, Letters and Further Reading.