Current issue of Antiquarian Horology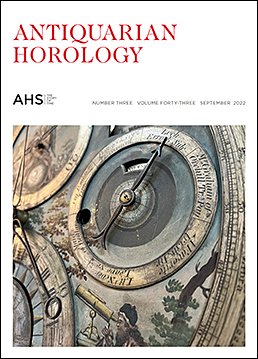 Volume 43, Issue 3 September 2022
The front cover shows a detail from the dial of a longcase clock by Francis Henderson at Gosford House in East Lothian, Scotland. Photo James Nye. It is one of many clocks and watches seen during the highly successful AHS Study Tour to Scotland in May. For an illustrated report of the tour, see pages 413–26 in this issue.
This issue contains the following articles and notes:
'Leonardo da Vinci's spring-driven clocks. Part 2'
by Dietrich Matthes (pages 317–326)
'Illustrations of weight-driven clocks in some early printed books'
by Marisa Addomine (pages 327–335)
Summary: The representation of weight-driven clocks in early printed books is an interesting but relatively little explored topic. In this article an intriguing relationship between clocks, dice, oracular games and Renaissance books is introduced.
'The Athos clock strike locking system. Part 1: Introduction and description of the locking mechanism'
by Spiridion Azzopardi (pages 336–344)
Summary: The author first visited Mount Athos in Greece in the year 2000 with a quest to explore its horological past. Since then, he has engaged in the restoration and conservation of many crown wheel and verge lantern clocks with short pendulums, as well as verge and foliot tower clocks. These projects offered an opportunity to study, document and research these clocks. This paper describes two discoveries and their significance. The first is an unknown and novel clock strike locking mechanism that was discovered on verge and foliot tower clocks at five monasteries. The other was that comparisons drawn between these five clocks have led to these two conclusions: (a) that they all originated from the same workshop and (b) that they were made on Mount Athos.
'Jonathan Paine: 'Inventor of the illuminating dials'. Part 1 – 'the bells pealed merrily, and the people gave repeated cheers'
by James Nye (pp. 345–361)
Summary: Jonathan Purchis Paine (1784–1843) is best known as the maker of a series of turret clocks of fine quality, installed across the UK from the mid-1820s to the early 1840s. On the setting dials of some of those clocks, Paine added references to his wider work for Royal locations, the Office of Works and the General Post Office. He received two Silver Medals from the Society of Arts: one for a system of back-illuminated public clock dials and the other for an improved version of the Graham dead-beat escapement. Paine's illuminated dials paved the way for the widespread adoption of the opal-glass dials with which we are familiar in public clocks. Clocks broadly corresponding to his 'house style' continued to be made by Elisha Tucker into the 1870s, and perhaps later. This article describes Paine's life, the lively part of London where he was based – with a somewhat dysfunctional family – and assesses his contribution.
'Benjamin Martin's 'Table clock upon a new construction' '
by Guy Boney Q.C. (pages 362–373)
Summary: In 1770, Benjamin Martin (1704/5–82) published a tract describing a table clock 'upon a new construction'. The author has established that in total five examples of this clock are currently known to exist, including one which he acquired in 1968, and discusses and illustrates in this article. (Read this article here)
'Materials expertise and networks: The case of Johann Conrad Fischer (1773–1854)'
by Artemis Yagou (pages 374–386)
Summary: The late eighteenth and early nineteenth centuries constituted a transitional period when new, dynamic forces of industrialisation were unfolding all over Europe. At the same time, this was a period of increased physical mobility, in which portable clocks and watches were highly sought after. Watchmaking depended on the interactions and interrelations of many different domains and practices, including the production of steel, a material crucial for making reliable springs and other watch parts. Johann Conrad Fischer (1773–1854), a metallurgist from Schaffhausen, Switzerland, provided quality steel to Swiss, French and English clock- and watchmakers. Fischer's case illuminates aspects of the wider technical system surrounding watchmaking..
'Unfreezing Time #11' by Patricia Fara (pages 258-259) (Read the whole series of articles here)
The issue totals 144 pages and is illustrated mainly in colour, and is completed by the regular sections Horological News, Book reviews, AHS News, Notes from the Librarian, Letters and Further Reading.