Current issue of Antiquarian Horology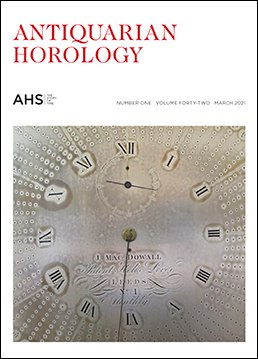 Volume 42, Issue 1 March 2021
The front cover shows a detail of the dial of Joseph MacDowall's regulator at the Yorkshire Museum, one of the clocks discussed in this issue by Angus Bell and Kenneth Cobb.
Photo © Kenneth Cobb courtesy of York Museums Trust.
This issue contains the following articles and notes:
'Charles and Joseph MacDowall and their helical clockwork'
by Angus Bell and Kenneth Cobb (pages 21-41)
Summary: This article describes the lives and works of Charles (1790–1872) and Joseph (1805?–1865) MacDowall. After working together in partnership at Leeds they moved to London where, independently, they continued to produce highly unusual helical-geared clockwork. Clocks described include the month-going skeletons for which the MacDowalls are best known and a unique longcase regulator. Helical gearing in clockwork by other makers is reviewed. A detailed examination of the MacDowalls' helix lever is described in a Technical Note
'Technical Note: An examination of the MacDowalls' helix lever gearing'
by Angus Bell and Kenneth Cobb (pages 42-49)
Summary: As described in the main text, the MacDowalls used a form of helical gearing — the helix lever — which they claimed had several advantages over spur gearing when used in clockwork. This Technical Note describes the differences between spur and helical gearing and examines in detail the specific form of the helix lever system. Evidence from this examination forms a basis for suggesting the manufacturing methods that the MacDowalls might have employed. Finally, the claimed attributes of the helix lever are discussed. The foundation of the Technical Note was an investigation by the second author for an MA thesis at West Dean College.
'Horological tradesmen and a Victorian directory scam – the Londoniad'
by D. J. Bryden (pages 50-60)
Summary: Almost annually from 1856 for some thirty years, J. T. S. Lidstone wrote and published the Londoniad. It purported to be a directory informing readers of the products of carefully selected leading London businesses. In essence Lidstone charged the clients whom he praised in verse. His claims of influence and a wide circulation in Canada were quite bogus. His verse was execrable. Some twenty horological practitioners were caught-up in a web of deceit that was exposed in the courts and ended in bankruptcy.
'French carriage clocks and late nineteenth-century decorative arts: Artistry in an era of art reform'
by Larry L. Fabian (pages 61-82)
Summary: The artists who decorated the dials and panels of fine Parisian carriage clocks during the second half of the nineteenth century experimented with a panoply of Aesthetic ideas and design vocabularies drawn from Rococo, Revivalist, Neoclassical, Romantic, and Japanese-influenced themes. The breadth of their artistic sensibilities is observable in illustrations found in standard carriage clock literature and in less accessible but publicly available exhibition monographs, international auction catalogues, and dealers' inventories and archives. Their inventive and varied artistry interpreted visual styles that had become newly fashionable in Victorian fine art and in the decorative arts generally, and their collaboration with Parisian ateliers made these clocks more marketable in their time and more appreciated in ours.
'John Kaye of Liverpool – Can his clock predict the time and height of high water at Liverpool? '
by Steve and Darlah Thomas (pages 83-96)
Summary: Much has been written about rolling moon tidal dials which show the time of high water at a particular location. The clock by John Kaye, which provides the focus for this article, has a universal tidal ring attached to its moon dial, but also shows the time, and uniquely the height of high water, using three other parts of its dial, namely: data engraved on a fixed arch (above the moon dial), data engraved on a subsidiary dial showing the effects of the moon's elliptical orbit, and data engraved on a second subsidiary dial showing the effects of wind speed and direction. Our purpose was to understand and use this extra data and to establish its accuracy (particularly the heights of high water) both when it was made c.1775 and today. In addition, the clock took us on a round-the-world voyage, led by the locations on its chapter ring; the accuracy of the placement of these and the reasons for their selection was also studied. (Read this article here)
'A process superior to any previously known. The introduction of electro-gilding for watches in mid nineteenth-century England'
by Michael Edidin (pages 97-102)
Summary: Traditional fire gilding of brass produced a beautiful appearance at the cost of human suffering from mercury poisoning. The development of electrochemistry in the 1830s and 1840s led to the displacement of fire gilding. Electro-gilding was more economical than fire gilding as well as safer for workers. A pamphlet of 1844 makes it clear that by this time electro-gilding was heavily used, but does not specifically mention its use for watch gilding. I have investigated the change from fire gilding to electro-gilding in a time series of watch movements by one maker, M.I. Tobias and Co. of Liverpool. There are sufficient data on M.I. Tobias watches to allow association of serial numbers with dates. Trends in gilding quality and composition make it clear that there was a sharp transition in gilding methods about 1845. This transition likely reflects trade practice generally.
'Harrison and Grimthorpe – the missing link'
by Geoff Sykes (pages 103-107)
Summary: This article discusses a flatbed turret clock in the parish church of Great Langdale in the English Lake District, installed in 1858 by James Harrison of Hull. A recently discovered letter provides proof that the clock was closely based on the design of a clock by E. B. Denison, Lord Grimthorpe.
'Unfreezing Time' by Patricia Fara (pages 108-109) (Read this article here)
The issue totals 144 pages and is illustrated mainly in colour, and is completed by the regular sections Horological News, Book reviews, AHS News, Notes from the Librarian, Letters to the Editor and Further Reading.