Current issue of Antiquarian Horology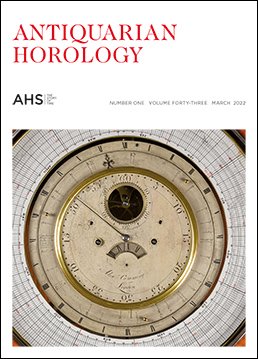 Volume 43, Issue 1 March 2022
The front cover shows the centre of the dial of Alexander Cumming's own barograph clock, dated 1766. Photo © The Board of Trustees of the Science Museum. The clock, together with four other surviving barograph clocks made by Cumming, is discussed in this issue by Jonathan Betts. His article and the article by Charlotte Rostek are based on lectures given at the AHS Annual Meeting held at Greenwich in May 2019.
This issue contains the following articles and notes:
'Huygens's pendulum clock invention — conclusive proof of its first printed image'
by Sebastian Whitestone (pages 25-37)
Summary: Narrative histories of Huygens's invention continue to be wide of the mark. Over a century ago, Coster's simple domestic timepiece was put at the centre of the story, completely missing Huygens's aim of Longitude chronometry. Other accounts portray him labouring with a modified balance-wheel clock when he was testing a seconds-indicating regulator. Placing his Horologium model of 1658 as his first developed design lands on the other side of the target, out by a year-and-a-half. Fortunately, there is a 1657 image that sets the record straight, but such is the resilience of muddle, that a proof of its date is now necessary.
'The Third Earl of Bute's patronage of Alexander Cumming'
by Charlotte Rostek (pages 38-47)
Summary: The Scottish clock and watchmaker Alexander Cumming (c. 1732–1814) owed much to his two major Scottish patrons, Archibald Campbell, Third Duke of Argyll (1682–1761) and Campbell's nephew, John Stuart, the Third Earl of Bute (1713–1792). While the former is known to have fostered young Cumming throughout the first decade of his career in Scotland, the role of the latter in influencing Cumming's career in London is less well understood. This article examines the available evidence, assessing existing scholarship and Cumming's own 1812 publication to reveal a relationship which at times attains the status of partnership working to advance science through technology.
'The horological career of Alexander Cumming'
by Jonathan Betts (pages 48-70)
Summary: Alexander Cumming (c.1732–1814), a Scottish-born watchmaker and mechanician, epitomises the eighteenth-century Enlightenment phenomenon of the 'local boy made good', attracting encouragement from aristocratic supporters and ultimately gaining acclaim and patronage from the King himself. Cumming had a particular interest in precision timekeeping and, in addition to new designs for precision watches and a longitude timekeeper, one of his most beautiful creations was a ground-breaking form of regulator which incorporated a barograph: a clock constantly recording the barometric pressure with a pen moving automatically on a paper chart. This article describes these exquisite examples of horological technology, reviews Cumming's other interests in precision timekeeping, and summarises what we know of his life.
'The 'Kew trials'. Reflections of the highs and lows of English watchmaking'
by Mike Dryland (pages 71-87)
Summary: This article looks at the 'Kew' watch trials from 1884 to about 1925, as reported by the Horological Journal (HJ), and what the trials tell us about the watch industry in the period, and about the rise and fall of the trade in England. Back copies of the Horological Journal have been digitized and made available on-line to members of the Antiquarian Horological Society (AHS). Much of the material in this paper is based on analysis of contemporary reports in the HJ.
'The changing face and place of John Bennett, 1846–1963 Part 2 – The twentieth century'
by David Rooney (pages 88-101)
'Four watchpapers, excavating layers of history'
by Su Fullwood (pages 102-107)
Summary: Exploring how random finds and discoveries can help uncover the lives of those involved in horology at grass roots level. In this example, providing a timeline from a stratigraphy reminiscent of an archaeological excavation which uncovers the history and wider social implications of these often untold stories. (Read this article here)
'Unfreezing Time #9' by Patricia Fara (pages 108-109) (Read the whole series of articles here)
The issue totals 144 pages and is illustrated mainly in colour, and is completed by the regular sections Horological News, Book reviews, AHS News, Notes from the Librarian, Letters and Further Reading.