Recent issues of Antiquarian Horology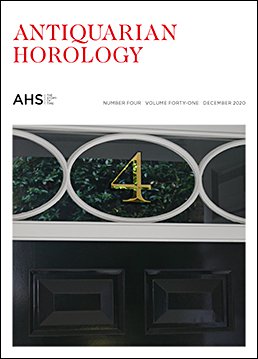 Volume 41, Issue 4 December 2020
The front cover shows the front door of 4 Lovat Lane, the new headquarters of the AHS. The painting of number '4' to the reverse of the glass fanlight was done by Peter Anthony, a traditional signwriter, who spent a day working in gold-leaf. For more information, see the Chairman's update in AHS News.
This issue contains the following articles and notes:
'The Adam clock — the Suffolk connection'
by John A. Robey (pages 462-472)
Summary: Circumstantial evidence is presented that suggests that the Adam lantern clock,  first described in this journal in September 2010, was made near Bury St Edmunds in West Suffolk, possibly by Robert Sparke who is Suffolk's earliest recorded clockmaker, or more likely by his son William Sparke. An unusual lantern clock signed for Luke Cocksedge, who was probably its owner, and not a clockmaker, may also have been made by William Sparke.
'A comparative analysis of twelve manuscripts of Giovanni Dondi's astrarium'
by Guido Dresti and Rosario Mosello (pages 473-504)
Summary: Between 1365 and 1381 Giovanni Dondi (c. 1330–1388) built a magnificent mechanical apparatus which predicted the position in the zodiac of the seven 'movable' bodies (Sun, Venus, Mercury, Moon, Saturn, Jupiter, and Mars) rotating around the Earth. Besides Dondi's declared aim of demonstrating the reliability of the Ptolemaic model of the Universe by his instrument, the instrument was found to be useful and appreciated for its ability to determine astrological matters, so much so that Gian Galeazzo Visconti, lord of the Duchy of Milan, put it in the library of the Pavia Castle. The astrarium was supplied with a manuscript containing details of its construction and maintenance, which included accurate drawings. This was new for that period in history and makes the manuscript and subsequent copies of great historical value. The astrarium was lost in the first half of the sixteenth century, but evidence of its existence was retained in manuscripts, of which there are twelve different copies, held in ten different European libraries. In this article, after a short description of the astrarium and its use at the Pavia court, we will describe and compare the twelve manuscripts, with special attention to the drawings, in order to highlight and discuss the differences.
'The Wellington clock tower of Swanage'
by Chris McKay (pages 505-520)
Summary: The Wellington clock tower, situated right on the water's edge in the Dorset sea-side town of Swanage, started its life in Southwark, London, in the 1850s, when it was fitted with a clock supplied by the Greenwich watchmaker George Weedon Bennett (1816–1859). In 1868 it was demolished and removed to Dorset, where it was re-erected. The clock did not come with it, and the tower has been without a clock ever since.
'The Chandos Delander'
by Jeremy Evans and Ann McBroom, with appendices by Richard Garnier and Guy Boney (pages 521-530)
Summary: Sadly, we often do not know who commissioned or originally purchased the spectacular clocks and watches from the seventeenth and eighteenth centuries that still survive. This paper, however, identifies James Brydges, 1st Duke of Chandos, as the person who commissioned from Daniel Delander the extraordinary weight-driven clock that came to light again when it appeared at auction in 1989, to be auctioned again in 2002, and which is now in the John Taylor Collection. (Read this article here)
'Bahne Bonniksen, inventor and manufacturer of the karrusel watch. A biography of a famous Coventry watchmaker. Part 4. The great inventor'
by Clare Woodward (pages 531-538)
[Continued from Antiquarian Horology September 2020, pages 319–340]
'Nicolas Hanet  — a new discovery'
by Ben Hordijk (pages 539-545)
Summary: As the author has argued in his 2018 book on this maker, Nicolas Hanet (c. 1625–1687) can be considered to be the father of the pendulum clock in France. In this article, the remains of a movement signed 'Hanet' are presented and dated to 1674/1675. The possible significance of a satyr head engraved on the back plate is also discussed.
'Celebrating a tower clock'
by Jennifer Speake and Anthony Turner (pages 546-551)
Summary: In 1660, the Jesuit Ippolito Grassetti (1603–1663) published a book of epigrams.  One of these, 'Horologium', which is 64 lines long, has a tower clock as its subject, and is reproduced and translated in this article.
'Unfreezing Time' by Patricia Fara (pages 552-553) (Read this article here)
The issue totals 144 pages and is illustrated mainly in colour, and is completed by the regular sections Book reviews, AHS News, Letters to the Editor and Further Reading.
Top of Page
---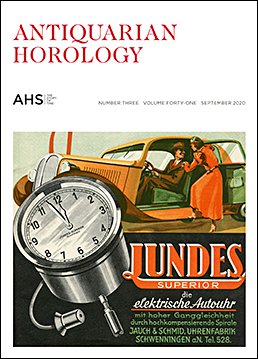 Volume 41, Issue 3 September 2020
The front cover shows part of a leaflet, dated 1937, issued by Jundes, between the wars the biggest producer for electrical car clocks in Germany. See the article by Johannes Graf in this issue.
This issue contains the following articles and notes:
'Bahne Bonniksen, inventor and manufacturer of the karrusel watch. A biography of a famous Coventry watchmaker. Part 3. The success of the karrusel watch, continued' 
by Clare Woodward (pages 319-340)'
'The earliest masters of the Paris Clockmakers' Corporation: a new account based on archival sources and surviving works'
by Catherine Cardinal (page 341-356)
Summary: In 1544, seven Paris clockmakers obtained the establishment of a guild so that their qualifications should be officially recognized. Fifteen other makers could claim the right to be members. A list  dated 1545 in the Chatelet archives enumerates them and specifies the masterpiece that most of them would  still have to make. In complement to this valuable document, investigations in archives and collections allow our view of the careers and productions of the first Paris masters to be enlarged.
'Time on the dashboard. Car clocks from Germany'
by Johannes Graf (pages 357-372)
Summary: Car clocks only rarely appear in any coverage of the history of horology. If they do, it is generally pre-Second World War mechanical versions that are investigated. Here, for the first time, an overview of the entire history from early beginnings to the present day is offered. Using the situation in Germany as an example, the developmental path of the car clock is charted – a path we assume to be comparable to that in other countries. It reveals that at times Germany played a leading role – for example in making the first cheap quartz timepieces, numbered in their millions from 1970 onwards. In fact, it was the car clock which kicked off the ground-breaking changes wrought by the quartz crisis for the clock and watch industry in general.
'Should Breguet's box chronometer No. 2741 be run? The potential of decision-making protocols in horological conservation'
by Peter Toot (pages 373-382)
Summary: This article aims to demonstrate the possibility of applying decision-making protocols in decisions related to collections management and conservation treatments of horological objects. The paper outlines the creation and application of an illustrative decision-making protocol to determine if Breguet's No. 2741 should be run. This model demonstrates the potential of decision-making protocols in our field.
'A miniature time ball from Synchronome'
by Norman Heckenberg and Anthony Roberts (pages 383-388)
Summary: In the first decades of the twentieth century, several electric clock manufacturers offered miniature time balls to be used in shop window displays. We have restored one made by Synchronome and used by Prouds Electric Clocks and Scientific Instruments, Sydney, Australia. We also describe a period-style controller we made to operate it automatically. (Read this article here)
'A chronometer watch, signed Sidney Better, rediscovered'
by Phillip Arnott (pages 389-395)
Summary: An important article by Paul Myatt on Sidney Better and his work was published in this Journal in March 2011. During the Second World War, Better supplied the Admiralty with a small number of high-quality centre seconds deck watches (chronometer watches), using movements that had been made some thirty years previously, in the last decade of fine English watchmaking. Only a handful of Better's watches are known to survive, two of which have karrusel movements. One of these has recently reappeared, after an absence of forty years, and is the subject of this article.
'A Florentine clock from 1546, showing hours, minutes and seconds'
by Marisa Addomine (pages 396-399)
Summary: What may be considered the earliest known record for a clock showing seconds was discovered in one of the workshop notebooks written by members of the Della Volpaia family in Florence.
'Two more diamond dials'
by John A. Robey (pages 400-401)
Summary: Two more clocks with diamond dials, also known as lozenge dials, can be added to that recorded by Martyn Pettifer in AH June 2020, pages 209–13.
'Unfreezing Time' by Patricia Fara (pages 402-403) (Read this article here)
'Picture Gallery: Nineteenth-century French sales literature: Help Needed!'
by Jonathan Betts (pages 404-410)
The issue totals 144 pages and is illustrated mainly in colour, and is completed by the regular sections Horological News, Book reviews, AHS Programme, AHS News, Letters to the Editor and Further Reading.
---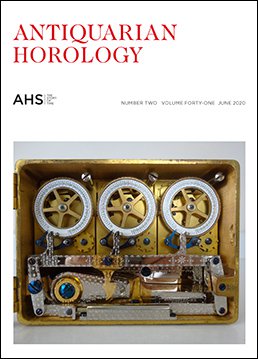 Volume 41, Issue 2 June 2020
The front cover shows a time lock for a bank vault, Sargent & Greenleaf Model Triple D, dated c. 1896. From the private collection of time locks of Mark Frank, which is the subject of the Picture Gallery in this issue.
This issue contains the following articles
'English lantern clocks with an original balance'
by John A. Robey (pages 177-196)
Summary: Very few balance lantern clocks avoided being updated to a pendulum, either with a verge escapement or a later anchor escapement, though many have been reconverted back to balance in recent times. Those that survived conversion are now eagerly sought after by collectors as examples of the earliest English domestic clocks. They are often said to number 'only a handful', but twenty-one are claimed to have an original balance escapement. After outlining the features that need to be considered when deciding on a clock's originality, all those known to the author that are said to be original are discussed. Seven of these clocks are regarded as being largely original, another seven do not appear to have ever been converted to a pendulum, but parts (such as the verge and/or the crownwheel) have been replaced due to wear. A possible four clocks may be unaltered, but their originality is not confirmed, while three clocks said to have an original balance are likely to be reconversions.
'Revelation in revision. How alterations to a woodcut block change the history of Huygens's pendulum clock invention'
by Sebastian Whitestone (pages 197-208)
Summary: When first presented to this Society twelve years ago, the evidence of the eighteenth-century scholar Benjamin Martin delivered a triple iconoclasm. One of Huygens's last clocks became his first, its maker appeared to be French instead of Dutch, and an unknown pamphlet replaced Horologium as Huygens's first description. The clocks of Salomon Coster, thought to represent Huygens's first design, were revealed to be a simplified, domestic-market version of a scientific invention aimed at Longitude. This paper presents additional documentary evidence that informs and endorses this revision, including the first presentation of an introduction to a 1657 Latin description of the invention that was mentioned by another eighteenth-century historian. It also explains in more detail how Martin's evidence is crucially verified by alterations to a woodcut block that reflect the inventor's improvements.
'Another Diamond'
by Martyn Pettifer (pages 209-213)
Summary: The article in the June 2018 journal by Jonathan Betts about the seventeenth-century painting known as The Paston Treasure is one of a series of interesting articles in the horological press in recent years highlighting the historical importance and rarity of 'diamond clocks'. This note describes a previously unreported diamond recently found in southern Ireland which resembles the Paston image in a number of respects.
'Getting the right time. Liverpool's contribution in the mid-nineteenth century. Part 2'
by Steve and Darlah Thomas (pages 214-234)
'Bahne Bonniksen, inventor and manufacturer of the karrusel watch. A biography of a famous Coventry watchmaker. Part 2. The success of the karrusel watch'
by Clare Woodward (pages 235-246)
'Ray Mellor and the Cabot Watch & Clock Company – a brief oral history'
by Jonathan Hughes (pages 247-253)
Summary: This article is based on extracts from recordings of Raymond Mellor, the founder of the Cabot Watch & Clock Company ('CWC'), in conversation with Vicky Bliss in September 2018, talking about his years in the merchant navy, his role as UK Managing Director of the Swiss-based Hamilton Watch Company, and the history of CWC since 1972. It is not a comprehensive history of CWC nor a catalogue of all the watches produced by CWC over the years, but captures Ray's memories and thoughts about his time in the watchmaking industry in his own inimitable and direct style.
'Picture Gallery: Time locks'
by Mark Frank (pages 256-263)
Summary: Time locks, built into the doors of bank vaults to reduce the risk of burglary, were introduced in the USA in the later nineteenth century. They are a largely overlooked part of horology. Many are beautifully constructed and finished. This Picture Gallery presents a small selection from the author's time lock collection containing over 350 examples. (Read this article here)

as well as one shorter note:
'Unfreezing Time' by Patricia Fara – on a portrait of Dorothy Hodgkin in the National Portrait Gallery (pages 254-255) (Read this article here)
The issue totals 144 pages and is illustrated mainly in colour, and is completed by the regular sections Horological News, Book reviews, AHS Programme and Calendar, AHS News, Letters to the Editor and Further Reading.
---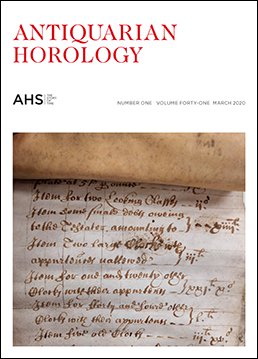 Volume 41, Issue 1 March 2020
The front cover shows a page from the probate inventory (1666/67) of the London clockmaker Thomas Knifton, discussed in this issue. The inventory reveals that at the time of his death, there were no fewer than 92 clocks in his estate: 67 new ones in stock, and 25 described as 'old'.    
This issue contains the following articles
'Getting the right time. Liverpool's contribution in the mid-nineteenth century. Part 1'
by Steve and Darlah Thomas (pages 20-43)
Summary: Developments in the design of chronometers following on from Harrison, by Earnshaw, Arnold and others improved navigation considerably, but errors were still made which led to both human and monetary losses well into the nineteenth century. Liverpool's Observatory was in operation from 1844 with the principal objective to rigorously test chronometers to gain a better understanding of the problems and propose solutions. In addition, the Rainhill trials of 1829 had led to a rapidy expanding railway network which covered most of the country by 1850. Newly-travelling citizens needed accurate public clocks with access to Greenwich Mean Time as did mariners leaving our ports. In Liverpool, as in many other towns, public clocks were often unreliable. During the years up to about 1870, Liverpool Observatory led the country in both chronometer testing and in its approach to the dissemination of accurate Greenwich Mean Time.
'Bahne Bonniksen, inventor and manufacturer of the karrusel watch. A biography of a famous Coventry watchmaker. Part 1. The early years'
by Clare Woodward (pages 44-56)
Summary: In the early 1890s, Bahne Bonniksen (1859–1935) invented a watch incorporating a revolving carriage, the karrusel, which offsets changes in rate when the watch is moved. This made its time-keeping more precise and karrusel watches became a huge success story for both Bonniksen and the English watch trade. For over a decade karrusel watches achieved phenomenal success at the all-important watch trials. Bonniksen's inventive genius, enthusiasm and commitment also led him into many other related fields. This article, which will be published in four parts, provides insight into his life and career.
'Spiridion & Son, Cardiff, 1844–1964'
by William Linnard (pages 57-67)
Summary: This is the history of a young Polish lad, his adventurous early life as a refugee in central Europe and around the Mediterranean in the middle of the nineteenth century, his unusual grounding in watchmaking, followed by apprenticeship in the West End of London, and his successful career as the head of a family business and the leading watch- and clock-maker and jeweller/goldsmith in the commercial heart of Victorian Cardiff. The firm traded under the name Spiridion for three generations and well over one hundred years, though in the twentieth century its focus gradually changed to that of ophthalmic opticians. In Cardiff the family befriended a Polish seafarer who later became famous as Joseph Conrad, and Conrad borrowed a few elements of Spiridion's life-story and used them in his novels.
'Carriage clocks identified with Dent and Paris in their signatures'
by Thomas R. Wotruba (pages 68-75)
Summary: The name of Dent is well-known and highly respected among horologists and specifically among carriage clock enthusiasts. And the geographic location of Paris represents a major center of development regarding the early history and subsequent growth of carriage clock activity. But the name Dent is English and clocks made by Dent family members emanated from England, while the location Paris is in France. So how did these two come together? Insights and evidence concerning how this name and this place became directly associated are the basis of this article.
'Thomas Knifton, beginnings, middle, ends'
by James Nye and Caitlín Doherty (pages 76-82)
Summary: Thomas Knifton (1616–67) was a prolific maker of lantern clocks, operating in Lothbury from the beginning of the Civil War through to the Great Fire. An inventory of his estate yields some fascinating detail, unpublished until now. This article offers new biographical detail and a transcription of the inventory. Details of the large stock held by Knifton at his death should excite further comment.
'The water clock at Loch Head Dinnet'
by Chris McKay (pages 83-88)
Summary: During most of the first half of the twentieth century, a cottage in the Scottish village Dinnet had a clock powered by a water wheel, constructed by resident gardener and woodworker George Coutts. The clock does not survive, but is recorded in a series of postcards which have captured its popularity.
'A monumental longcase clock by Domenico De Vita, Naples, dated 1891'
by Marisa Addomine (pages 89-94)
Summary: The classical biographical dictionary of Italian clockmakers, written by Enrico Morpurgo in 1972, has a short entry for Domenico De Vita, a Neapolitan maker known to Morpurgo by a sole clock, a monumental longcase one. In 2019, this clock re-appeared in the antiquarian market, and was acquired for a Milanese collection. The author was asked to investigate. This was a perfect opportunity to explore the almost unknown territory of clockmaking in Southern Italy, at least for turret clock makers, and to describe a really unusual item, bearing witness to the high quality of Neapolitan production at the end of the nineteenth century.

as well as three shorter notes:
'Women and Horology. Report on work in progress'
by Su Fullwood and Geoff Allnutt (pages 95-97) (Read this article here)
'Unfreezing Time'
by Patricia Fara (pages 98-99) (Read this article here)
'Lewis Ollendorf – Watchmaker of Maidstone'
by Barnaby Smith (page 100)
The issue totals 144 pages and is illustrated mainly in colour, and is completed by the regular sections Book reviews, AHS Programme and Calendar, AHS News, Letters to the Editor and Further Reading.
---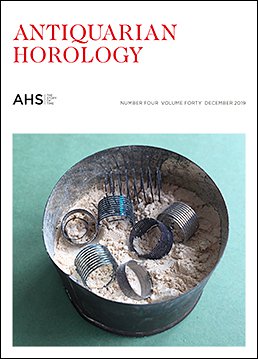 Volume 40, Issue 4 December 2019
The front cover shows a small tin (dia 54 mm) containing a variety of springs, preserved in what seems to be lime, one an Arnold type. For this and other interesting items from the Usher & Cole workshop, see the Letters to the Editor. Photo Patrick Camerer Cuss.
This issue contains the following articles:
'Was there high-quality, wholesale movement manufacture in seventeenth-century London?'
by Jon Parker (pages 469-486)
Summary:  'One can find common features on clocks by a variety of makers which must indicate that they came from the same source.' This 1982 quotation, from the book Early English Clocks, relates to an intriguing series of clocks that Dawson, Drover and Parkes (DDP) identified. The broad proposition of this article is to take an impartial look at that statement and investigate the claim that there exists a series of clocks, signed by various makers, fitted with movements supplied by a single manufactory in the period 1660–1720. It is well accepted that, from the mid-eighteenth century, the practice of clock retailers sourcing whole movements from another supplier and simply signing the product was well established. The question begged by the DDP statement is simply: 'was this practice already in place in the London clock-making industry during the second half of the seventeenth century?'.
The aim of this article is to introduce to AHS members a research project, funded by the Society, and being carried out by the author, to investigate this subject further. It is hoped that by looking impartially at available evidence, and also by attempting to gather further data from other clocks, it will be possible to make an informed judgement on the question. (Read this article here)
'Time before the oscillator. Horology in the thirteenth-century manuscripts of the Libros del Saber'
by Sebastian Whitestone (pages  487-500)
Summary: When King Alfonso X of Castile and León, 'The Wise' (1221–1284) ordered the translation into Castilian of mainly Arabic texts on astronomy and time measurement, the mechanical clock, as defined by the use of an oscillator, was unknown. The resulting books describe a variety of instruments including astrolabes, sundials, mercury and water clocks, derived from manuscripts, many of which are now lost, written between the ninth and twelfth centuries. They are a testament to the eastern nurture of science that was largely lost to the West after the break up of the classical world, and they are the fruit of an extraordinary synergy between Jewish, Christian and Muslim scholars at a time of religious warring. No version exists in any modern language, and they have been largeley neglected in the horological literature. Yet, their importance is considerable in informing the debate on the origins of the mechanical clock and the aspects of time the medieval world strove to measure.
'Carriage clock porcelain. Artistic pedigrees hiding in plain view'
by Larry L. Fabian (pages 501-513)
Summary: Carriage clock porcelain images based on autograph paintings or engravings are rare and likely to remain challenging to identify. Yet clocks with exceptional artistic pedigrees linked to autograph sources have been overlooked. The present article examines selected clock porcelains inspired by fine arts and decorative arts themes that permeated late Victorian visual culture. Successful elite clockmakers possessed a strategic sense of which decorative styles might resonate with potential buyers, but the choice of specific images would have normally depended on the porcelain artists. These relationships involved purposeful collaboration between clockmakers and porcelainists who were not merely suppliers of commodified decorative porcelains. Appreciation of their decorative sensibilities not only enhances our art-historical appreciation of carriage clock porcelains, it also suggests criteria by which dials and panels could be more systematically evaluated and categorized according to the sources of inspiration for their designs.
'Dividing plates and wheel-cutting machines: some seventeenth-century evidence'
by Anthony Turner (pages 514-524)
Summary: Letters exchanged between John Locke and Nicolas Toinard in 1680 enable a clear distinction between dividing plates and dividing engines to be made, and throw light on the putative development of the latter, placed in the context of earlier and contemporary developments in Italy and France.
'Mathurin Sougé: An early French pendule religieuse with Dutch striking design'
by Sunny Dzik and Wim van Klaveren (pages 525-535)
Summary: The earliest French pendule religieuse pendulum clocks were based on a design developed in The Hague. During the early 1660s a limited number of Hague clocks were exported to France under the guidance of Christiaan Huygens, but by the mid-1660s domestic French clock production proceeded independently. An easily recognized feature of early Hague striking clocks is a bell hammer with lever-like action mounted at the base of the front plate. In contrast, nearly all French striking clocks use a vertically mounted rotating hammer arbor. We describe a rare French pendule religieuse by Mathurin Sougé à Paris which demonstrates a construction in the Hague style and compare its design details to early clocks by Salomon Coster, Severijn Oosterwijck, and others. When found in a French pendule religieuse, front plate lever striking on an internal bell may be a sign suggesting an early Hague clock exported to Paris.
'Museum profile: Clocks in the Zuylenburgh collection in Utrecht'
by Doug Bateman (pages 536-544)
Summary: A very extensive collection has been built up over a period of fifteen years by the Dutch entrepreneur Bert Degenaar, who  is well known in the antique trade and auction houses. The collection is located in Zuylenburgh, a large riverside house in Oud-Zuilen in the Dutch province of Utrecht.
'Children of Mercury: an addendum'
by William Linnard & John A. Robey (pages 545-551)
Summary: Our recent article on the images of three mediaeval clockmakers (children of Mercury) attending to clocks attracted an unusually high number of responses from interested readers in several countries. Some of these drew our attention to three other images of clockmakers as children of Mercury, one Italian, the other two German. One is new to horology, while we had not appreciated that the other two were from children of Mercury manuscripts. As these other images are important and will be new to many readers, it seems appropriate to describe them in this addendum and compare them to the three images already described.
The issue totals 144 pages and is illustrated mainly in colour, and is completed by the regular sections Horological News, Book reviews, AHS Programme and Calendar, AHS News, Letters to the Editor and Further Reading.
---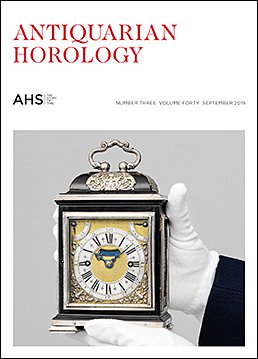 Volume 40, Issue 3 September 2019
The front cover shows the smallest clock made by master clockmaker Thomas Tompion, sold at auction on 19 June for a record price. The silver-mounted miniature ebony quarter repeating table clock, Number 222, measures 19.7cms (7.75ins) to the top of the raised handle. Photo courtesy of Bonhams, London.
This issue contains the following articles:
'William Graham: clockmaker and man of his times'
by Ann McBroom (pages 320–342)
Summary: William Graham, 'nephew' of George Graham, made clocks and watches in London until he left for America sometime in 1732–3; he was just forty years old. This article explores William's life in London, and what he did next. It does not aim to provide an exhaustive illustrated overview of his work, but Jeremy Evans generously has appended lists of the known clocks and watches made by William Graham, updated from 2006 and 2013 publications. William Graham emerges as 'a man of his times' shaped by the opportunities, difficulties and compromises that characterized the London and Pennsylvania he inhabited. Skilled clock and watchmakers in Colonial Pennsylvania during the 1730s struggled to compete with imported goods, cheap labour and a surfeit of trained craftsman. Our research also shed a little more light on George Graham's family in London and the disbursements in his will.
'An early use of zinc in the compensation pendulum'
by Michael T. Wright (pages 343–359)
Summary: In 1754 John Smeaton suggested that zinc, with its remarkably high coefficient of linear expansion, might advantageously be used as the more expansive element in compensation pendulums. Later it was indeed widely adopted, and for some of the finest clocks; but one of the first clockmakers to take up Smeaton's suggestion was his friend Henry Hindley. A handsome eight-day clock by Hindley, dateable to around 1756, survives with such a compensation pendulum in which the expansion of a strut of zinc was to compensate for the expansion of the iron frames forming the 'rod'. The clock, otherwise finely finished and with an annual calendar and Moon-phase display, will be more fully described on another occasion. Here we discuss the design of the pendulum, the clearly experimental nature of which suggests that it must be among the very earliest in which zinc was used.
'William Whitaker and William Shreeve: Dialmakers of Halifax, West Yorkshire'
by John A. Robey (pages 360–376)
Summary: Longcase clock dials 'in imitation of enamel' were first made in Birmingham in 1772. While this remained the centre of the industry they were also made in Halifax in significant numbers by William Whitaker and his successors from the 1790s to cater for the northern market. Though he died in 1800 the business was continued by his brother Henry until about 1810 when a partnership was formed with William Shreeve, who died in a tragic accident in 1817. Thereafter Whitaker & Shreeve continued making dials until 1834. By 1810 William's son John left to make clock dials in Leeds and a couple of dialmakers continued the trade in Halifax until the 1850s. This article provides much new evidence on the relationship between the Whitaker and Shreeve families and other dialmaking businesses in the area. Examples of typical Whitaker dials, falseplates and hemisphere maps are illustrated, including those sold by factors in Newcastle-upon-Tyne.
'An unusual eight-day longcase clock with its original drawings'
by Simon C. Davidson (pages 377–383)
Summary: This article decribes an unusual eight-day longcase clock, designed by Charles Richardson and constructed by John Carter of Cornhill, London. Charles's drawings and calculations for the clock mechanism also survive.
It also contains:
'Museum profile: The horological collection of the Museo Poldi Pezzoli in Milan' (pages 384–391) (Read this article here)

'The 1815 sale of Alexander Cumming's property: some evidence from book history' by Rebekah Higgitt (pages 392–395)

'Loseby box chronometer No104' by Phillip Arnott (pages396–397)
The issue totals 144 pages and is illustrated mainly in colour, and is completed by the regular sections Horological News, AHS Programme and Calendar, AHS News (including a report of the AHS Study Tour to Austria, undertaken in May), Letters to the Editor and Further Reading.
---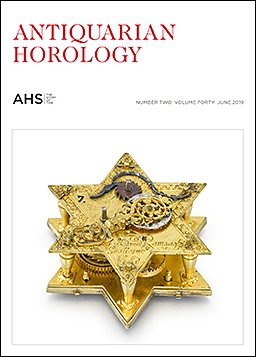 Volume 40, Issue 2 June 2019
The front cover shows a David Ramsay watch in the shape of a star in the collection of the Clockmakers' Museum.
Photo kindly supplied by and © Clarissa Bruce.
This issue contains the following articles:
'David Ramsay, c. 1580–1659'
by Adrian A. Finch, Valerie J. Finch and Anthony W. Finch (pages 177–199)
Summary: David Ramsay is one of the most famous names in early horology. As the first Master to one of the oldest Clockmakers' guilds in the world, he has a special place in world clockmaking. This article outlines his background, his rise to prominence and his eventful career. He was born to a devout Presbyterian family on the outskirts of St Andrews and apprenticed to King James VI's gunsmith in the City, where he learned the skills of metalwork. He then took advantage of the 'Auld Alliance' between Scotland and France to travel as a journeyman to Paris, where he learned the skills of watchmaking. By 1610 he was performing independent watchmaking commissions. James's accession to the throne of England meant that Scots such as Ramsay could now take up positions in the English Royal Household. Ramsay established a successful London watchmaking business in 1613 whilst simultaneously serving in the King's bedchamber. On the succession of Charles, Ramsay became a King's agent, managing the estates of Royal wards and becoming involved in patents, the most famous of which is the Clockmakers' Company petition. At the start of the Civil War, without Charles's protection, Ramsay found himself incarcerated in the Gatehouse Prison where he languished for nearly four years. He was finally released in return for agreeing to act as an agent for the Commonwealth. He outlived Cromwell but died in relative obscurity before the Restoration.
'Chronometers on the 1821–26 Royal Navy African Survey'
by Stuart Jennings (pages 200–214)
Summary: In an intense period of scientific exploration after the Napoleonic wars, with the Royal Navy ascendant and the world in a relative state of peace, the chronometer became an essential tool of navigation. While the technical development of the chronometer in its early years has been well studied, the history of its use in navigation has not yet been fully explored. The current study presents the use of chronometers during the 1821–26 survey of Africa under Captain William Fitzwilliam Owen as an instructive and foundational episode in this narrative of development. This survey played a leading role in setting standard practice in the use of chronometers and provides a valuable case study of the different ways in which chronometers were used in coastal surveys.
'Some further early clocks from Nuremberg'
by Dietrich Matthes and Rocío Sánchez-Barrios (pages 215–230)
Summary: This article should be considered as an addition to John Leopold's fundamental work on early Nuremberg clocks from 2002. We investigate several further Nuremberg clocks and archival evidence that emerged since. This allows us to corroborate several hypotheses about dissemination of horological knowledge in the sixteenth century and gain new insights on well-known clockmakers. (Read this article here)
'Bicentenary of the Car of History: A monumental chariot clock in the US Capitol'
by Juan F. Déniz (pages 231-243)
Summary: The period between the late 1790s and the mid 1820s constituted a Golden Age for the chariot clock in terms of artistic merit, craftsmanship, design and popularity. A wide variety of models and versions were produced in France, and to a much lesser extent in Austria, England, Italy and Sweden. These figural, allegorical and usually classical mythology subject matter pieces in the Empire style aimed to decorate the mantels and console tables of palaces, mansions, etc. As far as is known, no chariot clock was created in the Americas in this period, except for a marble one which was raised following fire and devastation. This year marks its bicentenary.
'William Weichert of Cardiff: his time ball and chronometers'
by William Linnard (pages 244–252)
Summary: Following the account of the civic time balls in Cardiff in the nineteenth century already published, further research has produced information on another time ball that was operated by an immigrant Jewish chronometer maker named William Weichert, trading in Tiger Bay, the bustling docks area of Cardiff. This note traces William Weichert's career in Cardiff, and describes his time ball, his chronometers, and his patent for the improvement of chronometers.

It also contains the following three shorter notes:
'Museum Profile: Halim Time and Glass Museum, Evanston, Illinois' by Bob Frishman (pages 253–259)
'Big Ben. What's in the name? And a warning to researchers' by Chris McKay (pages 260–264)
'Robert Savery, clockmaker of Taunton, Somerset (1788–1865)' by Bill Edmondson (pages 265-266)
The issue totals 144 pages and is illustrated mainly in colour, and is completed by the regular sections Horological News, Book Reviews, AHS Programme and Calendar, AHS News, Letters to the Editor and Further Reading.
---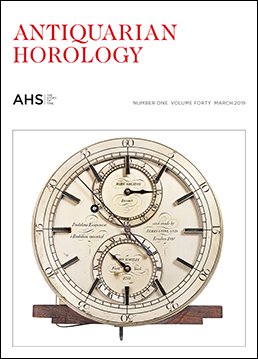 Volume 40, Issue 1 March 2019
The front cover shows the dial of an experimental floor-standing 8-day centre seconds regulator, which is discussed in Part 2 of Chris Watson's article on the horological connections of the John Smeaton family. Photo courtesy of Bonhams, London.
This issue contains the following articles:
'A snapshot of the watchmaking industry in England through the lens of the 1881 census'
by Darlah Thomas (pages 36–58)
Summary:The census offers us a glimpse of the industry in England on the night of Sunday 3 April 1881. What was recorded then may not have been true the previous day or the day after, it was really like a snapshot in time. The population was required to supply age, gender, marital status, relation to the head of household, occupation and birthplace. Using data gleaned from these fields enables a vast amount of information to be analysed and a picture of the time to be created. It is well known that watchmaking in England experienced a steep decline during the second half of the nineteenth century and the country was gripped by a long depression, so what was left of the industry in 1881?
'The John Smeaton family from York and their horological connections. Part 2 – The Leeds years'
by Chris Watson (pages 59–75)
Summary: The first part of this article, 'The York years', mainly related to John(1) Smeaton and his son John(2), both of whom were watchmakers. In 1678 John(2) married and moved to Leeds. This second part looks at the events that followed through the generations, down to and including John(3), the renowned civil engineer, highlighting the horological and closely related activities of their lives.
'Marine chronometers: the rapid adoption of new technology by East India captains in the period 1770–1792 on over 580 voyages'
by Simon C. Davidson (pages 76–91)
Summary: This paper examines marine chronometer usage in the determination of longitude by East India Company captains. The original ships logs of 587 voyages by the East India Company for the period 1770–1792 were examined to determine the usage of marine chronometers by captains on voyages of eighteen to twenty-four months across three oceans to India and China. It was found that chronometers were adopted and routinely used by East India Company captains much earlier than has generally been supposed, being used on 80 per cent of all voyages at the end of the period. Chronometers displaced the use of lunars as the primary method of determining longitude sooner than has been claimed in recent assessments.
'The clockmaker's art in the service of crime: the so-called 'Thomas disaster' on 11 December 1875 in Bremerhaven'
by Günther Oestmann (pages 92–101)
Summary: This article discusses the background of the so-called 'Thomas disaster' on 11 December 1875 in the German harbour town Bremerhaven. It was the first discovered attempt at insurance fraud using a time bomb to be placed on a ship. Special consideration is given to the clockwork mechanism, and in this respect hitherto unknown sources have been consulted. (Read this article here)
'Three medieval clockmakers: children of Mercury'
by William Linnard & John A. Robey (pages 102–108)
Summary: Three planet-books produced in the third quarter of the fifteenth century contain images of a clockmaker attending to a clock. These all appear as miniatures in astrological illustrations showing Mercury and his 'children' and were produced in three different countries: Italy, the Netherlands and England. The links between the three images are traced, and the three clocks are described in detail. It should be noted that any text in the planet-books relates to astrology, not to the individual trades depicted.
The issue totals 144 pages and is illustrated mainly in colour, and is completed by the regular sections Horological News, Book Reviews, AHS Programme and Calendar, AHS News, Letters to the Editor and Further Reading.
---