Wristwatch Group
Welcome to the home page of the Wristwatch Group, a specialist group within the AHS.
There has been an increased interest in vintage and antique wristwatches in recent years, but a perceived lack of corresponding published scholarly research. The Wristwatch Group exists to promote and encourage the study of the history and development of wristwatches through meetings, education and publications, including articles in the Journal or technical papers for Group members.
Members of the Wristwatch Group have regular meetings in the form of lectures, short talks, bring-and-discuss sessions, and visits to exhibitions, private collections and centres for the practice and study of watchmaking both in the UK and abroad.
The Group brings together enthusiasts keen to learn more about the origins, makers, techniques, family and corporate histories and indeed any of the material and cultural aspects associated with wristwatches. All are welcome, whether new to the subject or recognized authorities.
The group is chaired by Neil Francis with support from secretary James Harris and treasurer Johan ten Hoeve.
Membership of the Group is open to any member of the Antiquarian Horological Society. To join the Wristwatch Group, or to find out more, please email wwg@ahsoc.org.

Past meetings
Mr Jones Watches
28 June 2018
South London-based Mr Jones Watches welcomed members of the Wristwatch Group to their workshops in June. Mr Jones' eponymous founder (who is also a WWG member himself) outlined the history of the firm, from its roots in 2007 to the present day. Like many modern British watches, these were originally produced entirely in China, with only the design taking place in London. Using Chinese quartz and mechanical Seagull movements, the watches offer a certain quirkiness, from momento mori-inspired slogans to chattering skulls with jump hour teeth.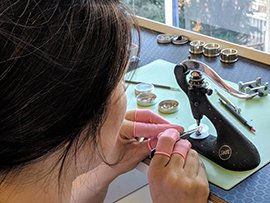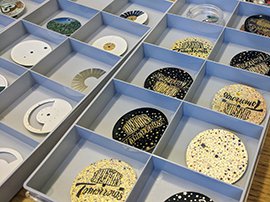 Sotheby's Sale Viewing
16 April 2018

The group were treated to an intimate evening with Charlie Foxhall from Sotheby's who shared a number of interesting and significant watches from their then-upcoming 'Fine Timepieces' sale in London. One such important piece was a newly-discovered half-quarter repeating lever pocket watch from prominent maker Josiah Emery. This was joined by both modern and vitage watches from makers such as Patek Phlippe, Audemars Piguet, Lemania, Dent, and Heuer.
Peter Speak-Marin, "The Naked Watchmaker"
23 February 2018
Peter spoke to the group about his latest online project, the Naked Watchmaker. After a tour through his distinguished career, begining at Hackney technical college, through WOSTEP in Switzerland and working as a vantage watch restorer in London, Peter has recently left his namesake watchbrand to focus on a new challenge - horological education. Designed to be a receptical of knowledge and information, the website hosts interviews, movement teardowns, and historical information.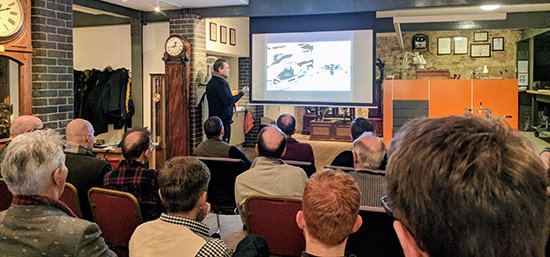 Vacheron Constantin - London Craft Week
6 May 2017

Wristwatch Group members were offered the chance to visit Vacheron Constantin to see their London Craft Week exhibition. The brand is very supportive of traditional watchmaking crafts and is keen to showcase their abilities, and so a hand engraver from Geneva had taken up residency in the Bond Street Boutique. Guests were also treated to the opportunity to meet the brand's Creative Director, Christian Selmoni; who spoke frankly about the watch industry, his company's position and interests, as well as his own passions and horological idols.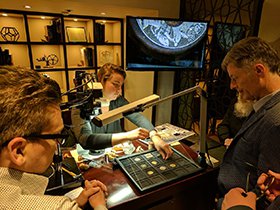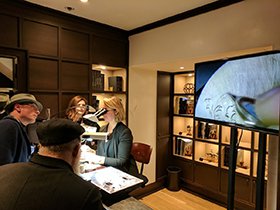 How Original! the impact of originality on collectable wristwatches
14 January 2016 at The Watch Club, Old Bond Street
Led by former WWG chair Rebecca Struthers, a panel consisting of British Museum horology curator and conservator Oliver Cooke; watch-case restorer Adam Philips; collector Greg Dowling; and Watch Club co-founder Justin Koullapis discussed the pros and cons of restoring vintage and historical watches with regards to originality, value, and practicality. Guests were also invited to view some of The Watch Club's collection including WW2 A. Lange & Sohne military watches with original paperwork and a 'new-old-stock' 1970s Rolex.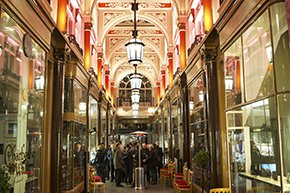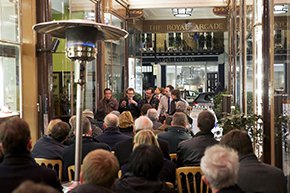 Breguet
29 October 2015 at Breguet Boutique, Bond St.
The inaugural WWG meeting was held in the newly opened three-storey boutique, where guests heard from Andrew Chrisford on A. L. Breguet's pioneering advertising, promotion, and anti-counterfeiting methods in the late 1700s. Those present were also able to see a collection of historic Breguet Timepieces as well as modern day masterpieces from the Swiss atelier.