Northern Section
To be held at Trinity Methodist Church, Trinity Road, Sale, Cheshire, M33 3ED at 7.30pm, unless otherwise stated
Return to current year
Meetings - 2019
Horological Ephemera and Christmas Social meeting  (December 2019)
A festive buffet, drinks and Christmas cheer greeted members at the last meeting of our 50th anniversary year. A theme of horological ephemera brought in many items of interest, some of which are illustrated below.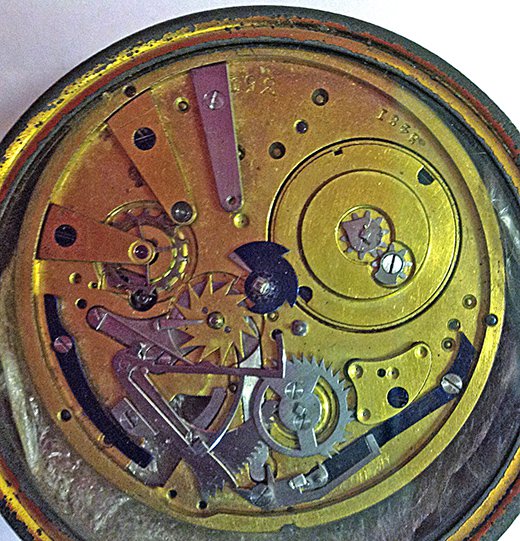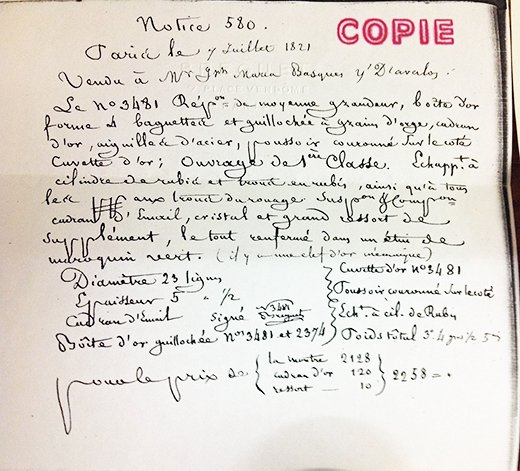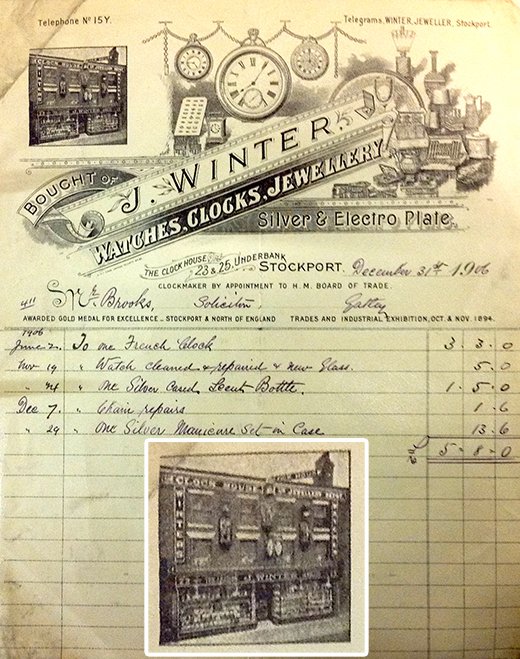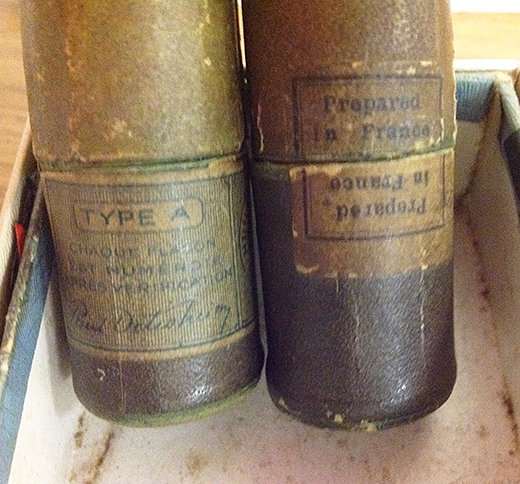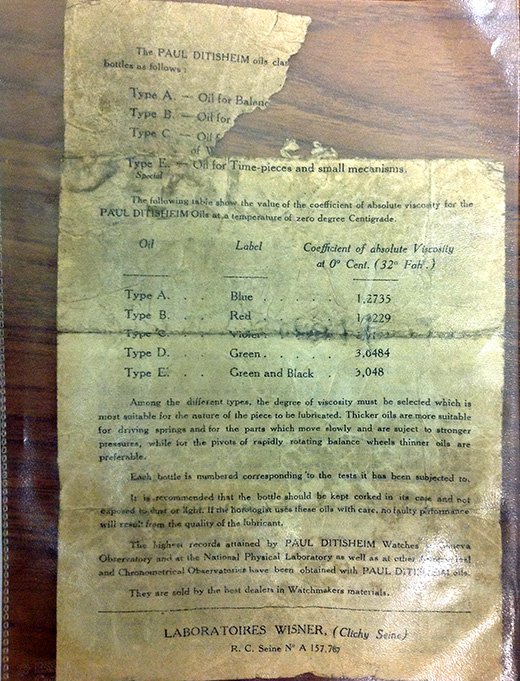 Tools    (November 2019)
Devotees of tools, horological and otherwise would have been in their element at our November meeting when a huge variety of tools ancient and modern were displayed for discussion. Whilst some were familiar to many members, others were rare examples of watch and clockmakers' tools. Gary Burns set the scene with a copy of the catalogue created by the Section in 1993 to accompany its exhibition of horological tools held at Prescot Museum, see below. (Click here to download the catalogue). Images of a very small sample of the items on display at the meeting are available below.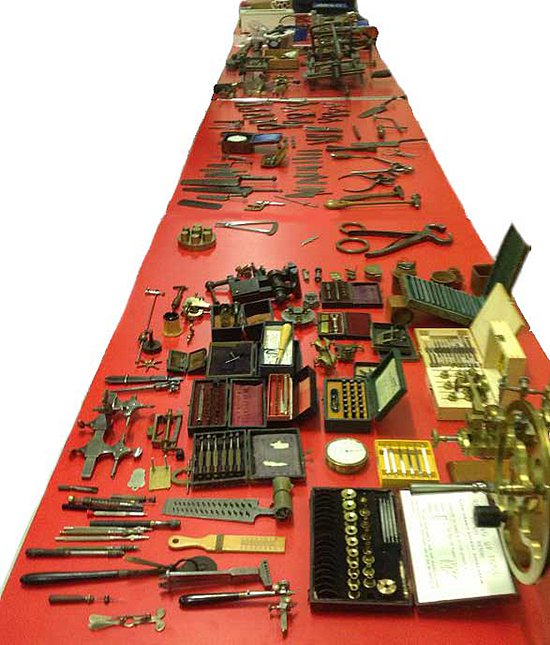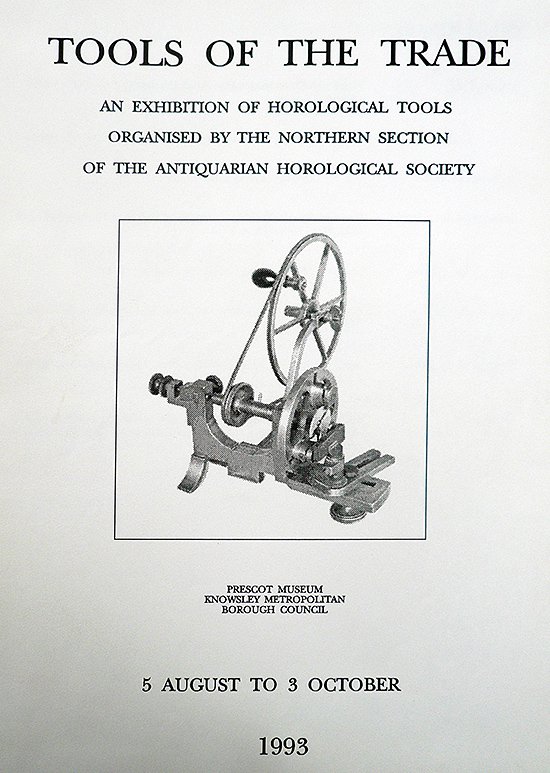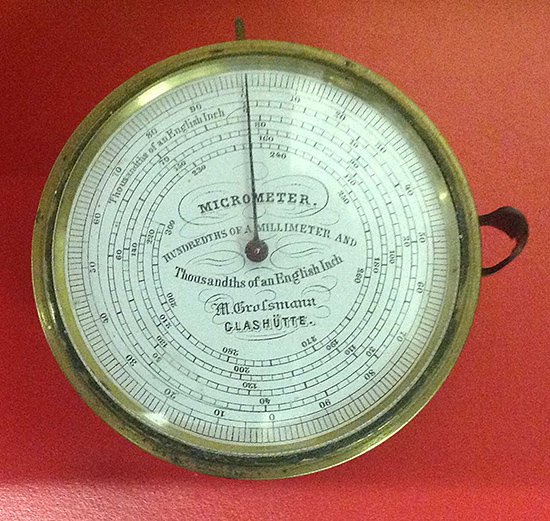 The True Origins of the Wristwatch (October 2019)
David Boettcher took us on a myth-busting mission to prove that the first wristwatches were not cobbled together from fob watches with wire lugs attached. Watches worn on the wrist had been seen for centuries as items of female attire. Men remained cautious even when purpose made wristwatches with wire lugs to attach a leather wristlet started to appear around 1900 - the market for these was limited to ladies and military or sporting men. It was WWl which changed opinions. A wristwatch with luminous dial was an essential item in every officer's kit. Huge demand for them caused shortages of supply which led to some open face fob watches being converted to wristwatches at this time, but the layout of the dial was wrong. Soldiers home on leave wearing wristwatches soon changed the view that a wristwatch was something that a man didn't wear.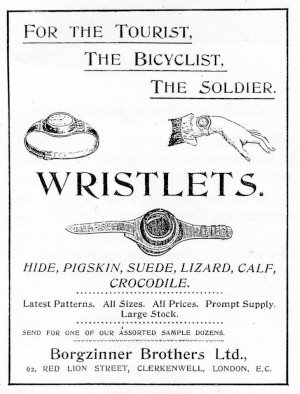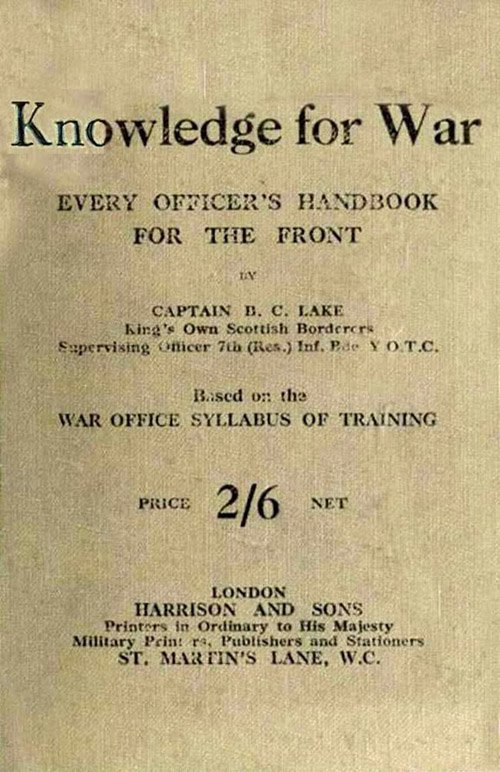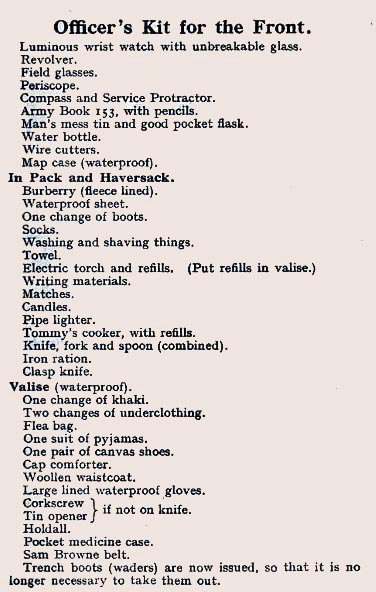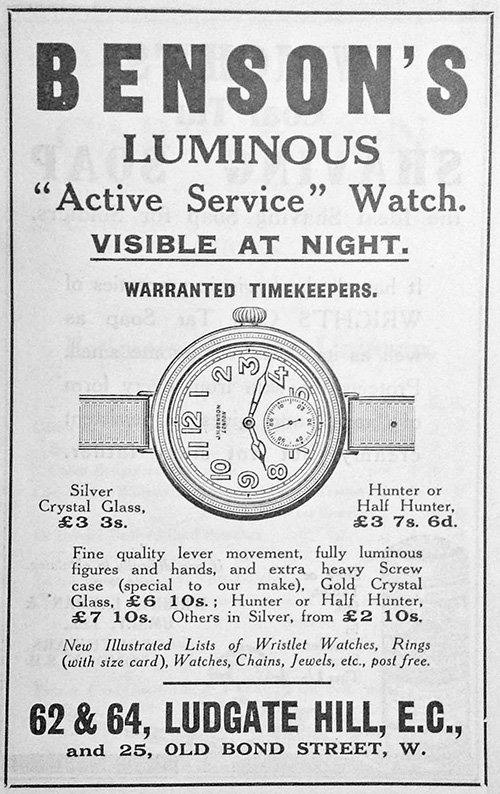 50th Anniversary celebrations (September 2019)
To celebrate the Northern Section's 50th Anniversary, 26 members and guests gathered at Lyme Park on 25th September for a full day of horology.  After refreshments, a talk was given by Duncan Greig on the unnumbered Tompion marquetry longcase.which has recently been added to the display in the Clock Room at Lyme Hall.

After lunch, Jonathan Betts spoke on the lengthy process he undertook to create his book, Marine Chronometers at Greenwich. A catalogue of Marine Chronometers at the National Maritime Museum, Creenwich. This tome has been meticulously produced to provide every detail horologists could ever require on this subject.

James Nye followed with a dramatisation of his researches into the history of clockmaker and gardener Edmund Howard of Chelsea. This is fully recorded in his article in Antiquarian Horology (Vol 38, Issue 4, December 2017, pages 513-532).

A brief outline of the Section's history was followed by a celebratory dinner ; thanks were offered to Lyme's staff who had looked after us so well and Chairman Gary Burns thanked members past and present for their contributions and support during the Section's first 50 years.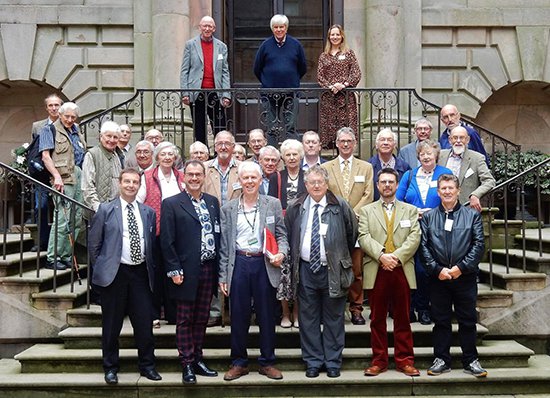 Clocks without Wheels    (September 2019)
A light hearted evening was spent viewing and discussing a variety of timekeeping devices without wheels. They represented a very long timeline, from the earliest devices using shadows and celestial objects to the latest ubiquitous electronics. Three items from the display can be viewed below.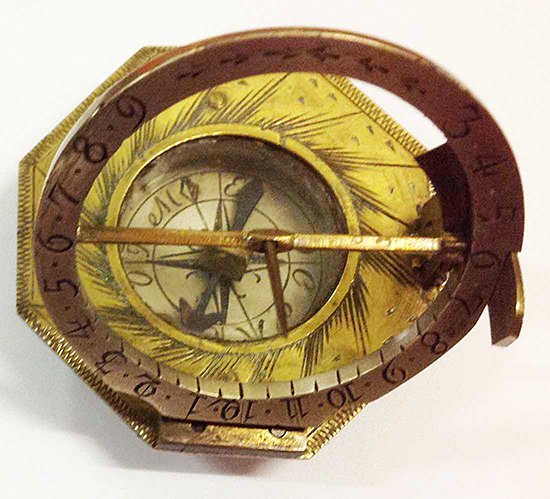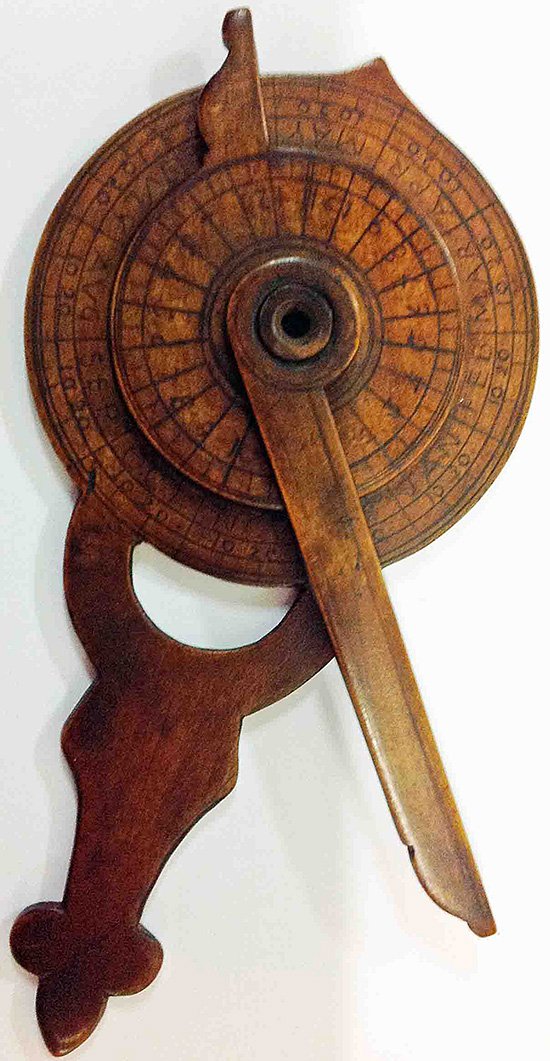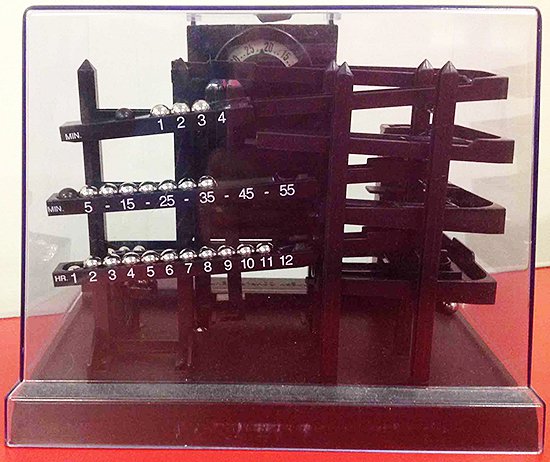 Understanding the success of American clocks in the British market from 1842 – 1880  (August 2019)
Our speaker for the August meeting was American clock enthusiast John Taylor. His talk was highly informative and was accompanied by excellent illustrations and a display of many of the clocks mentioned in his talk. John outlined the key factors in the success of American clocks in this country, including their variety, design, value for money and the American 'modern' approach to marketing. This included their frequently issued illustrated catalogues which exhibited their ranges aimed at an emerging, untapped working class market. John summarised all the styles of movement and case design by putting them into a detailed chronology.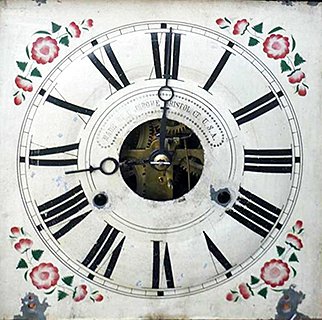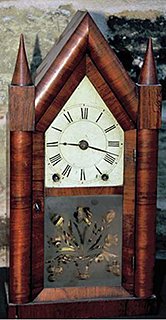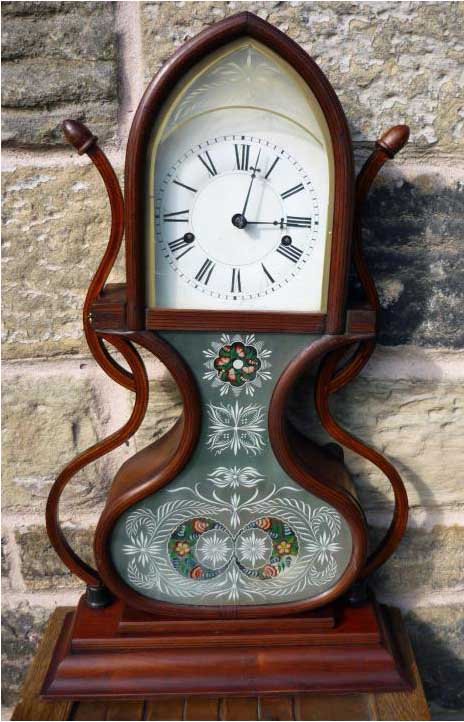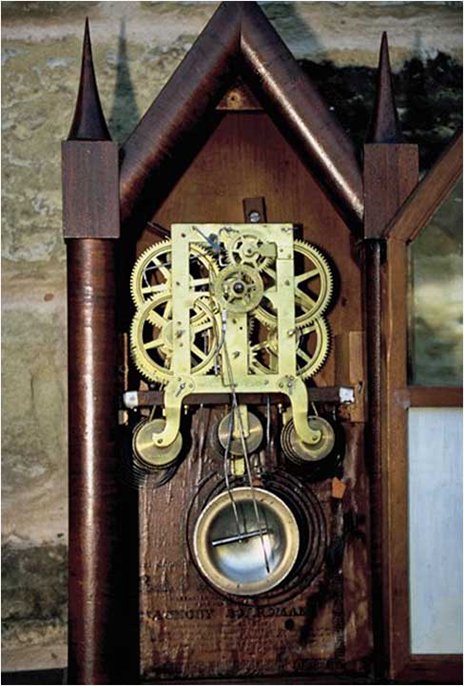 Inventor and Mechanic Edward Massey's contributions to Navigation    (July 2019)
Andrew King outlined some of the problems still faced by mariners navigating the oceans at the end of the eighteenth century. He then explained how a watchmaker and his descendants changed navigation practices in innovative ways.
Watchmaker Edward Massey successfully focused his skill and ingenuity on this subject – six of the fourteen Massey inventions filed at the Patent Office were for navigation instruments. Some of the themes developed were by no means new; the lead and line used as far back as Ancient Egypt was improved in Massey's patent sounding machine. It enabled depths to be measured without requiring the vessel to be stationary and had two counters which locked as the machine touched the seabed. Likewise Massey took another old idea –the ship's log which is known to have been used in Tudor times for distance and speed calculations. The Massey patented design had three dials which measured and recorded distance as it was towed through the water.
Sadly, for inexplicable reasons, Edward Massey struggled to attract the size of orders from the Admiralty his inventions deserved. Their production was continued by his descendants, who made further improvements until well into the twentieth century.
The Untold Story of British Jerome (June 2019)
Peter Gosnell spoke on the history of British Jerome clocks. These were imported in large numbers into Liverpool from New Haven, Connecticut from the mid nineteenth century for about one hundred years. Research has uncovered that by 1908 J.C. Plimpton of Liverpool had become sole agents in England, initially importing American manufactured movements to install into their own cases. Soon Plimpton began to make modifications to some components to suit English tastes. Labels on these clocks described them as 'British Jerome Movements'. After WWl, trademark 'Plimclox' clocks which had patented components styled specially for the UK market were manufactured and sold here until 1932.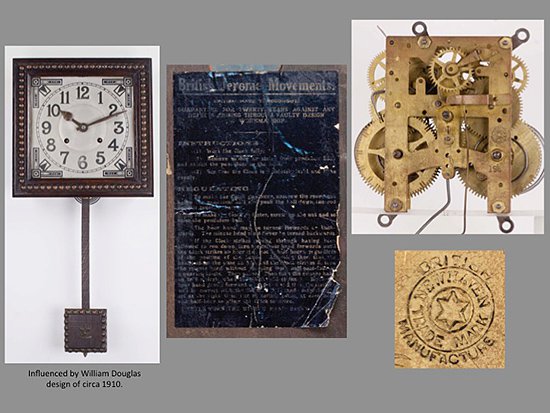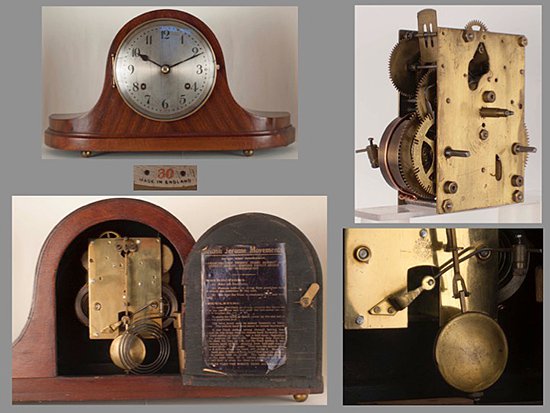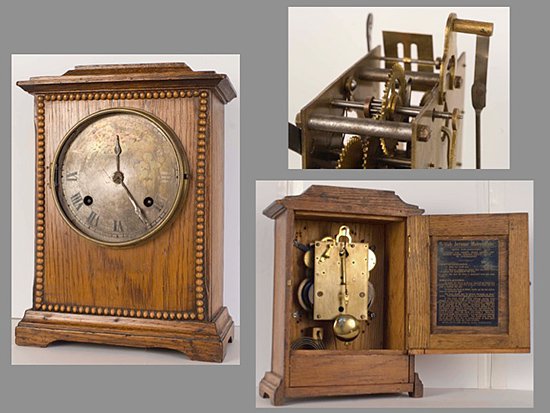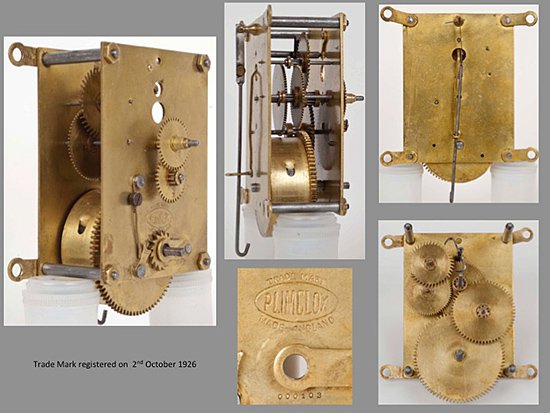 Tailor-made watches        (May 2019)
Rebecca Struthers described how art and science are at the heart of the business she and her husband run from the Jewellery Quarter in Birmingham. Having experience of jewellery making and design as well as horology, the couple design watches based around redundant wrist and pocket watches scrapped by the bullion trade. New watch parts and case components are increasingly made in-house, but a large number of highly skiled artisans, many located nearby are called upon as required. The latest project is to design and make their own watch movement using traditional and high-tech methods.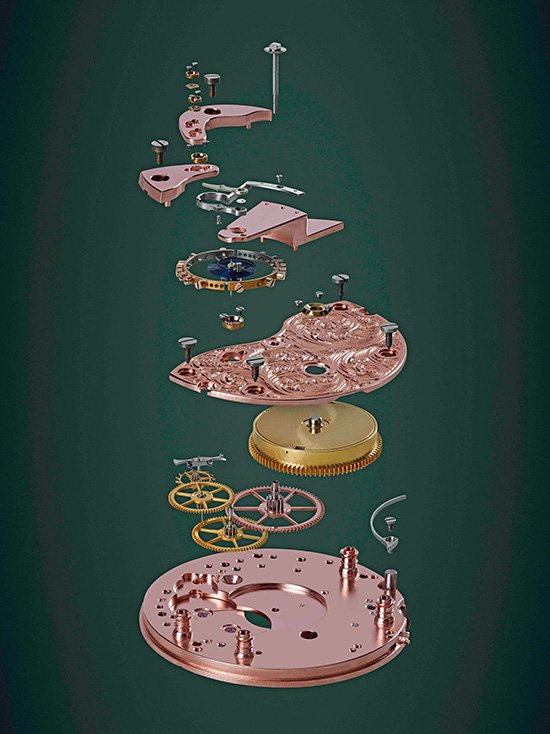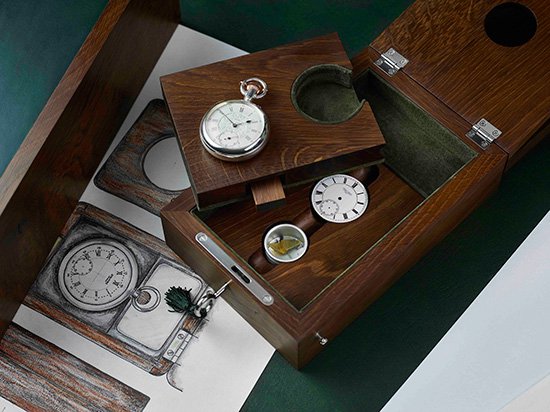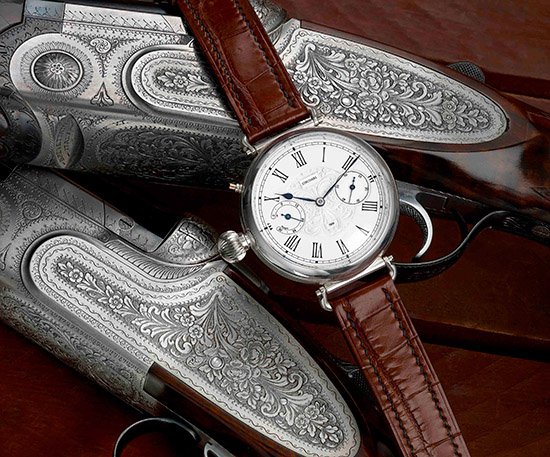 The Restoration of a George Pyke Organ Clock   (April 2019)
John Harrold gave a talk on his experience of restoring an organ clock with automata by George Pyke which was handed over to him in a disassembled state. The clock, with royal provenance, had been through the wars and had subsequently suffered an unsympathetic overhaul. Inappropriate materials and techniques had to be removed before the long process of identifying and restoring components began. John told us there were five similar clocks by this maker in the UK, but all were inaccessible to him for reference. A friend in Utrecht enabled John to study and photograph a Pyke clock there which enabled work to begin. Restoration and reassembly presented a series of complex challenges.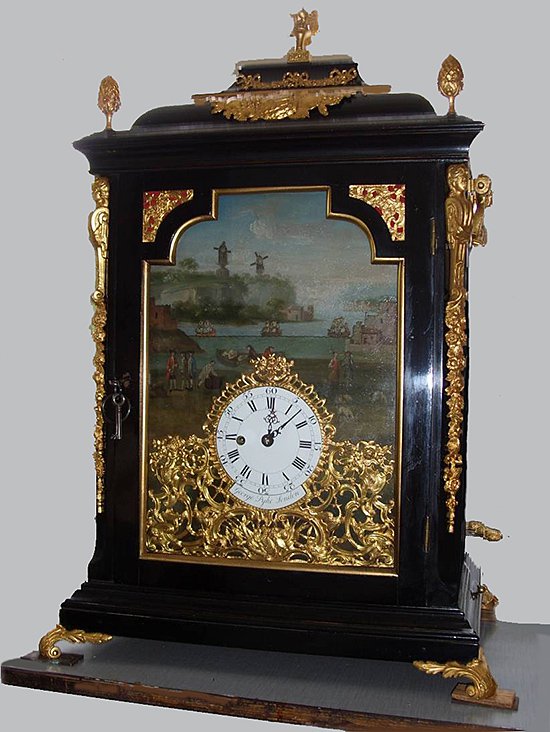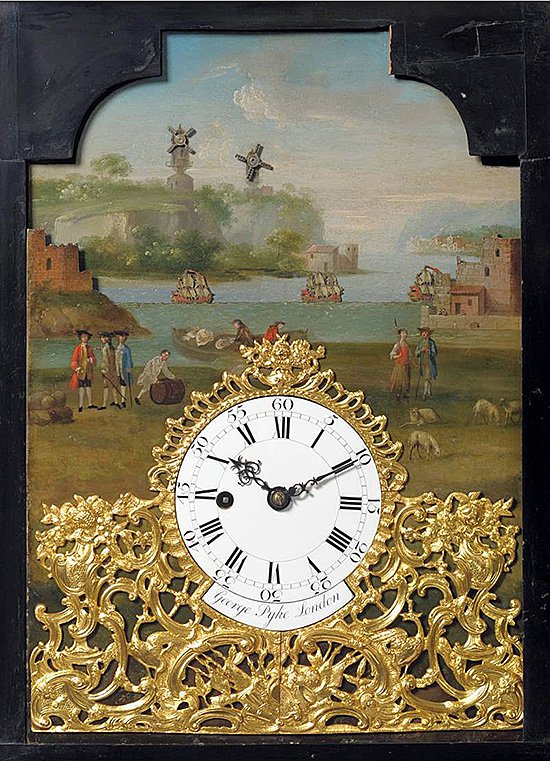 French Clocks and Watches             (March 2019)
A large number of items, mostly clocks were shown during the March meeting. The oldest was a Louis XIV ormolu table clock which had required substantial restoration by its owner. There were many different styles of Victorian mantel and table clock, two rare types of twentieth century torsion clocks and some electrically powered clocks, two complete with original batteries. We also saw the dial and movement of a wall time recorder by Lambert of Seine-Maritime and two barometer-thermometer-clock compendiums, one of which was retailed locally in Stockport. The only watch shown was a handsome subscription watch by Abraham-Louis Breguet.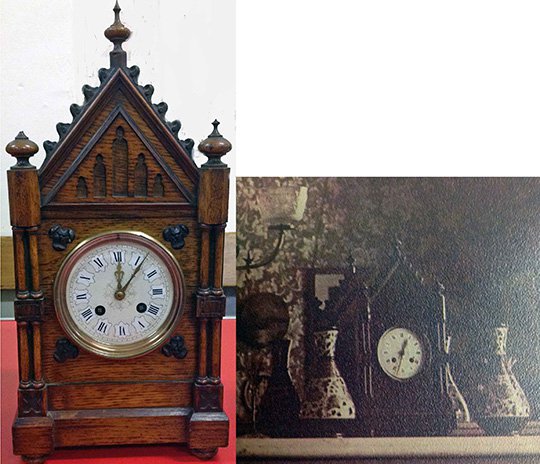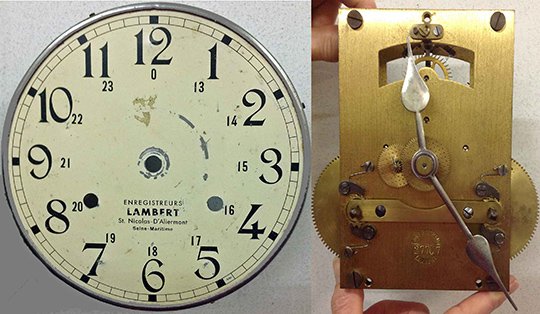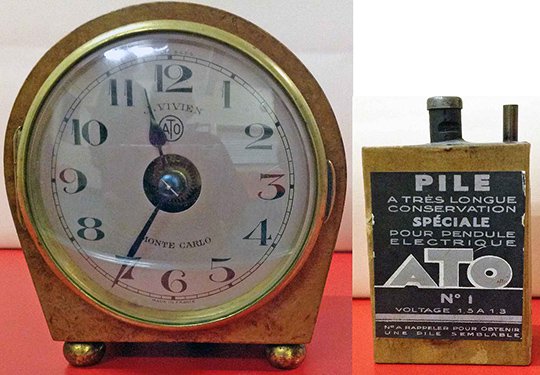 Bring & Discuss:    Letters U & V      (February 2019)
Members brought horological items linked to letters U or V to our February meeting.
Items included pocket watches by Victor Kullberg and BL Vulliamy, and a collection of thirteen verge pocket watches by different makers from several countries. A wristwatch made in the former USSR was bought for 1 million rubles thirty or so years ago. We were shown a deck watch by Ulysse Nardin, a marine chronometer from the USSR and two aircraft clocks from the same source. Domestic clocks were represented by two 'unidentical twin'  table clocks by the same maker and a Becker 'Vienna regulator' dial and movement.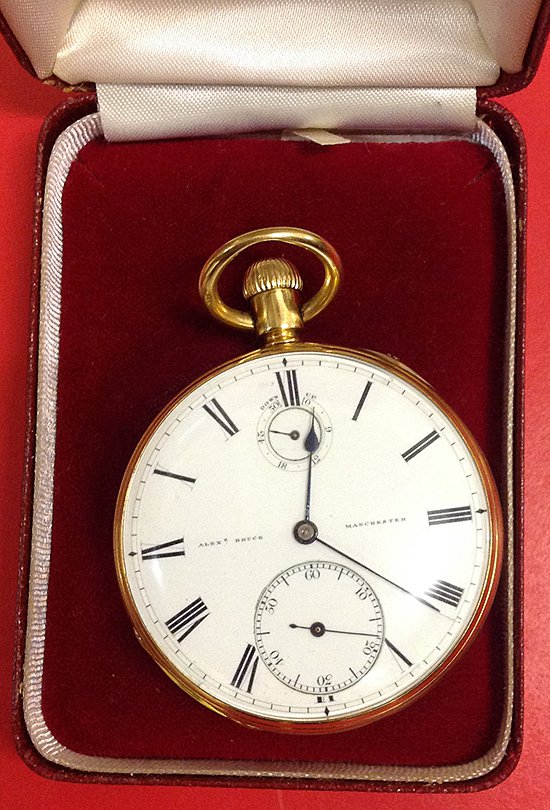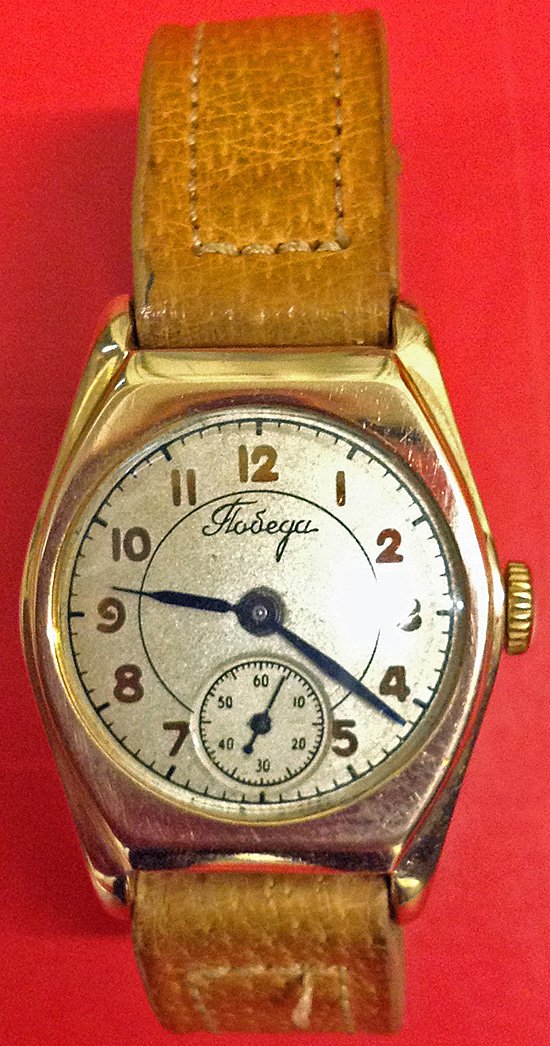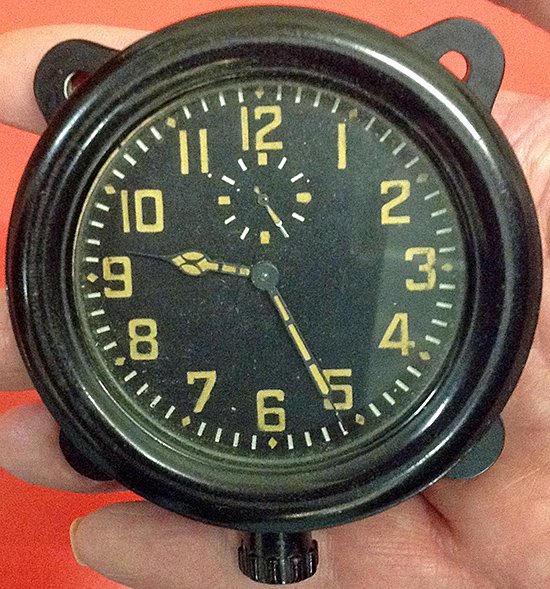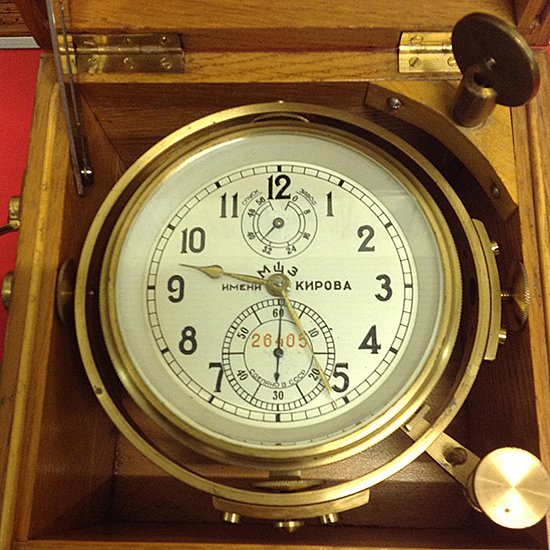 AGM and short video presentations (January 2019)
Members gathered at the beginning of the meeting for the AGM. Once formalities were completed, several interesting short videos were shown.
1.     John C. Taylor's Masterworks film featuring Salomon Coster's Box Clock of 1657.
2.     Also from John C. Taylor, 'Creating the Chronophage'.
3.    The Napoleon Clock at the Museum Speelklok in Utrecht, Netherlands
4.    Glashütte Original Watches.
5.    Another film from Glashütte, entitled 'Tradition and Innovation'.