BRILLIÉ ELECTRIC CLOCKS
A translation of a number of French brochures and manuals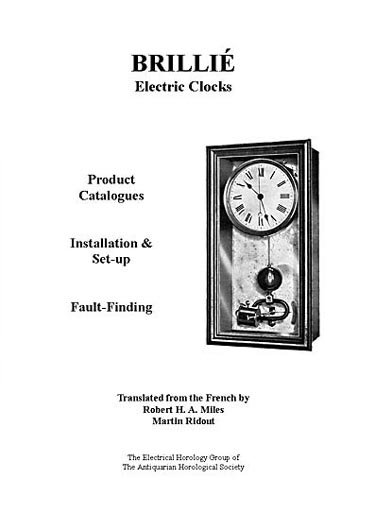 This publication is a translation to English of a number of French brochures and manuals mainly from the 1920 to 1930 period which chart a wide range of Brillié clocks, together with instructions for installation and practical details for repair.
It is in a similar format to the very popular Bulle book published by the AHS some years ago.
This book, which is A4 size with laminated soft covers and 96 profusely illustrated pages (page size 297 x 210 mm), offers owners and repairers of these clocks valuable historical detail and practical tips at an affordable price.
ORDERING BY PHONE OR POST
Orders may be placed by telephone and paid for by credit or debit card (please note that we are unable to accept American Express at present).
Telephone 020 7062 7479, international +44 20 7062 7479 (24-hour answering machine)
Alternatively, please send your order together with the appropriate remittance to:
The AHS
4 Lovat Lane
London
EC3R 8DT
Cheques should be made payable to 'Antiquarian Horological Society'.
Back to Books