CLOCKMAKING ON LOTHBURY
By James Nye. A forensic exploration of a remarkable street, home to many clockmakers.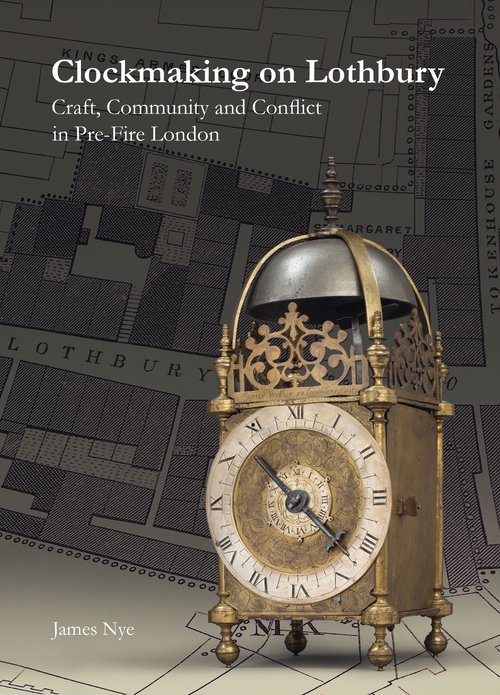 CLOCKMAKING ON LOTHBURY
CRAFT, COMMUNITY AND CONFLICT IN PRE-FIRE LONDON
By James Nye
In the decades before the Great Fire, numerous clockmakers established themselves in Lothbury, a short street in the City of London. It was a cosmopolitan community, home to people from all walks of life, from the very wealthy to those who had fallen on hard times. The clockmakers had their living amongst a diverse group of trades: founders, braziers, clothworkers, drapers, loriners, mercers, cooks, tavern keepers, preachers, turners, printers, and many more besides. Civic life was focused on the church of St Margaret's, at the heart of the parish, though trade took place both nationally and internationally. But life was not always easy for these makers – they lived in a troubled political climate, as well as in a dark and poisonously smoky atmosphere.
Through an evocative and forensically detailed exploration of a single remarkable street, this book illuminates the history and context of the many Lothbury lantern clocks that still survive. The locations of the street's most famous makers are mapped out, and definitive information about the Mermaid, perhaps Lothbury's best-known address, is here introduced for the first time. Those with an interest in early lantern clocks, or who own a Lothbury example, will find this volume a rich and fascinating new trove of information.
The book is of 152 pages with 14 illustrations and a detailed index and bibliography, casebound, 297mm x 210mm, in a buckram cloth cover and on 150gsm art silk paper, with head and tail bands and silk ribbon, and a printed dustjacket.
ORDERING BY PHONE OR POST
Orders may be placed by telephone and paid for by credit or debit card (please note that we are unable to accept American Express at present).
Telephone 020 7062 7479, international +44 20 7062 7479 (24-hour answering machine)
Alternatively, please send your order together with the appropriate remittance to:
The AHS
4 Lovat Lane
London
EC3R 8DT
Cheques should be made payable to 'Antiquarian Horological Society'.
Back to Books