JOHN CARTE ON HOROLOGY AND COSMOLOGY
Fascinating and intimate glimpses of the practice of English horology in the age of Tompion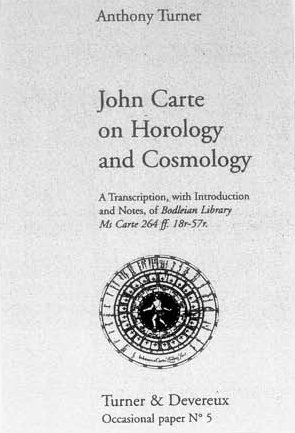 John Carte's remains on horology and cosmology, published for the first time in collaboration with Turner Books, offer fascinating and intimate glimpses of the practice of English clock and watch making in the age of Tompion. This is a rare insight into the ideas of a first-class working clockmaker concerning his trade, how it had developed and could be improved, together with his conception of the structure of the cosmos that he represented in his geographical and cosmographic clocks.
The text is transcribed with explanatory commentary and a contextual introduction that includes new biographies of Carte himself and the master to whom he was apprenticed, Samuel Watson.
95 pages with 15 illustrations in colour and black and white. Printed p/wraps.
This book can only be purchased directly from Rogers Turner Books at 24 rue du Buisson Richard, 78600 Le Mesnil-le-Roi, FRANCE.
Price £25 plus postage of £1.50 (Europe) £2.50 (rest of World)
Email: anthonyjturner@9online.fr
Back to Books