METAMEC, THE CLOCKMAKER, DEREHAM
Metamec's history captured now – before it vanishes beyond detection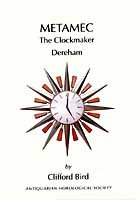 This book records the history of the company that was founded in 1947 and closed down in the 1990s. Its production was domestic clocks: mantel, wall, alarm and specials such as the Teasmade. Cases were generally very decorative and movements employed were mechanical, synchronous motor and quartz crystal, which at one stage were made on site at Dereham.
384 pages, over 700 illustrations, 63 colour plates.
ORDERING BY PHONE OR POST
Orders may be placed by telephone and paid for by credit or debit card (please note that we are unable to accept American Express at present).
Telephone 020 7062 7479, international +44 20 7062 7479 (24-hour answering machine)
Alternatively, please send your order together with the appropriate remittance to:
The AHS
4 Lovat Lane
London
EC3R 8DT
Cheques should be made payable to 'Antiquarian Horological Society'.
Back to Books