SYNCHRONOME
By Bob Miles. Revised 2nd edition of ground-breaking book on masters of electrical timekeeping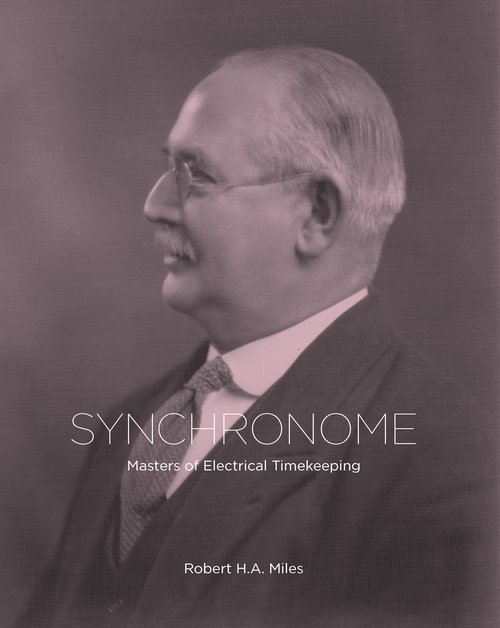 The AHS is delighted to offer a new print of the revised second edition of Bob Miles's ground-breaking 2011 book on Synchronome. The original edition was fifteen years in the research and writing, and went out of print some time ago. Since publication, Bob was always keen to issue a new edition, making a small number of additions and corrections. Sadly, he died on 30 March 2019, but nevertheless secure in the knowledge that work was well advanced on this revised edition, which is dedicated by the AHS to his memory in honour of his significant contribution to horology.
This reprint of the new edition runs to 288 pages with more than 300 illustrations, mostly in colour, including pictures of rare examples of both clocks and ancillary equipment, as well as enhanced versions of original line drawings and extracts from original catalogues. Serial number and dating charts are provided.
Reviews of the original edition were universally positive:
'This book, on a highly innovative company run by individuals of character, is a major contribution to the history of electrical timekeeping and its influence on modern culture.' John Griffiths FBHI, Horological Journal, September 2011.
'The book is beautifully presented and stylishly set out [...] the production is of a high standard and in view of the years of research that have gone into it and the amount of information published for the first time, the price is certainly very reasonable.' Derek Bird, Antiquarian Horology, September 2011.
'It contains much new information about Synchronome [...] it is well-written and well-illustrated and accessible even to the beginner. If you are interested in electrical horology it is a must.' John Hunter, Clocks, September 2011.
'De liefhebbers van elektrische klokken in het algemeen en de bezitters van een Synchronome-klok in het bijzonder zullen ingenomen zijn met het zojuist verschenen boek "Synchronome" van de Engelsman Bob Miles [...] De uitvoering van het boek is schitterend; ingebonden, linnen brand, fraai papier, veel duidelijke fotos en diagrammen.' Dr Hans Vrolijk, TIJDschrift, September 2011.
"L'auteur et tous ceux qui l'ont aidé ont fait un travail de recherche long et considérable, si bien que ce livre restera longtemps, peut-être toujours, la reference incontournable pur cette horloge." Michel Viredaz, Chronometrophilia, Winter 2011.
"This book is a 'must buy' for anyone with a serious interest in precision horology, electrical horology, or time systems." Fortunat Mueller-Maerki, NAWCC Bulletin, January/February 2012.
OVERVIEW
Size: Quarto book size (pages are 305mm x 241mm)
Binding: Thread-sewn hardback book, with fine quality cloth cover and full gloss dust jacket—the dust jacket image is new
Paper: 150gsm silk art paper
Pages: 288 pages (120,000+ words)
Illustrations: more than 300 illustrations, mostly in colour, many bespoke for the book
CHAPTER PLAN
Chapter 1 charts the lives of all the key characters of the story (Frank and Robert Hope-Jones, George Bennett Bowell, William Hamilton Shortt and a variety of key employees). It covers the early history of the firm from the 1890s, through troubled times and world wars, involving the triumphs of precision timekeeping, factory expansion, the diversification of products, all the way through to the firm's eventual demise, illustrated throughout with pictures of the key figures and places. It also places Synchronome in context with the clocks of Hipp, Campiche, Gents and their Pulsynetic clocks, and those of Magneta, Silent Electric, Murday, Gillett and Johnston, ECS and many more.
Chapters 2 to 5 chart the development of the Synchronome master clock through all its forms, variants and uses, profusely illustrated, with details of rare and unusual models. The chapters are divided as follows: 2 – The Years of Pioneering 1894–1905; 3 – The Years of Development 1905–1918; 4 – The Years of Achievement 1918–1960; and 5 – The Final Years 1960–1980.
Chapters 6 and 7 deal in detail with the slave clock, its form and design, famous installations, and a variety of ancillary pieces of equipment produced by the firm, such as programmers, distribution boards, batteries, warning lamps and so forth.
Chapters 8 and 9 explore in detail the development of precision free pendulum clocks by William Hamilton Shortt, and include extensive extracts from previously unpublished sources, as well as high resolution photographs of the prototype Shortt clock, No. 0, commissioned especially from the National Museums of Scotland for the book. Appendix 2 contains a detailed list of all known Shortt clocks, the detail of their order-book specification as well as original location and subsequent history where known.
Chapters 10 to 12 round off the story with an account of Synchronome's involvement in the transmission of time by wireless (the Horophone and Recepteur Horaire), its adoption of the mains synchronous clock, and the development of marine master clocks.
Chapter 13 will be invaluable to collectors and conservators since it gathers together crucial information on the repair, set-up and maintenance of Synchronome clocks and dials, again profusely illustrated with clearly labelled colour pictures and diagrams.
Appendix 1 provides dating charts that illustrate the progression of Synchronome designs, the various detailed elements of the clocks, and also the correlation between serial numbers and dates.
Appendix 2 provides a list and description of all 102 Shortt clocks.
Index containing over 2000 entries contributes to making this an invaluable and definitive account of the marque.
Overall, the book is an astonishing tour de force from an author with immense knowledge and access to a wealth of original and previously unpublished material, in terms of catalogues, scientific papers and correspondence, all illuminated with an amazing range of images, both of unusual clocks and highly detailed coloured drawings especially created for the book.
This revised second edition print run is limited to 300 copies.
ORDERING BY PHONE OR POST
Orders may be placed by telephone and paid for by credit card.
Telephone 020 7062 7479, international +44 20 7062 7479 (24-hour answering machine)
Alternatively, please send your order together with the appropriate remittance to:
The AHS
4 Lovat Lane
London
EC3R 8DT
Cheques should be made payable to 'Antiquarian Horological Society'.
Back to Books