The AHS Blog

This post was written by Jonathan Betts
Almost exactly ten years ago I had John Harrison's magnificent first marine timekeeper H1 in my workshop at the Royal Observatory. It was being dismantled for study, cataloguing and conservation for the new chronometer catalogue.
I had a film crew with me making a documentary, and they were becoming exasperated at constant interruptions to the filming. Finally another telephone call – a man was outside, asking if he could see me. Embarrassed, I assured the film team I would politely ask him to come back another time, but explained they had to come with me as I couldn't leave them alone with H1.
Outside, the man apologised for arriving without warning and that he could come back if necessary. He introduced himself, offering his hand and just saying softly "Neil Armstrong".
One of the film crew laughed and remarked 'Ha! I bet with a name like that you get lots of requests for autographs!' to which the unassuming gent simply replied: 'I'm afraid I don't do autographs'.
It was at that point that we collectively realised that we were indeed in the presence of history. Suffice to say, all anxieties about filming schedules melted away and we all returned to the workshop (but with film cameras firmly switched off!)
Armstrong had long been a Harrison fan and he and his golfing friend Jim, hearing on the grapevine about the H1 research, had taken a detour from a sporting trip to Scotland, to make a pilgrimage to Greenwich.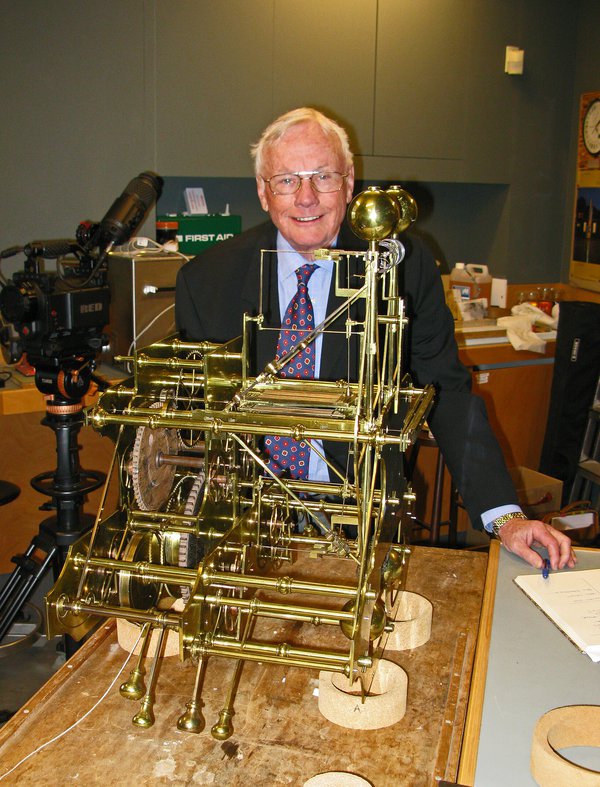 For a wonderful hour or so we discussed Harrison and his first pioneering longitude timekeeper and it was clear Armstrong's reputation was correct – reserved, yet of great intelligence and hugely well-informed; in short, a thoroughly nice man and not at all the showman one imagines when thinking of lunar astronauts.
I always asked visitors to sign my Visitors Book, but understood when Armstrong explained 'if you don't mind, I'll do it in capitals'.
Hearing that Harrison's second prototype timekeeper, H2, would be next for research in the coming year, Armstrong returned and I spent a little more time with him, getting to know him a little better and was privileged to learn more of the Apollo 11 mission, from the horse's mouth, as it were.
As he and Jim left on that occasion I asked Jim to sign my book again, and as they got back into their car, Jim whispered to me 'I think you'll find Neil signed properly this time too'.
And indeed he had, something I shall always treasure.

This post was written by Oliver Cooke
Antiquarian clocks are still in widespread use. However, like any machine, mechanical clocks wear out as they run and, to keep them running, repairs will inevitably be necessary.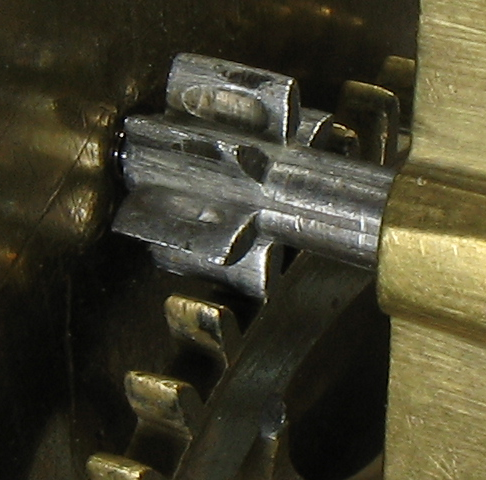 The image above shows a three century old longcase clock pinion that is well worn. Such a change in form will hinder the correct running of the clock until, eventually, it may no longer run at all.
Current repair techniques involve replacing the lost material or the whole gear. Either method is likely to result in loss of evidence of the clockmaker's original work. This information is important as it can help us to assess the authenticity and origins of clocks.
It would therefore be useful to find a way to reduce the wearing of the teeth in the first place.
Liquid lubricants, e.g. oils, are generally not used on the teeth of clock gears as they are typically exposed to the air, from which dust can mix with the oil to form an abrasive, or chemicals can form which can corrode gears.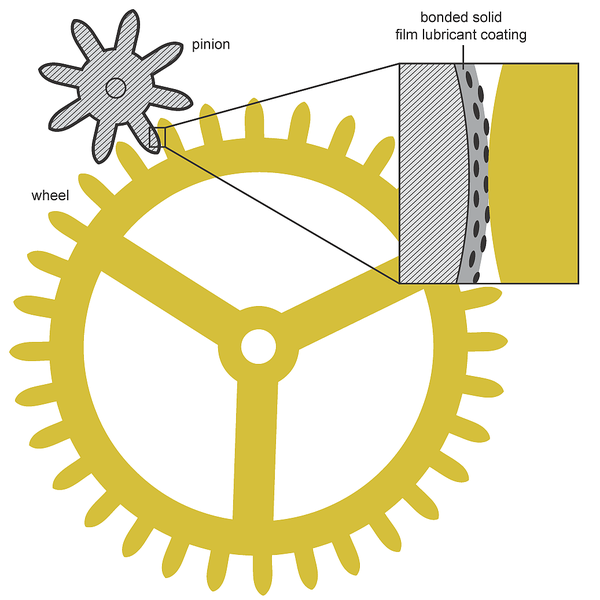 Bonded solid lubricants (B.S.L.s) are dry and do not absorb contaminants from the air. B.S.L.s contain particles of dry lubricant, such as graphite, suspended in a binding agent, such as epoxy resin.
They are applied as a liquid which cures to form a hard, dry coating. This coating can both lubricate and act as a sacrificial wearing layer. B.S.L.s might therefore be a useful treatment for preserving the gears of clocks.

Over the last year at the British Museum, where we run antiquarian clocks in the gallery, I have been conducting trials of B.S.L.s on model gear teeth as part of an MA Programme in Conservation Studies at West Dean College.
The B.S.L. that was tested was found to reduce wear compared to uncoated gear teeth. However, scientific analysis showed that it contained chemicals that are unsuitable for use on historic parts.
There are however many other types of B.S.L. and, given the promising results, I plan to test more. It is hoped that this will eventually lead to a treatment to help to keep the antiquarian clocks running with their original gears.
Look out for more information in future editions of our journal, Antiquarian Horology.
This post was written by Jon Colombo
At West Dean College, first year clock students make a hoop and spur wall clock from scratch. As far as practicable we use techniques available to an eighteenth-century clockmaker. This gives the deepest understanding of the mechanics, aesthetics and the way historic clocks are put together. Verisimilitude is important, but not critical. When making driving weights, students usually use brass tube, topped, tailed and filled with lead. As a former archaeologist, I wanted more authenticity.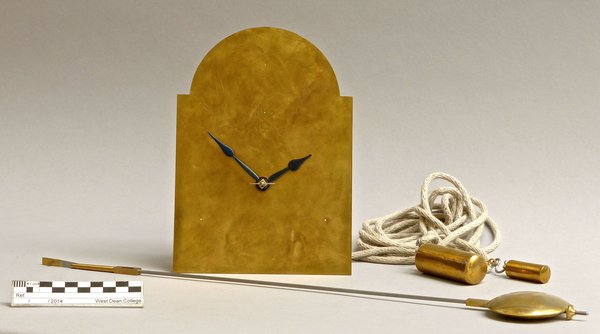 Examining a selection of old weights showed:
The joints do not seem to be soldered. Under a microscope, often the seam is marked by a thin copper-coloured line, likely to be loss of zinc from the brass.
The joints are not brazed. It is common for the skin to split along the joint. Were they brazed, failure here would be very rare.
Often the lead has shrunk away from both sides and hanger, leaving a hollow tube running down into the weight.
The bottoms are almost always domed.
The first two suggest a butt joint. The third that the lead is stuck to the skin. It could be just the filling holding the whole thing together. Cooling shrinkage cooling would pull the skin into compression, and explain the need for domed base. The logic was convincing; time to try it.
I cut a skin and domed base of thin brass sheet, tinned and wired them tightly together. I then embedded the shell in sand and poured in lead.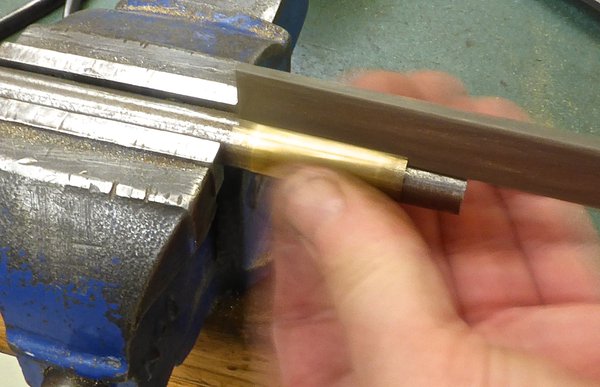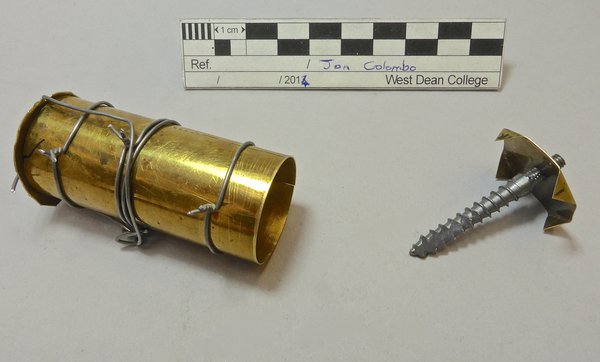 Manufacture is simple, quick, economic – sheet formed on bar, butt joint filed, wired up and ready to go; hanger made from old wood screw.
The results were pleasingly close to the originals. The lead bonds firmly to the walls, heating them enough for the outside to take on a copper colour. In cooling the lead pulls the joint tight and forms the right shrinkage patterns. When I cleaned the weight, the copper colour was often left in the now very tight butt joint.
If you fancy giving it a go, or are simply curious, http://westdeanconservation.com/2014/06/05/a-68-minute-weight-with-verisimilitude/ gives a bit more detail.