The AHS Blog

This post was written by Rory McEvoy
Last month saw the bicentenary of the Battle of Waterloo and the end of the Napoleonic era. To mark the anniversary, this week's blog posting looks at two curious watch dials. The unusual point being that they both appear to come from the same manufacturer, but were made to celebrate victories on both sides of the conflict. One of which never happened.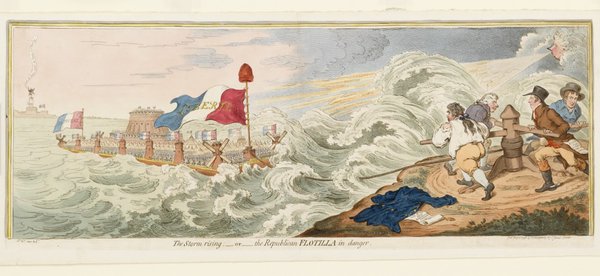 The first of the two watch dials was made around 1798 when the prospect of a French invasion of England was real and, for many, a terrifying prospect.
Rumours abounded of the French rafts that would carry tens of thousands of troops and weapons to English shores. The images of these vessels distributed by the printmakers ranged from the allegedly factual to the overtly ridiculous.
The French perspective was bullish about the prospect of invasion. Not only were they confident of success, but they also believed that the English would, for the most part, welcome the invasion.
Gillray's print (above) records that there were indeed those who may have welcomed the French. Whig collaborators are shown on the right-hand-side of the picture trying to winch the French transporter ashore and their efforts are being foiled by Prime Minister, William Pitt the Younger, seen as the wind blowing the flotilla to destruction.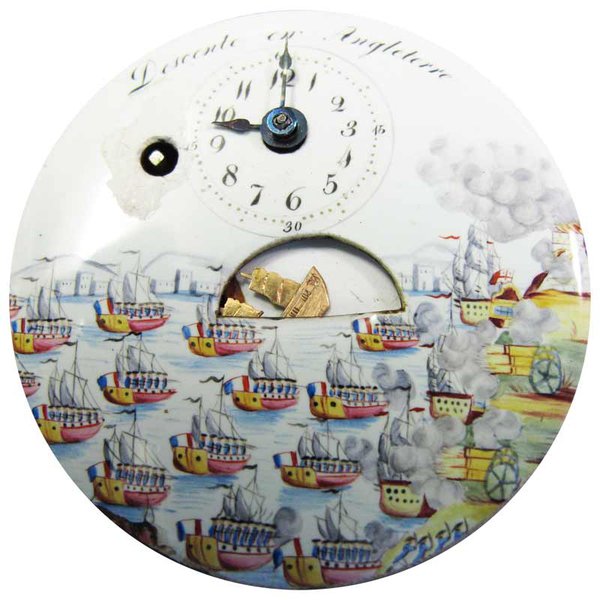 The dial depicts the 'descente en Angleterre' with a more traditional fleet of ships sailing towards the heavily defended English shoreline and serves as a useful glimpse into the mind of the manufacturer, keen to capitalize on the bullish French mood of early 1798.
The scene on the second dial is identifiable as the Battle of the Nile because of the burning ship on the left-hand-side of the image. This represents the French Flagship, L'Orient, which exploded with such violence that fighting was temporarily halted and it became a symbolic feature in popular representations of the Battle.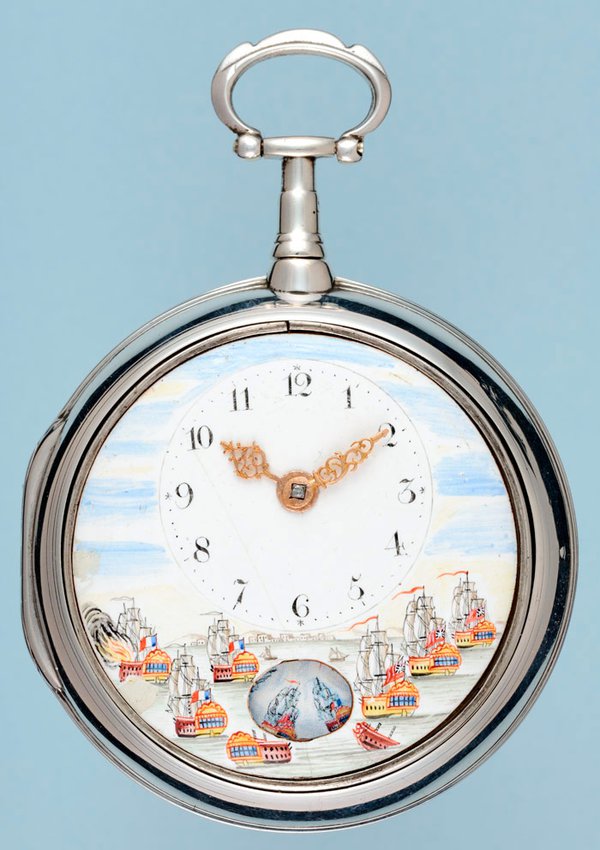 There is a near-identical row of box-shaped buildings placed along the horizon on both dials. This suggests that they both came from the same source. Such buildings seem more appropriate for the northern coast of Africa than the southern shores of Britain and so it was probably a generic depiction preferred by the artist.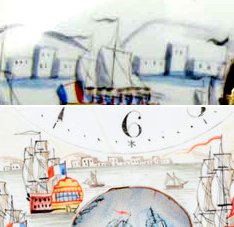 As an asides, the invasion watch dial has a later counterpart in the Museum's medal collection. A rare sample medal was struck in 1804 with dies intended to be used in London by the victorious French conquerors. Despite amassing a substantial force in the Boulogne area, the embarkation was prevented, principally by the diversion of troops and resources to the Battle of Ulm and, secondarily, by the English blockades.