A few examples of contemporary typography in watchmaking
This post was written by Lee Yuen-Rapati
The evolution of typography in horology has come a long way from the dominance of Roman numerals and the round hand script. While the mid-twentieth century remains a potent library of inspiration for today's watch brands, other watchmakers look forward in creating their timepieces.
These contemporary watches can appear non-traditional or even avant garde, with typography to match. However a closer look reveals that even the newest typography on watches still has connections to the past.
The use of bold and blocky sans-serif numerals is a common trend in many contemporary watches that try to eschew a sense of antiquity, at least on the surface. A prime example is the collection from Urwerk who have consistently used a bold and angular style of numerals since their inception in the late 1990s. The ultra high-end pieces from Greubel Forsey also feature rather rectangular numerals which both match the aesthetics of their main collection, but provide an interesting juxtaposition in their Hand Made 1 as well as the Naissance d'une Montre (1) watch, both of which highlight more traditional watchmaking techniques.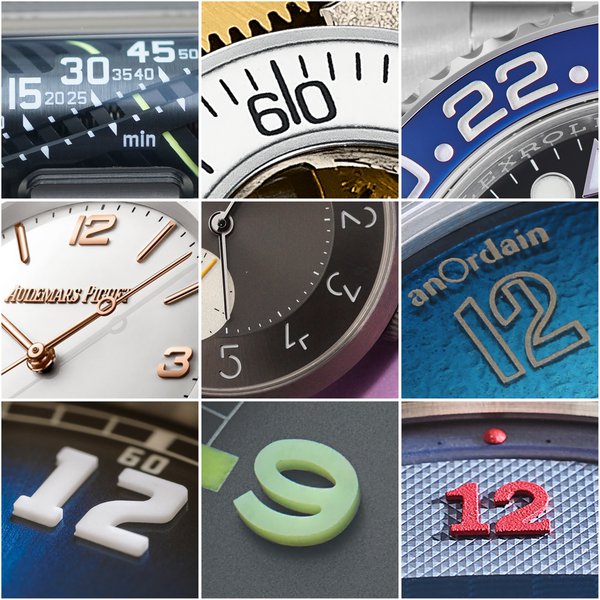 The use of bold and blocky numerals is more of an evolution for a company like Rolex who have adopted them across their recent collection, notably on the Explorer and GMT-Master II models. While none of the examples above are likely to be mistaken for antique pieces, similar rectangular or blocky numerals were popular in the art deco era and into the mid-twentieth century. Even if the watch is new, the link to the past is sometimes quite prominently promoted as with the unabashedly contemporary (and divisive) Code 11.59 collection which features numerals adapted from a 1940s Audemars Piguet minute repeater.
Some contemporary watches pull from outside the horological world to define themselves. Hermès as well as the young company anOrdain each sought out type designers to create new and identifiable typography. Hermès got its modernist numerals from the studio of Philippe Apeloig for its Slim d'Hermès line while anOrdain's typographer Imogen Ayres created numerals inspired by survey maps. Neither brands' numerals are completely new, but their lack of typographic precedence in the watch world make them both stand out.
Other brands use more traditional numerals but change the material in order to place their watches firmly in the twenty-first century. H. Moser & Cie's Heritage Centre Seconds Funky Blue uses applique numerals that are inspired by 1920s pilot's watches. The appliques are made from the luminous material Globolight rather than metal. In a similar fashion, the refounded British brand Vertex uses moulded Super-LumiNova numerals in lieu of traditionally painted or printed numerals on their military-inspired watches. Kari Voutilainen offers the option for brightly coloured arabic appliques on his watches which bring a youthful presence to his more classically designed dials. Dimensionality has long been a useful styling tool for watchmakers, and the inclusion of new materials has produced some very refreshing results.
The examples above represent a few different typographic paths for the contemporary watchmaker to follow. While these watches and their typography may appear to share very little with antiquity, there are always links to trace back, they are simply being shown from a new angle.
Photo credits:
Baruch Coutts @budgecoutts (Urwerk, UR-UR111C)
Greubel Forsey (Hand Made 1)
Atom Moore @atommoore (Rolex, GMT Master II)
Audemars Piguet (Code 11.59 Selfwinding White)
Baruch Coutts (Hermès, Slim D'Hermès Titane)
AnOrdain (Model 2 Blue Fumé)
H Moser & Cie (Heritage Centre Seconds Funky Blue)
Vertex (M100)
Atom Moore (Voutilainen, TP1 OW2019)