The AHS Blog

This post was written by Daniela Corda
Over summer 2018, Matthew Read, Director, Bowes Centre, and I were commissioned to condition survey, part disassemble, pack for transportation, and reassemble an eighteenth-century automaton clock on behalf of York Museums Trust.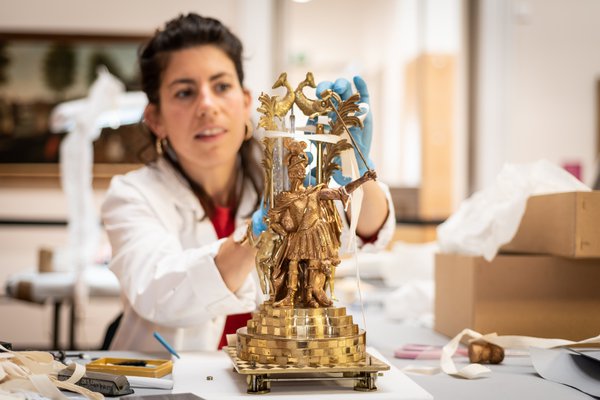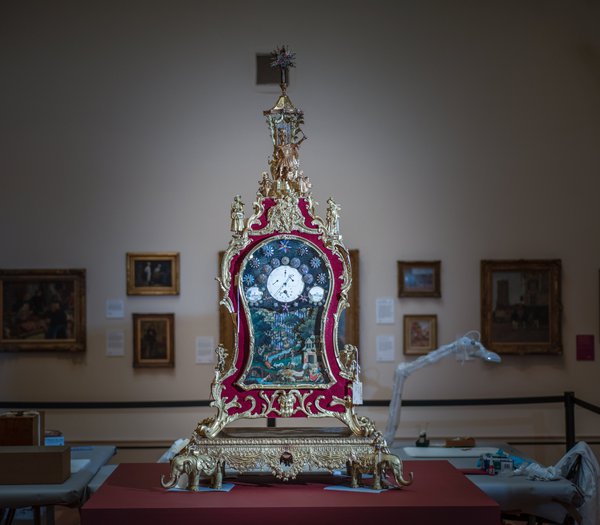 Originally assembled during the 1780s, this highly ornate clock was most likely designed for the export market and – although unsigned – has long been attributed to the London inventor James Cox (c.1723-1800).
The compilation of written and photographic condition surveying helped update museum records, inform current and future care, and outline operation options.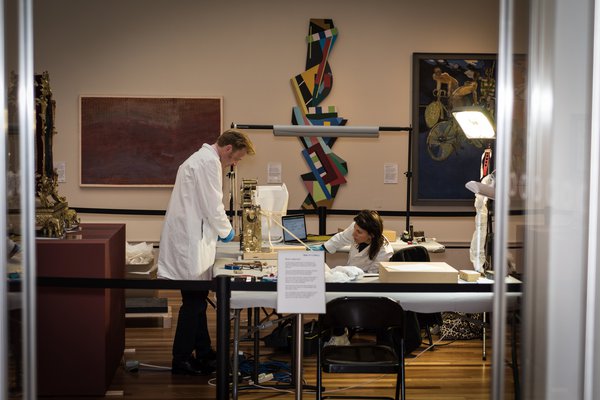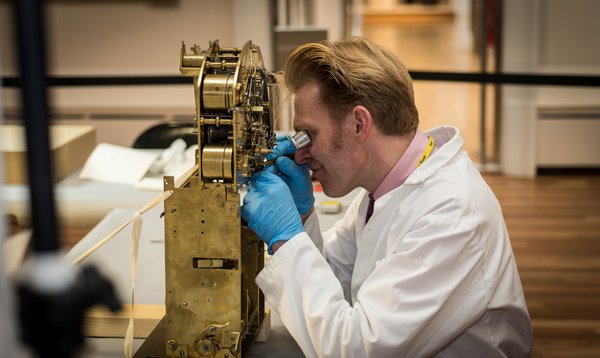 In its new permanent location in the Burton Gallery at York, the clock is on open display for the first time. Preventive measures were taken during reassembly such as the insertion of Melinex® film behind the case frets to restrict dust entering the case.
Under normal operation, the clock performs a 360-degree audio-visual show that includes rotating glass rods simulating waterfalls; automata pastoral scenes; spinning stars; jewelled contra-rotating flowers, and dancing cast-figures. In addition, the clock plays a sequence of seven melodies on a nest of eleven bells, striking the quarters too.
A detailed treatment report from York Castle Museum, dated 1982, indicates the clock has undergone many repairs, alterations and layers of reinterpretation, including the replacement of a pipe organ with a nineteenth-century Swiss musical box mechanism.
In its present state the clock has six main functions:
Clock mechanism indicating hours, minutes, seconds, 1/5th seconds, date and age of the moon
Quarter striking
Hour striking
Automaton musical train
Automaton drive mechanism
Swiss musical box
The majority of these dynamic elements are able to function, thanks to major renovation upon the object's acquisition in 1974. So, although the clock can run, the overriding question is: should the clock run?
As the single dynamic historic object on show at the Gallery, running the clock adds tangible and intangible value for visitors, but comes at the cost of further cumulative damage. The present arrangement is to run the clock's main movement, authorising the ticking sound, the hour and the quarter striking, but only to operate the automata elements at scheduled times.
Digitisation methods are being considered to build into wider conservation plans. Following prior research into microcontroller electronics, this object can benefit from implementing digital strategies such as recording audio aspects, reversibly relieving the mechanical movement from operation, and therefore wear, without experiential losses.
This ostensibly straightforward project highlighted inevitable emotional, mechanical, philosophical and conservation collections care questions. The clock can be seen at York Art Gallery with automaton demonstrations on Wednesdays and Saturdays, 14.00.