The AHS Blog

This post was written by James Nye
Petrol rationing ceased in May 1957, but the legendary Colonel Quill, DSO, had long planned the AHS September visit with a view to everyone needing to use public transport, staying local in London.
About forty members and friends descended on the workshops of E. J. Dent & Co in Lambeth, but the meeting report (AH Dec 1957, p. 95) was text only.
On the day, pictures were taken by our distinguished early member Bob Miles, but not being used these found their way into an envelope, to disappear in our archive, until I had a look inside, nearly sixty years later, a few days ago. I thought it was high time they had some exposure.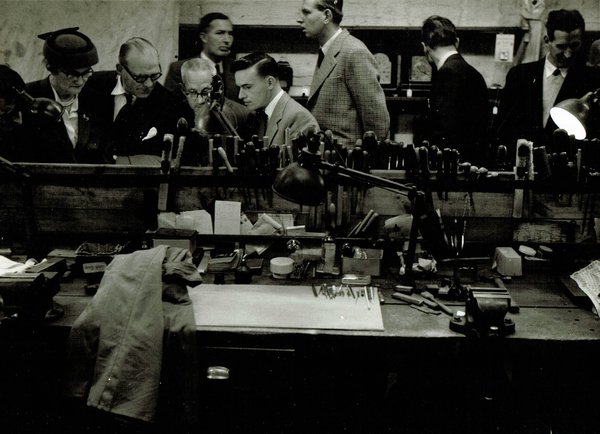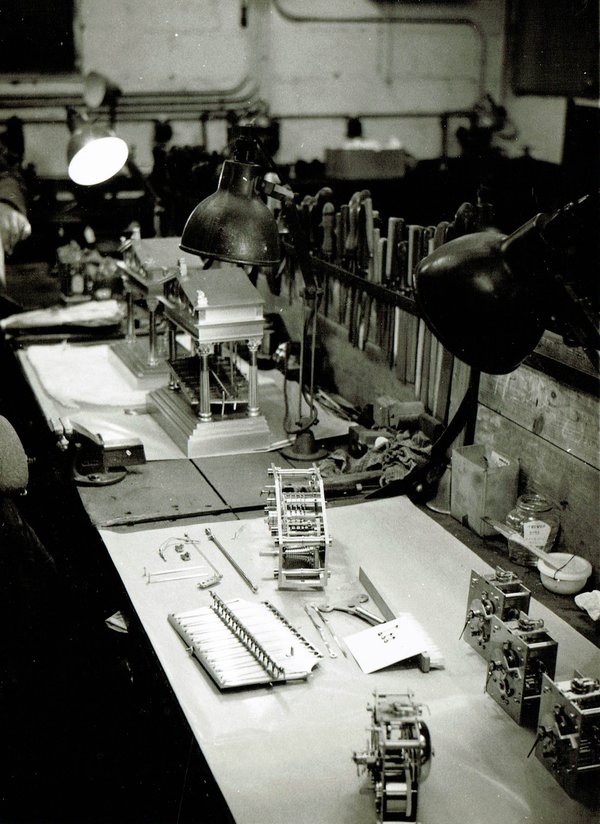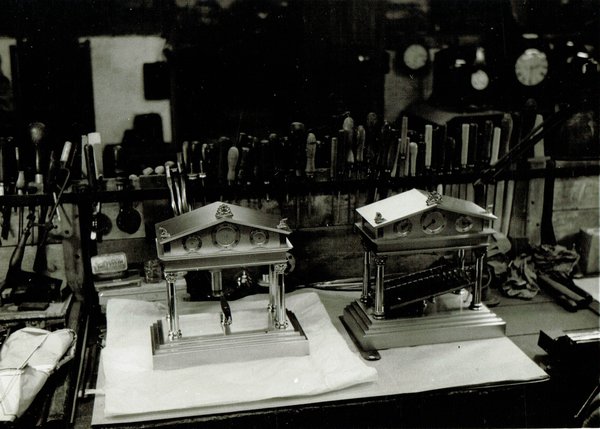 Daniel Buckney (great grandson of E.J Dent) and AHS founder member Charles Williams, both of Dent, showed everyone round.
The objects on view ranged from a striking wrought iron cage clock by Edmund Howard of Chelsea (1761), through to modern editions of the Congreve rolling ball clock, a design which continued to be made for several more decades.
In the case of the Howard, substantial information has come to light in recent days, and I will try to resolve this into an article for the journal as soon as possible.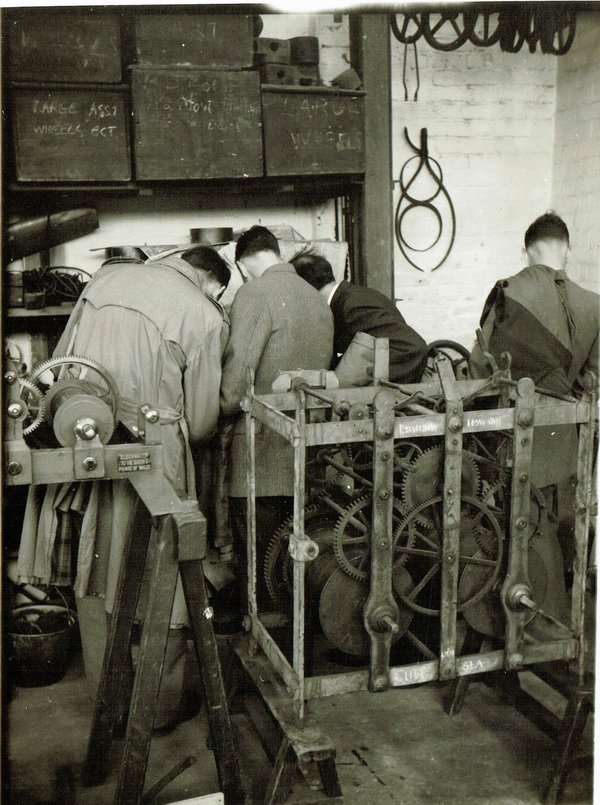 Being Dents' workshop, there were turret clocks aplenty, of course, including examples not only from Dent, but Benson, of a wide variety of shapes and sizes.
An unusual and quite large 1939 Dent quarter-striking gravity escapement clock sported intriguing fans mounted either end, and within the frame, pivoted horizontally at right-angles to the train.
It had a most unusual gravity escapement, with the escape wheel formed in the shape of a hexagram. It later found its way to the Science Museum, where it still resides.
A wonderful exhibition model turret/skeleton clock was on display, which later found its way to the Rockford Time Museum, and thence to a fabulous private collection. A British Pathé film taken in the workshops only a short time later features many of the same clocks.
The joys opening old envelopes can bring!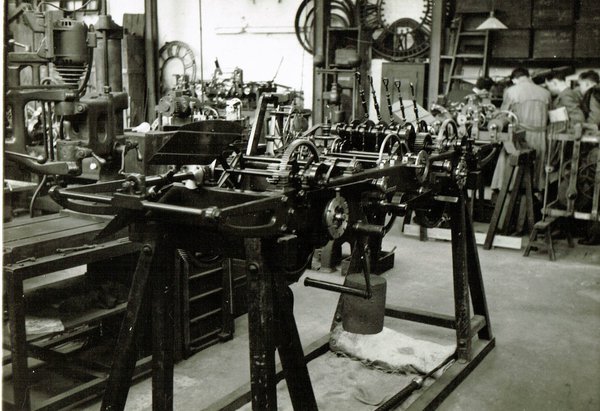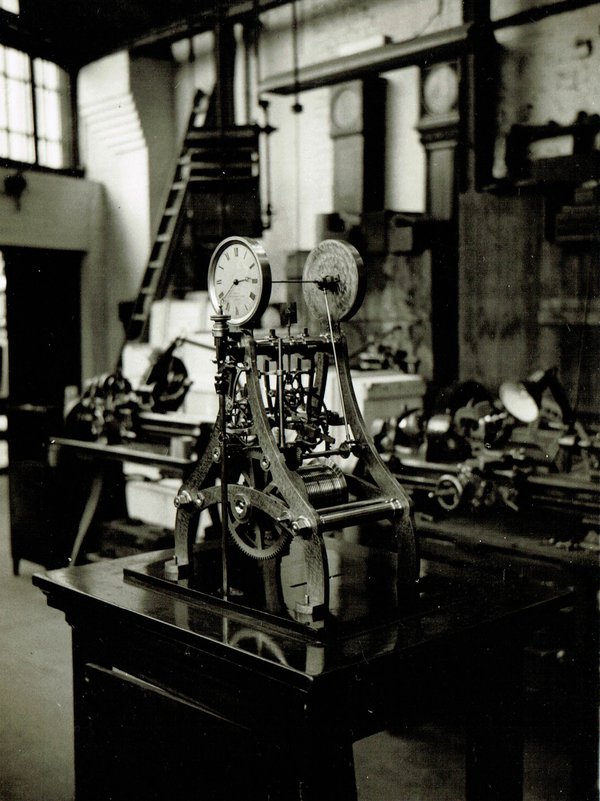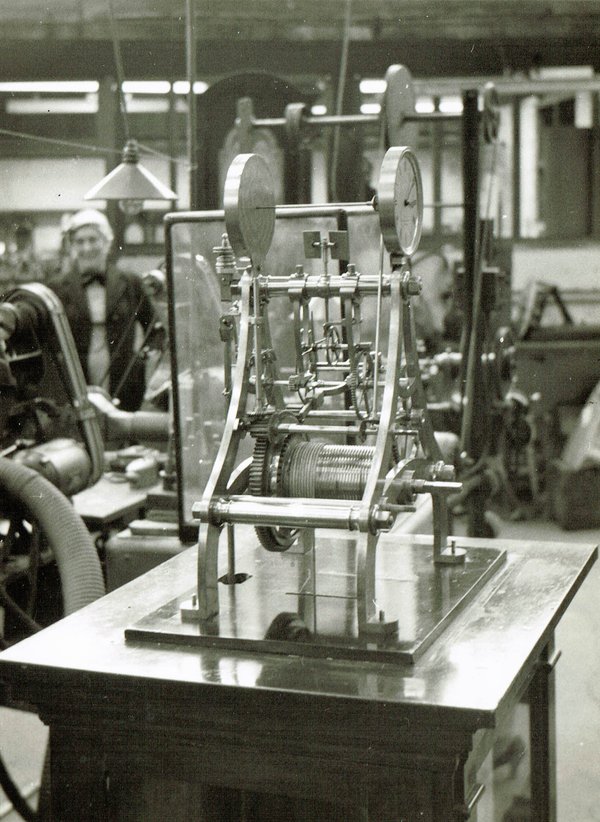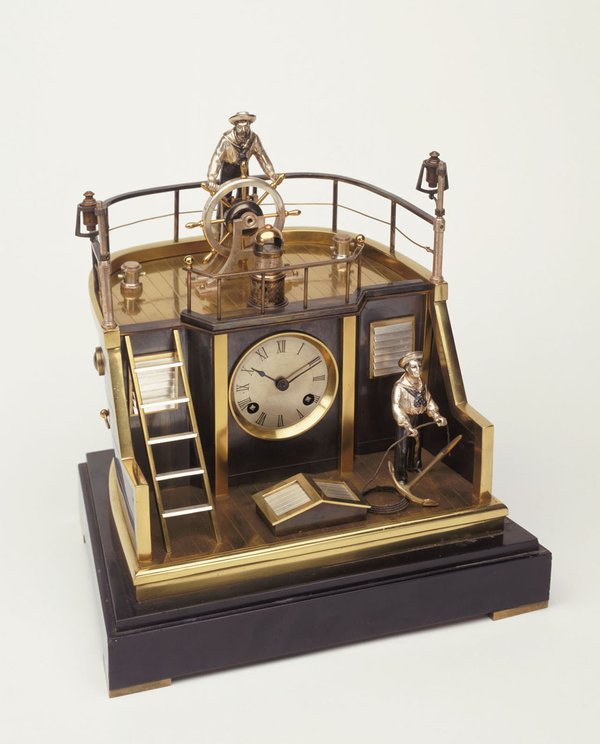 ...but mostly compound pendulums are regarded as a nightmare when it comes to precision.
This was not always the case, as I found out in the conservation and research into an electromechanical double pendulum clock, patented by M. Pierre Sellier in 1909.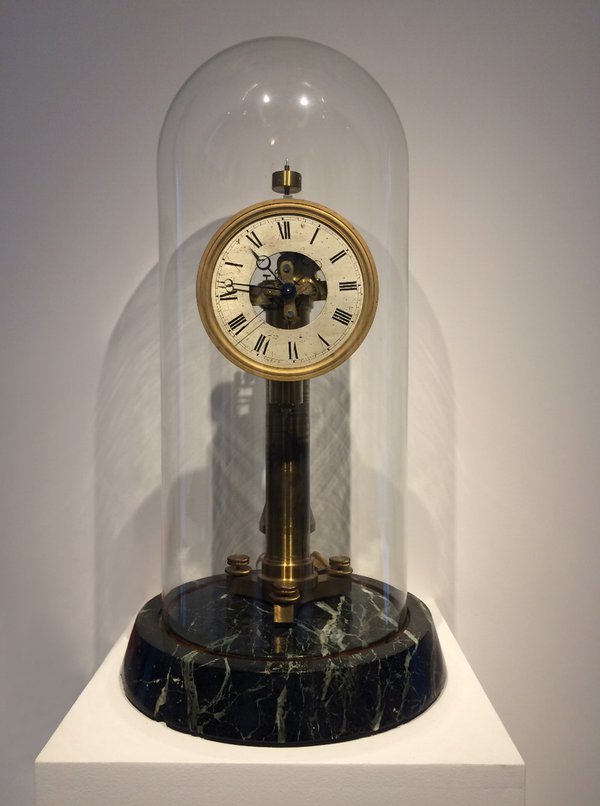 Sellier's patent clock (on display at The Clockworks) uses a compound pendulum to provide the drive to the hands, while a 'free' pendulum controls the electro-magnetic impulsing of the compound pendulum, by making and breaking the drive circuit.
Sellier's invention was, like most other compound pendulums, lacking in precision, but in the early 20th century he was not alone in using a compound pendulum in the quest for precision time keeping.
In other horological circles, consideration was given to the compound pendulum as a potentially useful component.
While in 1909 the Deutsche Uhrmacherzeitung described the compound pendulum as a 'rape of the pendulum principle', a major article by Prof. Dr. Ing. H. Bock in 1929 in the same magazine reported on a compound pendulum as a precision break-through.
After criticising the suspension spring type used in Shortt's free pendulum for its variable elasticity modulus, Bock introduced Dr. Max Schuler's idea of exchanging Shortt's free pendulum for a compound pendulum resting on a knife edge.
He claimed that Schuler would soon be able to measure all the anomalies in the Earth's rotation and outperform the Shortt clock with 'German toughness'.
The Schuler clock has ended up at the Deutsches Uhrenmuseum at Furtwangen, and no doubt we will hear more about in due course!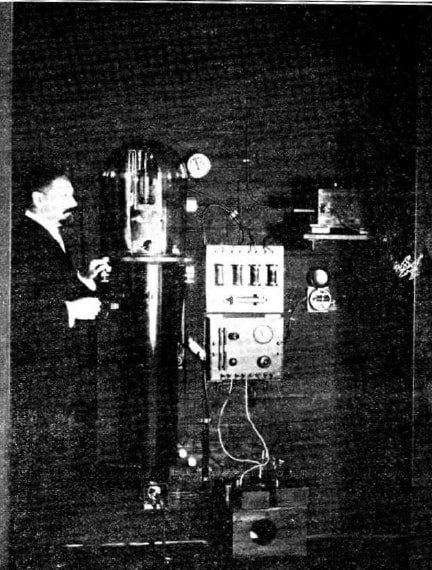 This post was written by James Nye
Someone I know is researching the electric clock systems of Ritchie. Being a pro, I rather suspect they have run a lot of obscure sources to earth, but I'm going to make a point of drawing their attention to English Mechanic and World of Science from 1874, where I believe Ritchie published a piece on controlling clocks and time-signals by electricity.
This might come as an interesting addition to the better known 1878 piece in the Journal of the Society of Arts (vol. 26).
Another friend has a forthcoming piece on the pneumatic time distribution systems of Mayrhofer, which will appear in the Deutsche Gesellschaft für Chronometrie's next yearbook. There is just a chance he may not have come across the 1882 piece by Berly in the Journal of the Society of Arts, providing an overview of the state of the art in pneumatic horology.
How on earth do I come to know of these possibly useful references? In 1951, G.H. Baillie published an historical bibliography, covering horological literature published prior to 1800. It has been a goldmine ever since.
A second volume, covering literature published between 1800 and 1899, was drafted, but never published – until now. The AHS has arranged the copy-typing of the typescript, and a digital (searchable) version is now available to download from the members' area of the website.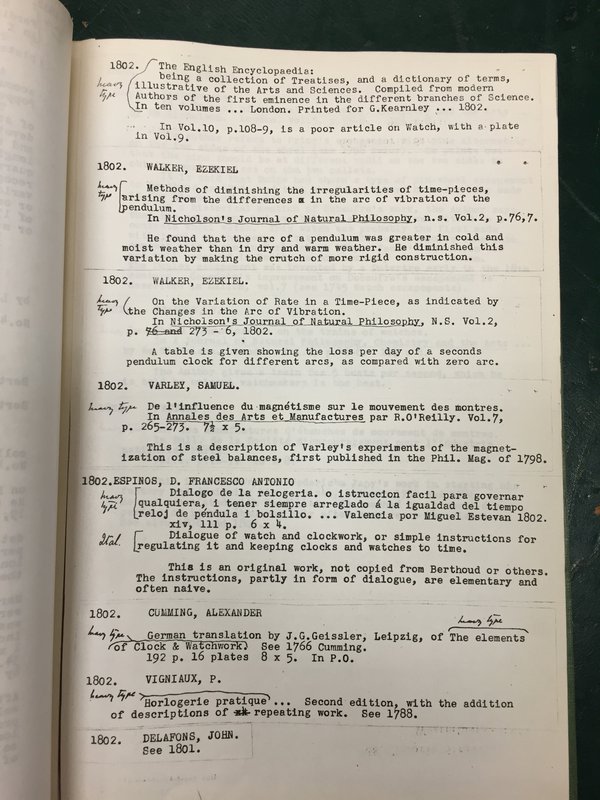 It's a fantastic new resource for researchers. Yes, all the obvious literature is there, of course, but there are also vast numbers of obscure references which will illuminate your research.
And Baillie included the good, the bad and the ugly.
An 1889 article on watch cocks by Luthmer is described simply – 'the illustrations are very good. The text is of little value'. Parker-Rhodes' 1885 pamphlet on 'Universal Reading of Time; is 'of no value or interest'.
But Baillie is unstinting in his praise where it is merited – witness the simple observation on Poppe's 1801 Ausführliche Geschichte der theoretisch~praktischen Uhrmacherkunst , that 'this is by far the best history of horology that has ever been written. Hardly a statement is made without a full reference to the authority for it.'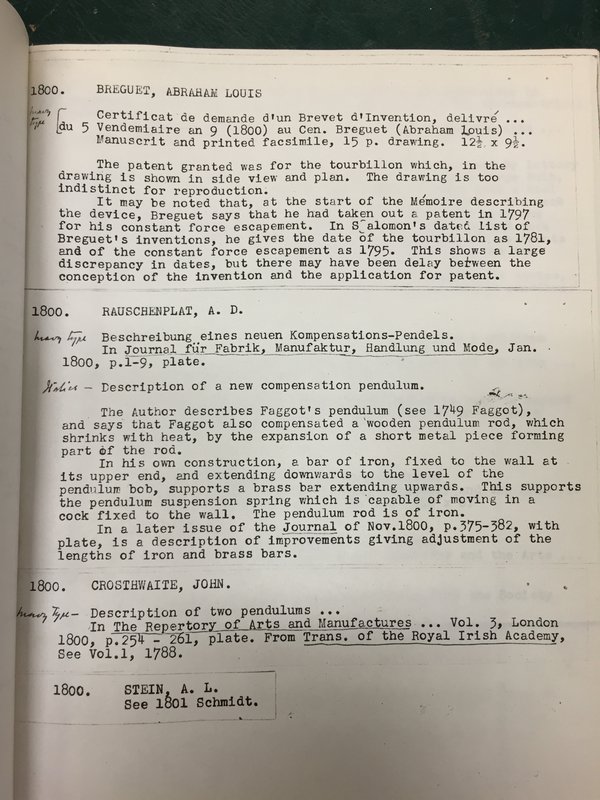 Membership of the AHS brings you full digital access to over sixty years of Antiquarian Horology , and other amazing digitized records – such as this latest bibliography, which finally makes an appearance sixty-five years after the author's death. It is worth investigating.