And now for something different
This post was written by David Read
In the world of watch collectors there are many who dislike finding that a pocket watch case has been engraved with the owner's name, or to record it being given as a present. My feelings are different. An engraving not only provides a date which can be useful information, but can also point to an interesting history.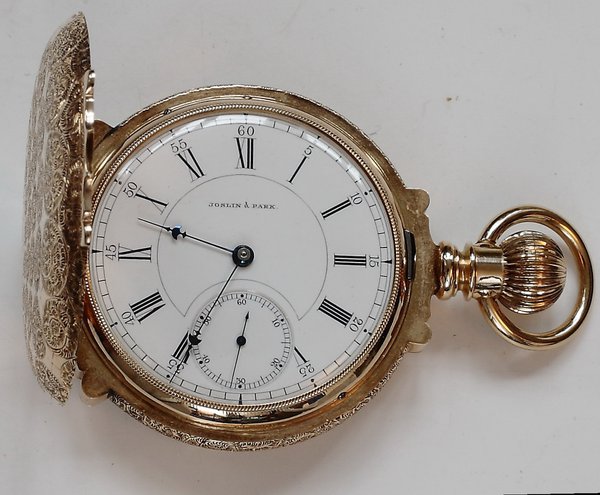 Late one evening in November 2000, I was watching a BBC documentary about the Yukon Gold Rush when the name Skookum jumped out at me.
In turn, I jumped out my chair because some years earlier at a NAWCC meeting in Florida, I had acquired a 14 karat gold E.Howard & Co. pocket watch retailed by Joslin & Park of Denver Colorado.
E. Howard & Co. made some of the finest watches in America so it interested me, as did the inner back which was not the same colour of gold as the rest of the case. And engraved on it were the words, 'A relic of Skookum Gulch March 22nd 1897'. It was certainly something different.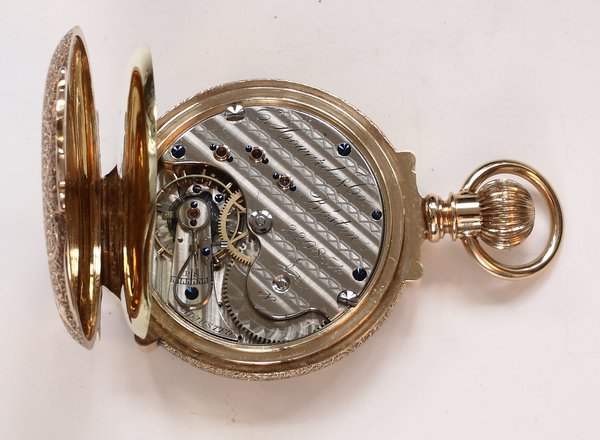 When the Yukon documentary finished, some quick research on the Internet led me to an email address for the Yukon Prospectors Association and before going to bed I sent questions with attached images.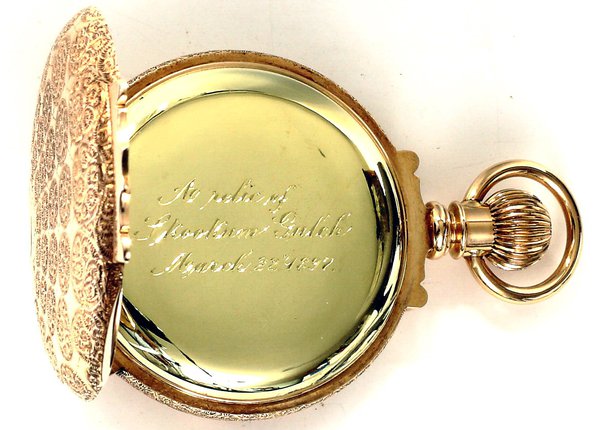 In due course I received a reply from a member, himself a prospector who had searched for gold and experienced the thrill of finding it.
The following summarizes what he wrote:
'Gold was first discovered at Skookum Gulch by Joseph Goldsmith and his partner on 22nd March 1897, the date engraved on your watch. Arriving in the Klondike area too late to stake a claim on one of the major creeks, he prospected the feeders and found rich gold in this one. Goldsmith staked the first claim and named the stream. He, or perhaps his partner, used some of the gold to have a replacement inner cover made for the watch. The gold will be from the original panning and is significant in that it marks an historical event'.