The AHS Blog

This post was written by Mat Craddock
In the gas-fired warmth of the Royal Arcade, WWG members heard Justin Koullapis (our gracious host, The Watch Club), Adam Phillips (casemaker and restorer), Greg Dowling (WWG member and watch collector) and Oliver Cooke (Curator, Horological Collections at the British Museum) discuss originality in watches.
Oli's curatorial view of conservation was, perhaps, the most extreme: once an item enters a collection, the aim is to put it into stasis, free from the damaging effects of winding or lubrication.
From a collector's point of view, Greg said that the possibility of wearing and using a watch might lead him to seek out to the most appropriate way to restore the piece to working order.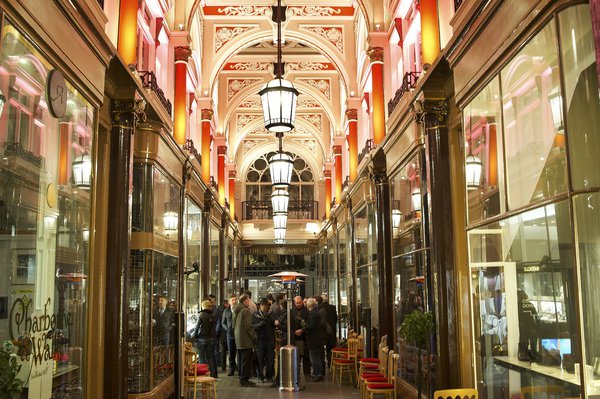 Adam agreed, and seemed largely happy to undertake work under the direction of his customers, taking the view that sensitive restoration and repair can extend the useful life of a watch.
Justin's thoughts on the subject were from two, contrasting, points of view: as a non-practising watchmaker and as a watch dealer. He said that great value is placed on entirely original objects, many of which have been hidden away for many year. However, his fascination with how objects were made often caused him to place more value on the skills of the watchmaker, rather than the watch itself.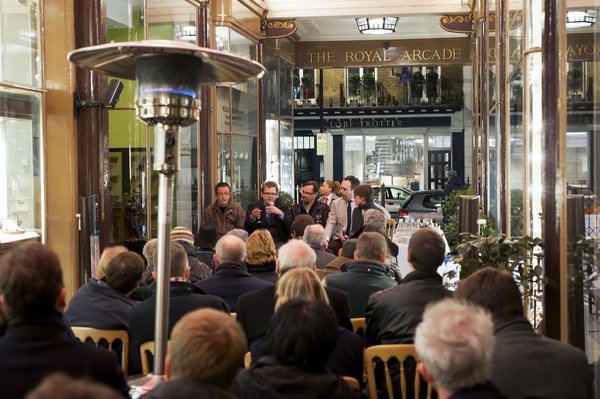 Questions were taken from the audience, and covered topics such as dealer versus collector (the panel was split on the definition of a collection); the dangers of old radium (the British Museum has their luminous watches stored in steel-lined rooms that are externally force vented); and even the purpose of collecting watches.
In response to the last question, Mr Dowling quoted from the late Dr George Daniels: there's nothing more attractive than a good watch. It's historic, intellectual, technical, aesthetic, amusing, useful.
A fitting end to an interesting evening.
This post was written by Mat Craddock
On Thursday 29th October, the AHS's first new Group in over forty years held its inaugural event.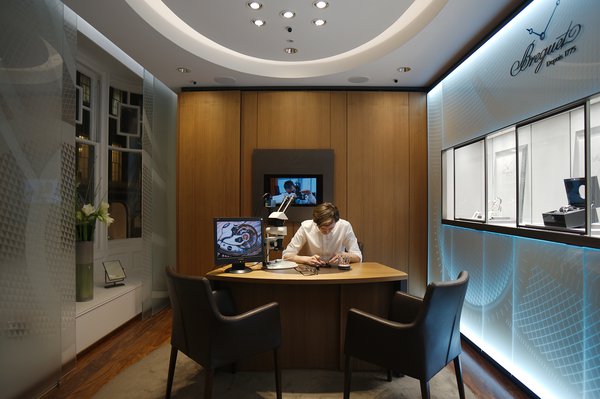 The Wristwatch Group, whose aim is to further research into, and to increase the understanding of, wristwatches, has been working with one of the oldest and prestigious names in watches, Montres Breguet SA, to host the event.
Breguet's newly-opened three storey boutique on Old Bond Street was the perfect venue, with vintage pieces on display alongside current models, many clearly showing a direct lineage from Abraham Louis' extraordinary and often revolutionary designs.
One of Breguet's in-house watchmakers guided guests through the often bewildering complications and materials on these modern watches, which are now just as likely to be using titanium and silicon, as brass or gold, such as the Breguet Tradition 7077.
This fascinating new piece is a bifurcated model with two movements working independently at different frequencies: a relatively traditional time-only mechanism (3Hz); and a 20-minute chronograph operating at 5Hz.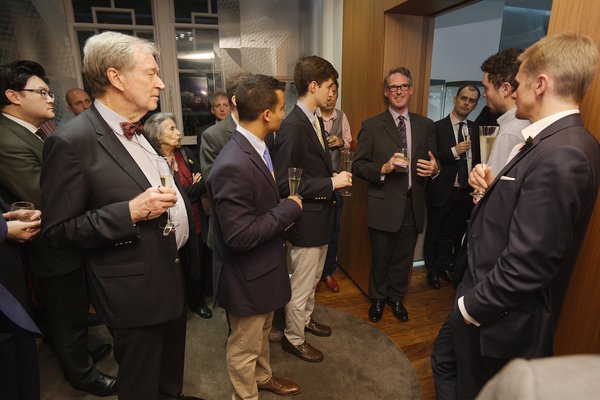 The evening was introduced by Jonathan Betts MBE on behalf of the Chairman of the Council, and was followed by two talks by two of this country's most knowledgeable Breguet experts, Andrew Crisford and Stuart Kerr.
Jonathan's introduction also paid respect to AHS President Lisa Jardine, a firm supporter of the Group, who had sadly passed away a few days before.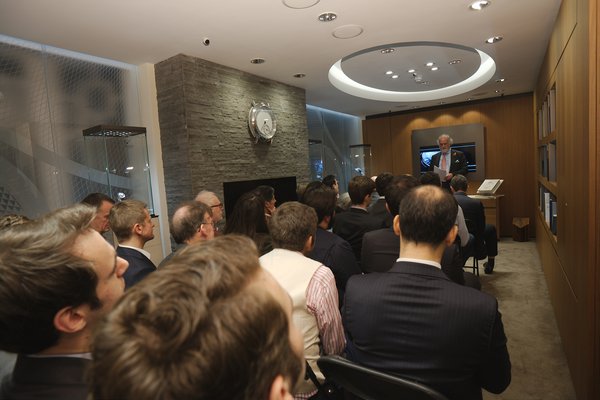 Andrew drew parallels between modern wristwatch marketing practices, such as product placement, the use of brand ambassadors and accessorising, and the pioneering efforts by Abraham Louis.
It seems that even in the early 19th century, Breguet was ahead of the game. Stuart began his talk by describing the circumstances that lead to the Longitude Act, via the alleged murder of Sir Cloudesley Shovell on the sands of Porthellick Cove. Shovell's pocket watch, an English verge had recently been brought into the boutique and was, along with some of Andrew's Breguet-related paraphernalia, available for guests to view.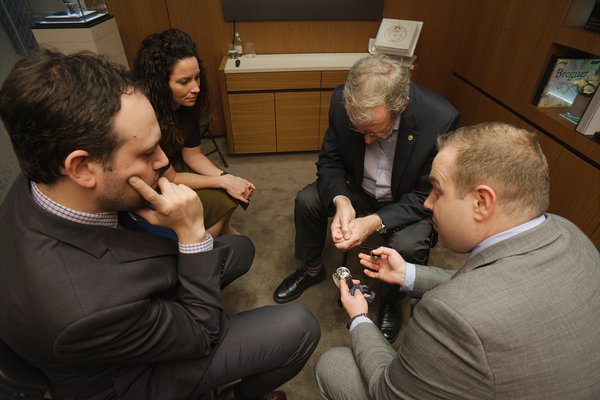 This post was written by Mat Craddock
It's possible that we may never know for sure when the first wristwatch was made, although that hasn't stopped a number of Swiss brands laying claim to the production of some iteration of that ur-device.
The Patek Philippe N° 27'368 is such a piece – a six line, gilt, cylinder escapement encased in a rectangular gold bracelet with a hinged, hunter-style cover – although it's not clear who originally commissioned it from Antoine Norbert de Patek and Jean Adrien Philippe.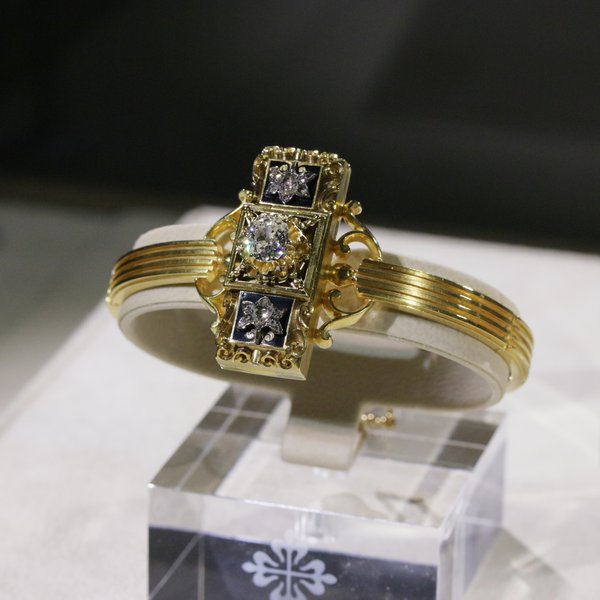 The watch is usually behind the well-maintained glass of the Patek Philippe Museum in Geneva, so it was wonderful to be able to see it as part of the Watch Art Grand Exhibition in London's Saatchi Gallery during May.
This exhibition took the visitor through an immersive area showing an introductory film, introduced them to metier d'arts and other decorative skills, and included over 400 pieces, from automata to automatics, which spanned almost five hundred years of watchmaking.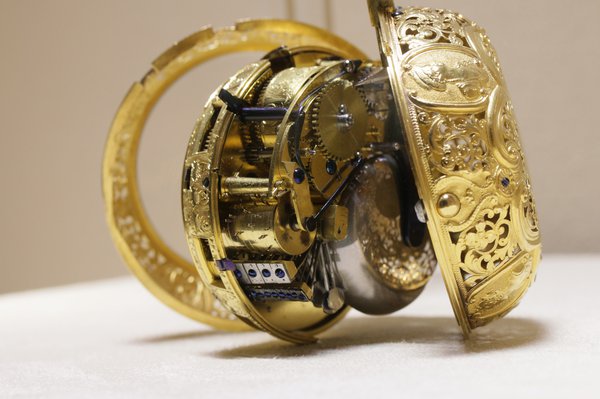 At the end of the route, British watchmakers answered visitors' questions about case refinishing, movement assembly and the chiming mechanism of a minute repeater movement.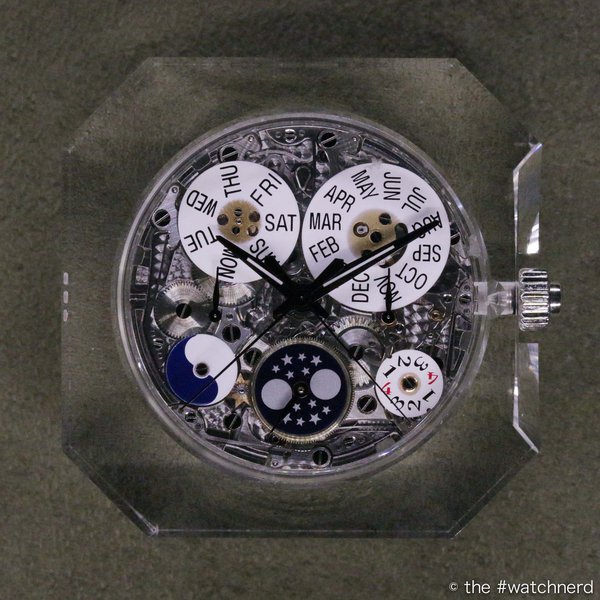 Patek N° 27'368 was made primarily as a timepiece to be worn on the wrist, rather than as a piece of jewellery (i.e. the bracelet is of secondary importance). That must have required, one imagines, a great leap of faith on the part of Messrs Patek and Philippe.
While wristwatches gained popularity with women during the 1880s and 90s, and were also produced for men as military timekeepers during a similar period, the earlier oblong-shaped repeater for wristlet sold to the Queen of Naples on 5th December 1811 by Breguet, appeared to have made no horological or sociological impact at all.
N° 27'368 was finally sold to the Countess on November 13, 1876, some eight years after it had first been built.