The evils of modern living
This post was written by James Nye
If you have not seen Terry Gilliam's Time Bandits, I strongly recommend it. Without giving too much away, there are some magical (hilarious) scenes when Evil is incarcerated in the Fortress of Ultimate Darkness, planning the overthrow of the Supreme Being.
He believes he will be free, 'Because I have understanding'. A flunkey asks, 'Understanding of what, Master?' Evil replies, 'Of digital watches… and soon I shall have… understanding of video-cassette recorders, and car telephones, and when I have understanding of them… I shall have understanding of computers. And when I have understanding of computers, I shall be the Supreme Being.'
It is a 1981 film. Demanding explanations of all that is new in the world, Evil asks about fast breeder reactors. Receiving an explanation, he stares into the void. After a pause, he says, 'Show me… Show me… Subscriber Trunk Dialling.'
For me, this was always the laugh-out-loud moment, that Evil could be so fascinated by STD.
The technology had been rolled out over the previous two decades, being completed in 1979. For a long time, telephone callers had been used to fixed periods of call charging, in units costing two pence each, and would hear warning pips as each period was near to ending. STD would do away with this, and two pence would now buy different quantities on a zone and time basis.
Smiths Industries anticipated a need for callers who might need reminding of the cost of their calls, and hence the Telephone Timer.
A turn clockwise of the central knob winds what is essentially an alarm-clock mechanism. The lever at the top starts and stops the clock. Once started, the dial visible through the top segment rotates anti-clockwise, and the reticle line shows call cost, based on one of four different rates.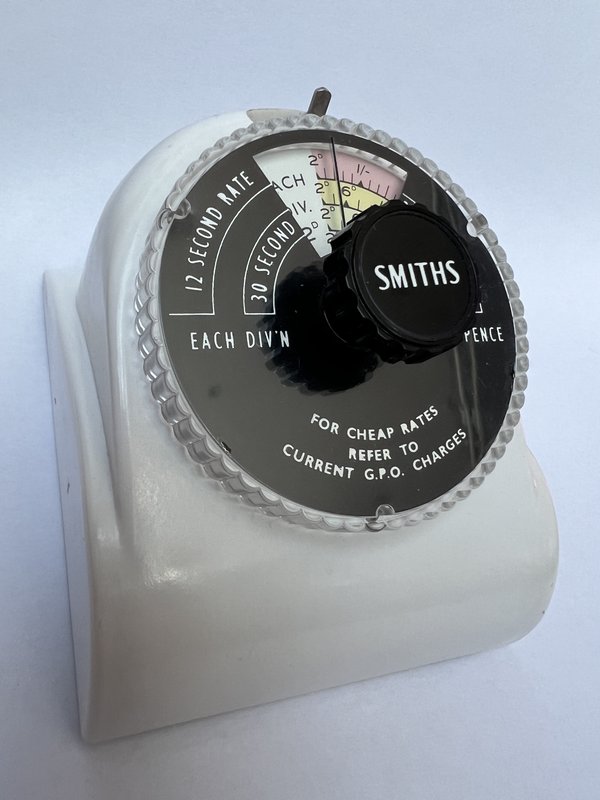 Each two minutes, a bell is struck once, to jolt the caller back to consciousness of the pennies being frittered away in conversation.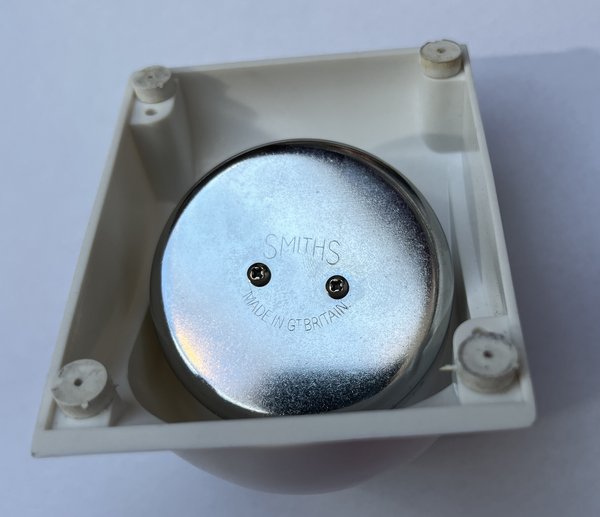 Introduced in 1961, it was widely publicised, even meriting a full two-page review from the legendary T. R. Robinson.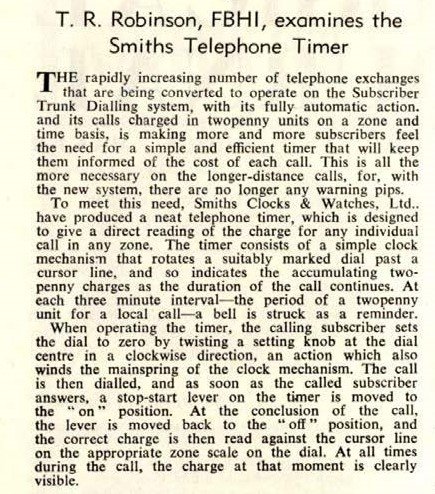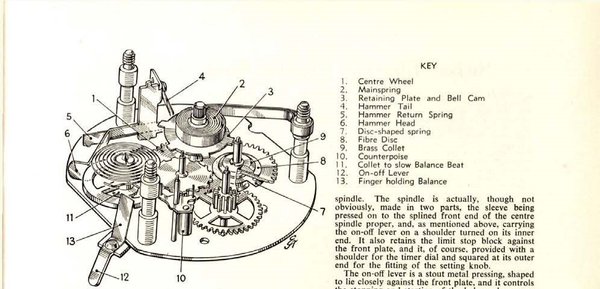 Prescient as always, some of the evils Gilliam identified remain with us, while others have long since disappeared. The Smiths Telephone Timer falls very much in the latter category.