English thirty-hour longcase clocks
This post was written by David Thompson
As well as being Chairman of the AHS, I am also Curator of Horology at the British Museum. In my museum capacity recently I have been engaged in documenting a large and fascinating collection of English thirty-hour duration longcase clocks presented to the Museum by Michael Grange in November 2010. This extensive collection covers the period c.1700 to about 1840 and contains clocks from a wide variety of locations around Great Britain.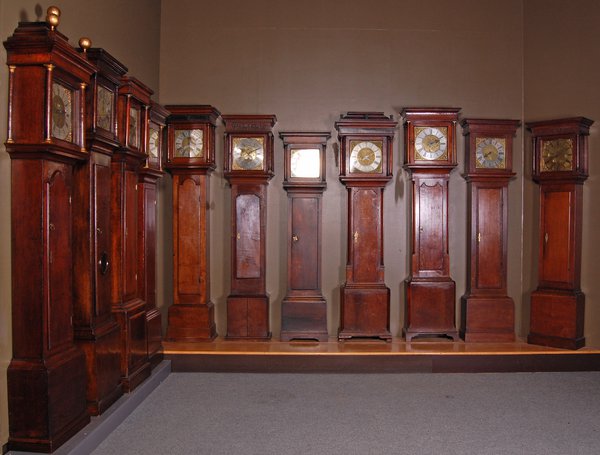 Today, these clocks still have a place in countless homes both in this country and abroad and there is no doubt that they each have a story to tell. At so many levels they reflect the tastes of those who first owned them back in the 18th century and show characteristics which are often peculiar to the locality in which they were made.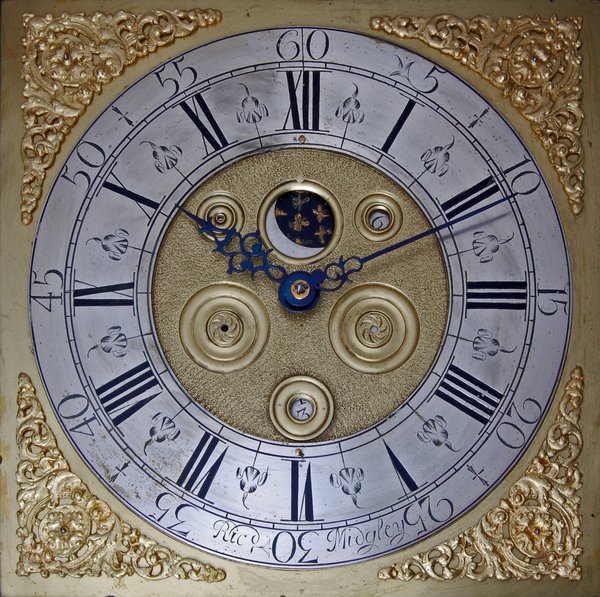 Recently, I was looking at an example by Richard Midgley of Ripponden. The stained-oak case with a forward-sliding flat-topped hood is typical of about 1740 but, unusually, there is no opening door on the hood and no mask inside to surround the dial. This is not all – this clock is eccentric in several other respects.
The five minute numeral has an embellishment in the form of an engraved flower and a further flower can be seen next to the 30 minute numeral. It seems likely that these have been engraved to mask errors.
In addition to this, the clock is pretending to be something it is not. The ringed holes near to the IX and III are not winding holes, as would be expected in an eight-day duration clock, but are simply dummies to give that impression. Keeping up with the Jones's was clearly not an uncommon concept even in the 18th century.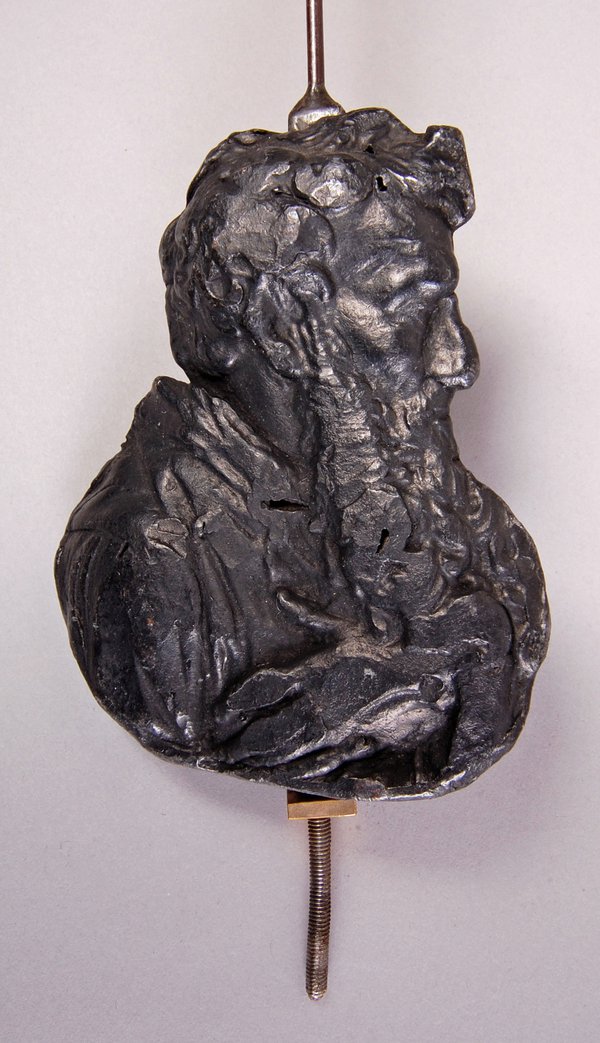 There is a final twist in the slightly eccentric nature of this clock. The pendulum bob is of a type which I have never seen before – in the form of a portrait bust. Assuming that this is the original pendulum, could this be a portrait of the maker Richard Midgley. Does it relate to the first owner? In any event it is a rare feature.
The Grange collection is a splendid addition to the collections in the British Museum and provides a unique opportunity to study and learn about the story of longcase clockmaking around the country – 'affording delightful prospects' as Gerard Hoffnung once said.