Star of the show
This post was written by James Nye
At the Mannheim electric clock fair, now in its twentieth year, one unusual item usually attracts a lot attention.
This year (2019) was no exception. The images show an early form of German 'treppenhausautomat', loosely a 'staircase lighting timer'. Lighting, and therefore electricity consumption, has always been expensive.
An intriguing question, worthy of some serious research, is the economic justification for the complicated (and also expensive) electro-mechanical devices used (late 19th/early20th C) to reduce consumption.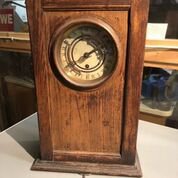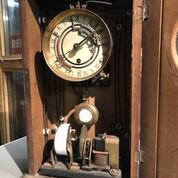 In large houses, or multiple-occupancy blocks, it's always made sense to add press-button switches to control stairwell lighting—the lamps remaining lit for a set period before being switched off.
Modern switches incorporate integrated circuits, but for a long-time such devices used a pendulum clock as the timebase.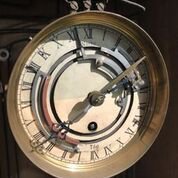 The object here dates to c.1905, and was sold by Paul Firchow Nachfolger, from 3 Belle-Alliance-Strasse in Berlin. The clock mechanism is a standard volume production element, unsigned, and perhaps from Lenzkirch.
The hands are arranged to carry an adjustable set of contacts which will make a circuit, naturally for night hours, but with the capacity to set the operating hours (accommodating seasonal variations).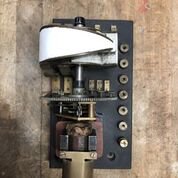 Assuming it is night (dial circuit closed), pressing a push-button in the stairwell will activate the motor below the clock, which in turn will revolve the drum.The drum has brass (conductive) sides, embraced by brass slide contacts.
The drum has a narrowed section, and when this arrives between the (wider) contacts, the circuit is broken.
The cycle lasts around three minutes.
The top panel shows ceramic entry ports for various cables: knöpfe (push-buttons), power, lampen (lamps), and two set of widerstand (resistance). The machine will switch 110V and up to 18 amps, so a significant load is possible.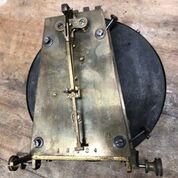 The clock is a forerunner of more typical, volume-produced 'black boxes', but its complex form (and by inference its high cost) is a strong signifier of the importance placed upon saving money and controlling power use.