100,000 more free images
This post was written by David Rooney
When I got an email from the Wellcome Trust which began, 'we have some very important news to announce', it certainly got my attention.
And they were right: it is very important news indeed, and I'm delighted to share it.
In my last post I talked about the recent release of a million images by the British Library. Already I've heard from colleagues and friends who say they have found new evidence amidst its vast collections that is crucial to support their research.
The news from the Wellcome Trust is the same. As of January this year:
'All historical images that are out of copyright and held by Wellcome Images are being made freely available under the Creative Commons Attribution (CC BY) licence. This means that they can be used and manipulated freely, for commercial or personal purposes, so long as the original source is acknowledged.'
You can download high-resolution files directly from their website. There are 100,000 images dating from as early as 1000 BCE. You can even get advice directly from Wellcome's team of researchers, should you be having trouble finding what you need.
Like many in the AHS, I'm interested not only in clocks and watches themselves, but how horological machinery gets embedded in other technologies. So I searched for 'clockwork' and, rather than showing you the clockwork trephine (not safe for suppertime), here's a clockwork picture of an itinerant dentist performing an extraction in the early 19th century. Ouch.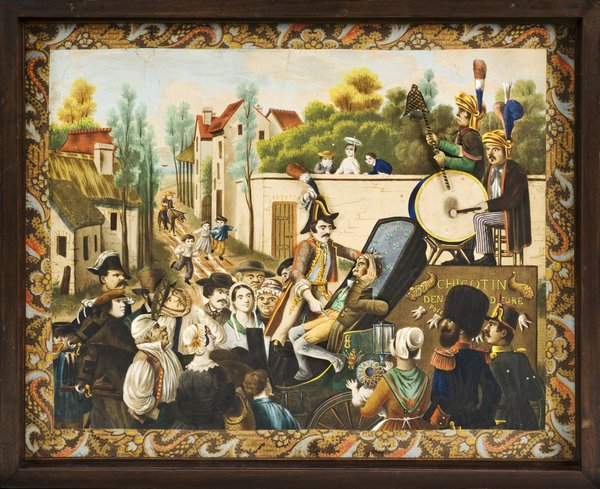 Whether you're into automata like this, or medical technology, or astrology or philosophy or geology or anything else related to stories of time and its material culture, you're sure to find something here to delight.
As I said last time, image banks such as this are invaluable treasure troves of historical evidence for researchers, whatever your subject. Serendipitous browsing leads to new leads and new ideas.
Huge thanks to Catherine Draycott and others at the Wellcome Trust (as well as the British Library) for making such a bold and generous decision to open this to everyone.