300 years
This post was written by Rory McEvoy
This year saw the tercentenary of the death Thomas Tompion (b.1639), the 'Father of English Clockmaking' and his life is celebrated in two special exhibitions: the first at the British Museum, entitled 'Perfect Timing', which focuses on the magnificent Mostyn Tompion and the second, 'Majestic Time', at the National Watch and Clock Museum in Philadelphia, USA.
Tompion enthusiasts should be further delighted by the announcement of the forthcoming publication of 'Thomas Tompion, 300 years'. The book promises a wealth of new detail, fresh illustrations and includes Jeremy Evans's previously unpublished chronology of Tompion's life.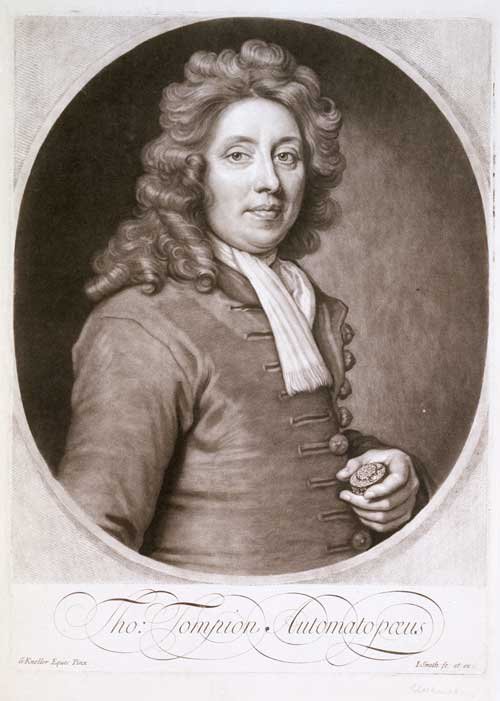 This tercentenary marks not only an end, but a new beginning as Tompion's nephew by marriage and then business partner, George Graham (c.1673-1751), inherited and continued the business at the corner of Water Lane. As far as I am aware, the earliest announcement of Graham's succession was first advertised in The Englishman one week after the death .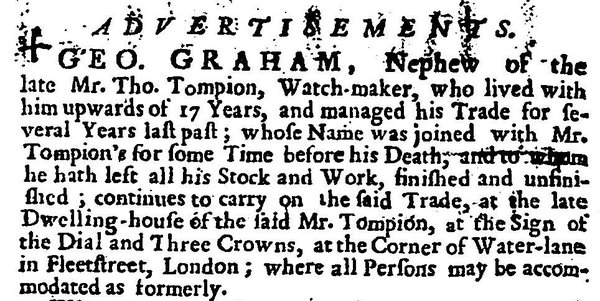 William Webster, however, did not show the same reserve. He had an advert published the day after Tompion's death in two papers: The Mercator or Commerce Retrieved and The Englishman. His announcement of the death was a thinly veiled attempt to attract business and was repeated in various papers that week.

Unlike Webster, Graham was not apprenticed to Tompion (several publications incorrectly cite Graham as being so). He joined the household sometime around 1676 after gaining his freedom from apprenticeship to Henry Aske.
Evidence suggests that Graham did not serve his entire apprenticeship under Aske and it is currently a mystery as to where he was during the last years of his apprenticeship.
Looking forward to next year there is another important tercentenary, that of the Queen Anne Longitude Act. George Graham played an important role as an encourager and advisor to both Henry Sully and John Harrison in their efforts to produce sea-going clocks and will feature in a major exhibition at the National Maritime Museum next year.