Inspired reforms – magnificent outcomes
This post was written by James Nye
In May 2014, I blogged about a competition to devise uses for new-old stock 1950s Calibre 5000 Reform movements that had turned up at the annual Mannheim electro-fair.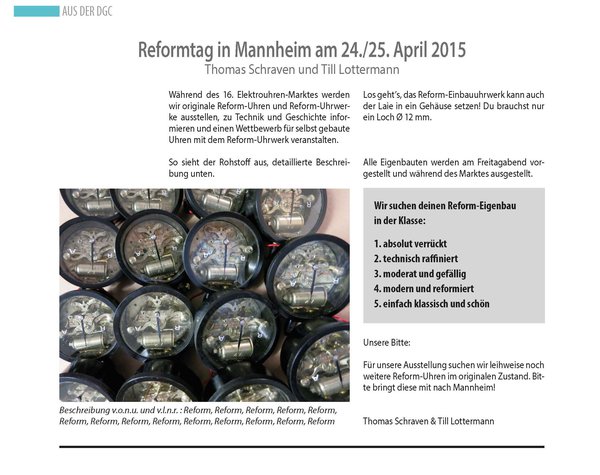 I judged the entries on 24 May this year, and what an amazing event to witness. Here was a beautifully executed movement, simple, reliable, long-lived, but criminal to hide.
How to incorporate it in a modern design, and achieve a functional clock, when the attractive side of the movement would necessarily normally face the rear? In significant style, it turns out……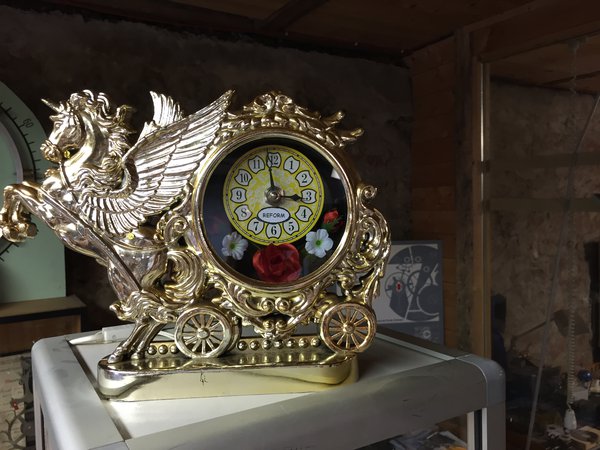 Ivo Creutzfeldt ignored convention and went for pure schlock with his tongue-in-cheek 'winged chariot entry'.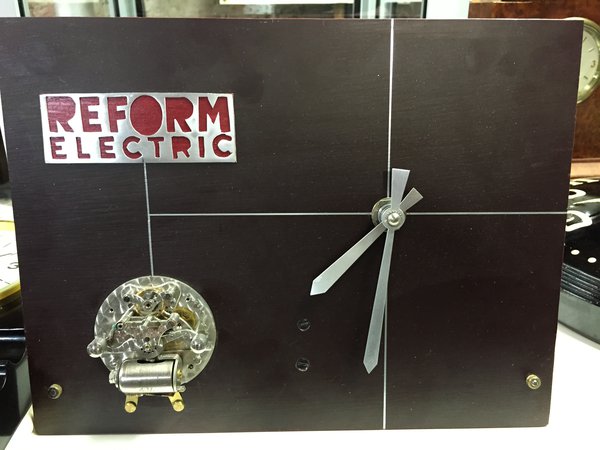 Thomas Schraven offered a couple of entries, one channelling a strong modernist theme – using two movements, one for display, the other for timekeeping.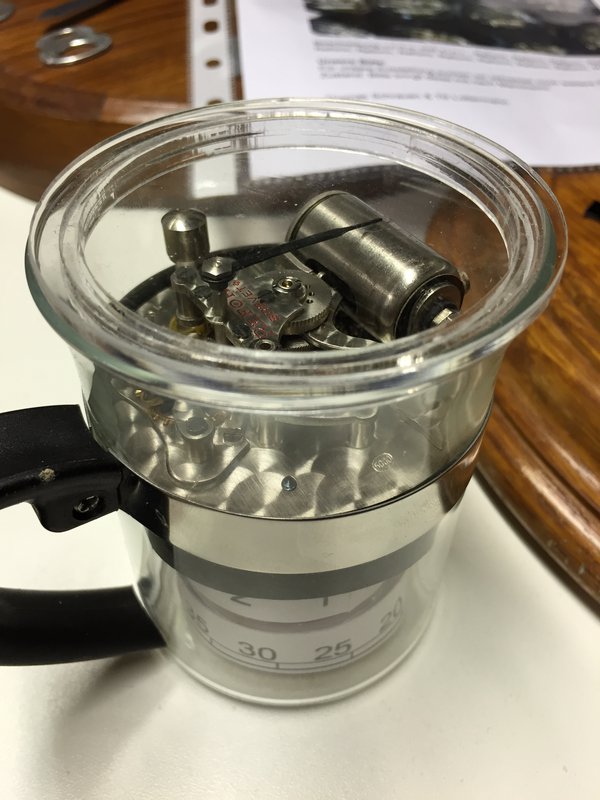 Eddy Odell showed considerable lateral thought, introducing the movement into a glass mug, keeping the movement visible to the top, while driving digital minute and hour bands in the base, the battery neatly hidden.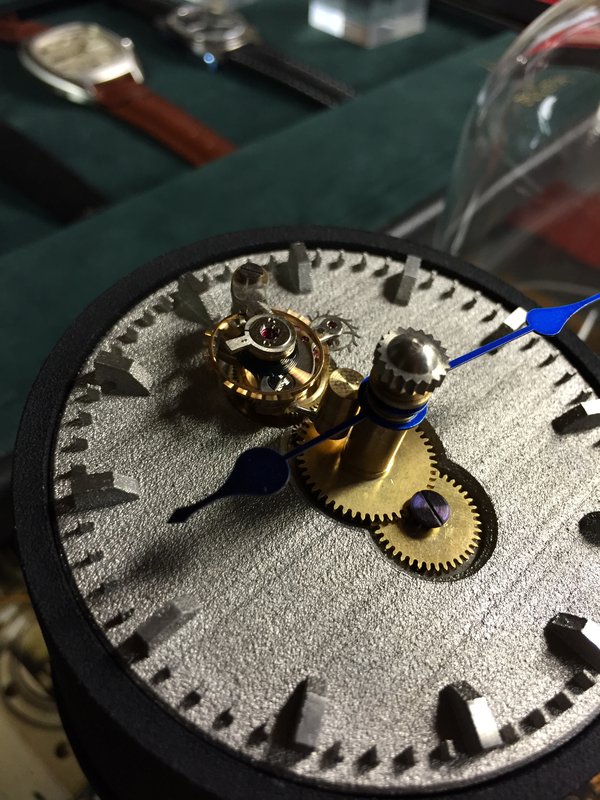 Till Lotterman and his home team colleagues offered a remarkable test exercise. Using original parts, they recut elements to form a tourbillon, brought out on the dial side of the movement, achieving real spectacle ( film here).
Not only this, they 3D printed a stylish stainless steel dial, and also 3D printed an open-sided plastic tubular case, with internal mirror to reflect the movement. Later we were treated to a lecture on the extraordinary possibilities emerging for 3D printing.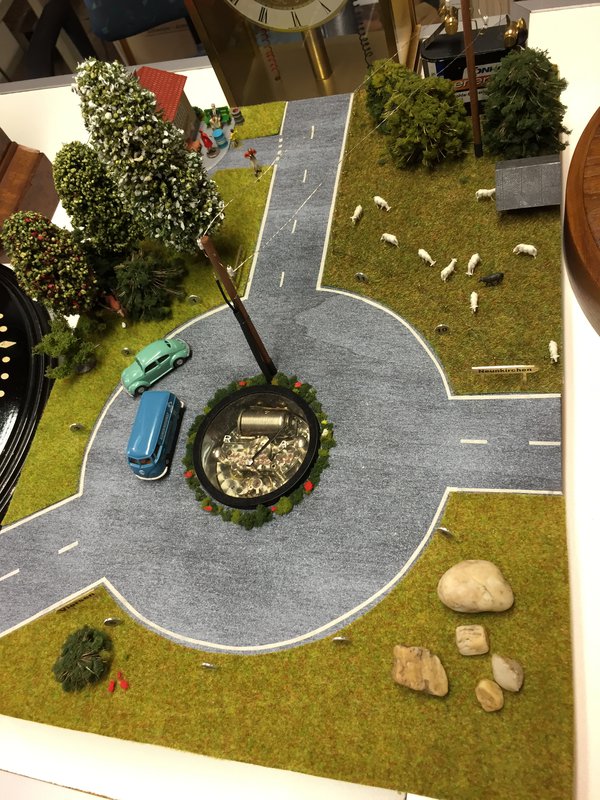 Finally, the most talked about item in the competition, Frank Dunkel's inspired diorama clock, using the Reform at the centre of a roundabout, driving hidden arms carrying neodymium magnets, in turn propelling a VW Beetle (minutes) and VW van (hours) against perimeter hour markers ( film here ).
Power even arrives by wire supported on telegraph poles. Absolutely inspired!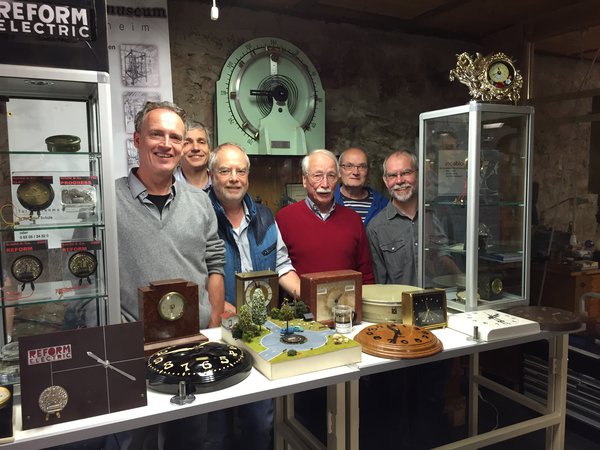 The whole party retired to a restaurant for the evening, at which, amidst characteristically heroic levels of consumption, we celebrated the amazing results of our competition – prizes all round.