Permission to come aboard
This post was written by David Thompson
All made in the 1580s, there are three surviving clock-automata in the form of medieval ships, made by Hans Schlottheim in Nuremberg.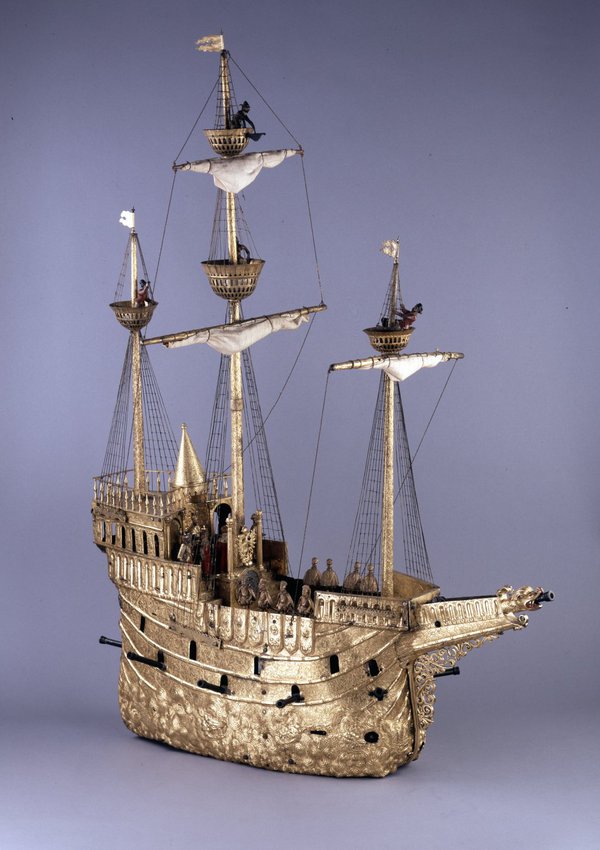 One, a silver nef made for the Holy Roman Emperor, Rudolf II, is in the Kunsthistorisches Museum in Vienna.
A second, larger and more elaborate example in gilded copper exists in the Musée de La Renaissance in the Chateau d'Écouen near Paris.
The third example similar in many ways to the Écouen nef, resides in the British Museum.
These automata ships were made as table decorations designed to trundle along the banquet table playing music and firing their cannons at the end of their performances. What a way to impress your dinner guests in the 1580s.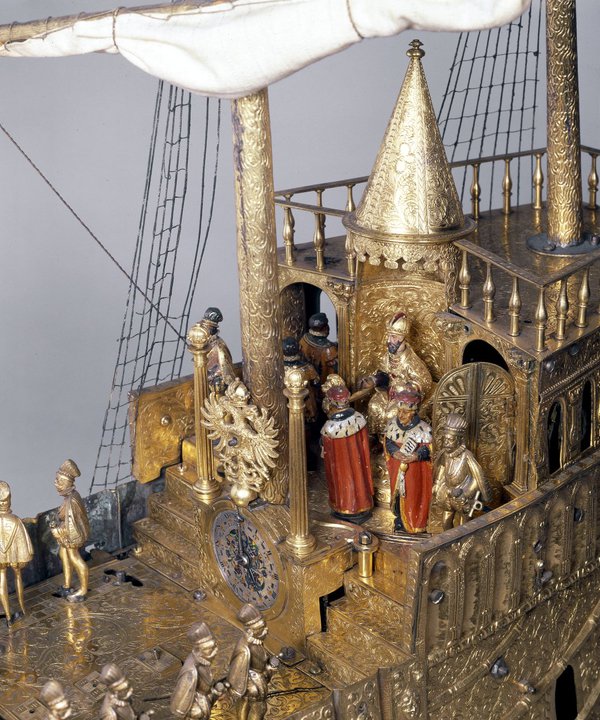 Looking at the British Museum nef, it is clear that, with the exception of just one figure standing on the upper rear deck, all the figures on the ship are more recent cast copies of this one original.
One of the problems with automata such as this is what happened when they went out of fashion. Clearly such a thing could not be shown as an impressive demonstration of wealth at banquets time after time.
It is known that the Augustus, Elector of Saxony (1526-1586) had one of these table entertainments – there is a detailed description of just such a machine in the inventories of the Elector's Kunstkammer from the 1580s. But what happened later?
You can just hear one of the guests at a second outing of the nef saying 'come on Augustus, we've all seen that, don't you have anything new for us?'
When the nef, became less of a wonder and more of a curiosity, you can imagine a small child insisting that the figures be removed so that they could be played with individually. After all, the machine itself had ceased to function properly years ago.
This is speculation of course, but it might well explain the absence of figures on the ship when it appeared in England in 1866 and was bought by Octavius Morgan MP who then gave it to the British Museum.