The humpback carriage clock
This post was written by William Oke
I have just finished studying on the Horology undergraduate course at Birmingham City University. For my final project, I built a humpback carriage clock and this project allowed me to research surviving examples of these to inform the design, gathering as much information as I could to create a record of those clocks. These are some of my findings.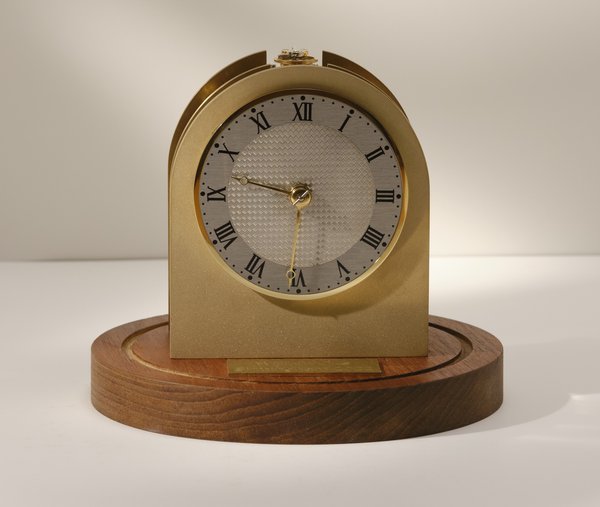 Abraham Louis Breguet and his son, Antoine-Louis, produced many fine travel clocks including the silver-cased 'pendule portiques' that were sold between 1812 and 1830 [1]. Features that are included in nearly all humpback carriage clocks can be traced back to these, including silver engine-turned dials, Breguet's iconic hand style and a number of complications necessary for travelling such as alarm, calendar work, and moonphase for travelling at night. I have been able to find records of eight of these in various collections.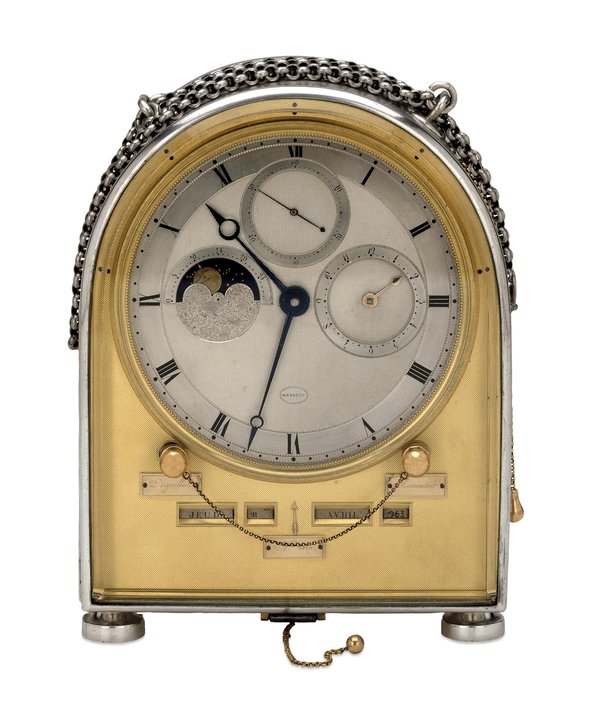 There are also contemporary examples by the brothers James Ferguson Cole and Thomas Cole. During his life, Cole was called the 'second Breguet' [2]; he made several complex humpback carriage clocks with retrograde astronomical work; the earliest example is from the year of Abraham Louis Breguet's death, 1823 [3]. There is a detailed description of this clock in the first volume of the Horological Journal from the time, which also states seven more were made in the subsequent 30 years [4].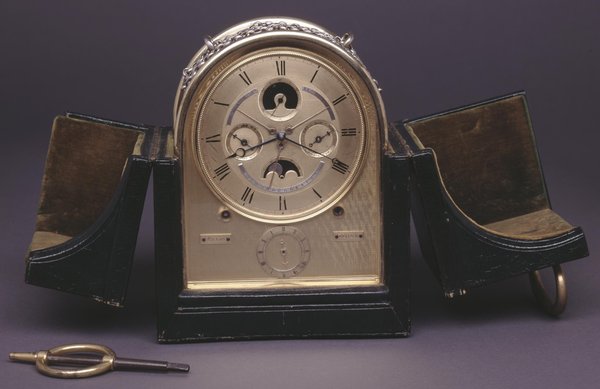 The English tradition of producing these clocks was continued by the London clockmaking firm Jump. The earliest example I have been able to find was sold by Ben Wright, hallmaked 1878 [5]. This clock was made for Francis Baring, 1st Baron Revelstoke, and three further humpback clocks were ordered from Jump by the Baring Bank partners Barons Northbrook, Ashburton and Cromer.
Until this Revelstoke example appeared on the market, the only other of these four whose whereabouts was known was the one made for Ashburton, which came up for sale at Sothebys in 1998. Interestingly, the Ashburton clock was described in a letter to Colonel R. Quill from A. Hayton Jump (great-grandson of the company's founder, R. Jump), who designed 'the last dozen' of these Jump humpback carriage clocks:
"the first of these clocks was made for a Lord Ashburton of the Victorian period before I was in the business. It cost the firm a load of money in time and trouble, for so many men had to make so many parts (the man that made the hands couldn't do anything else, etc. etc.). My father presented the bill to Lord A with trembling hands and apologised for the high charge. Lord A took the bill and wrote out a cheque at once for double the amount charged on the bill!!! And expressed his appreciation." [6].
The most recent examples of humpback carriage clocks were produced in the mid-20th century, firstly by Philip Thornton who made several in the immediate postwar years including one that was commissioned by Charles Frodsham & Co. to be presented to Queen Elizabeth, The Queen Mother (who was also in possession of the Breguet pendule portique, No. 2806) [7]. It is likely the last humpback carriage clock was made by Quill and J.S Godman in 1963, which was based on the clocks by Thornton.
These historic examples are rare but have been seen to come up for sale fairly regularly; there is no doubt that their pleasing design and the fine craft skill they display leave them as popular today as when they were first made.
Footnotes:
Daniels, G., 1975. The Art of Breguet. 2021 ed. London: Philip Wilson Publishers, pp. 78-79.
The British Horological Institute, 1859. Horological Journal, 1, p. 112.
Allix, C. & Bonnert, P., 1974. Carriage Clocks, Their History and Development. Woodbridge: Antique Collectors' Club Ltd.
The British Horological Institute, 1859. Horological Journal, 1, pp. 134-135.
Ben Wright Clocks Ltd, 2016. Jump, London. https://www.benwrightclocks.co.uk/clock.php?i=105 [Accessed 3 May 2021].
Allix, C. & Bonnert, P., 1974. Carriage Clocks, Their History and Development. Woodbridge: Antique Collectors' Club Ltd, pp. 289-90.
The Royal Collection Trust, n.d. Carriage clock 1947. https://www.rct.uk/collection/2943/carriage-clock [Accessed 18 April 2022].