A 68 minute weight – with verisimilitude!
This post was written by Jon Colombo
At West Dean College, first year clock students make a hoop and spur wall clock from scratch. As far as practicable we use techniques available to an eighteenth-century clockmaker. This gives the deepest understanding of the mechanics, aesthetics and the way historic clocks are put together. Verisimilitude is important, but not critical. When making driving weights, students usually use brass tube, topped, tailed and filled with lead. As a former archaeologist, I wanted more authenticity.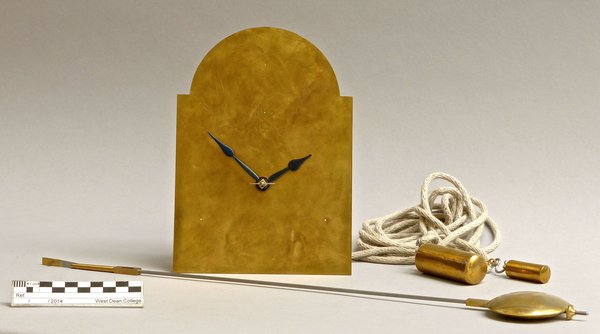 Examining a selection of old weights showed:
The joints do not seem to be soldered. Under a microscope, often the seam is marked by a thin copper-coloured line, likely to be loss of zinc from the brass.
The joints are not brazed. It is common for the skin to split along the joint. Were they brazed, failure here would be very rare.
Often the lead has shrunk away from both sides and hanger, leaving a hollow tube running down into the weight.
The bottoms are almost always domed.
The first two suggest a butt joint. The third that the lead is stuck to the skin. It could be just the filling holding the whole thing together. Cooling shrinkage cooling would pull the skin into compression, and explain the need for domed base. The logic was convincing; time to try it.
I cut a skin and domed base of thin brass sheet, tinned and wired them tightly together. I then embedded the shell in sand and poured in lead.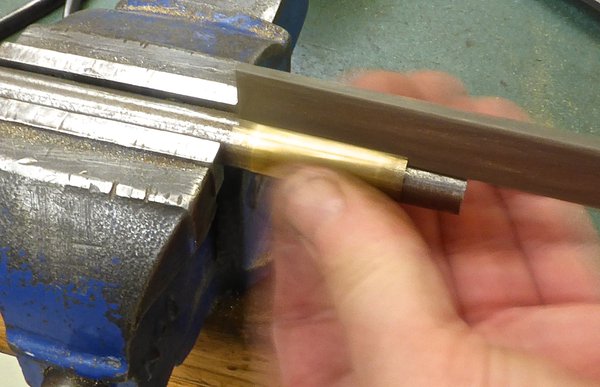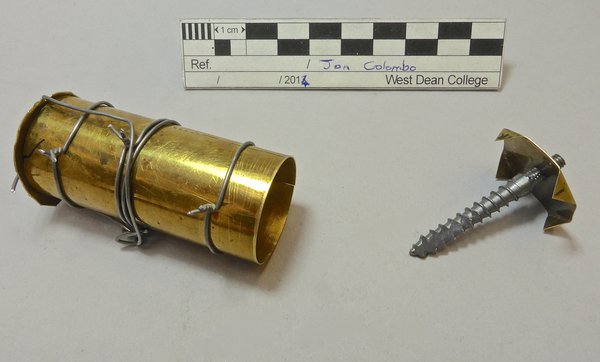 Manufacture is simple, quick, economic – sheet formed on bar, butt joint filed, wired up and ready to go; hanger made from old wood screw.
The results were pleasingly close to the originals. The lead bonds firmly to the walls, heating them enough for the outside to take on a copper colour. In cooling the lead pulls the joint tight and forms the right shrinkage patterns. When I cleaned the weight, the copper colour was often left in the now very tight butt joint.
If you fancy giving it a go, or are simply curious, http://westdeanconservation.com/2014/06/05/a-68-minute-weight-with-verisimilitude/ gives a bit more detail.