'I didn't see him take anything, but they're not here now'
This post was written by David Thompson
'Lost out of Mr. Garon's shop on Monday the 14th instant, a gold watch, hook chain and seal all gold, on the dyal plate Garon London, one silver watch the name Garon London, another silver watch the name Clyet Landon: If the said watches be brought to be sold, pawn'd, valued or amended, you are desired to stop the goods and party, and send word to Mr. John Milburn a watchmaker in the Old Baily, and you shall have 6 guineas reward or proportionable for any part, or if brought to the said Mr. Milburn, the party shall receive 6 guineas, and shall have no questions asked'.
Politicus Mercurius, London, 17th-19th November 1709
Advertisements such as this are common in the London newspapers from the reign of Queen Anne (1703-1714) and every one tells a tale. Just what happened here where Mr. Garon had three watches stolen from his shop we don't know, but by any account the event was unfortunate.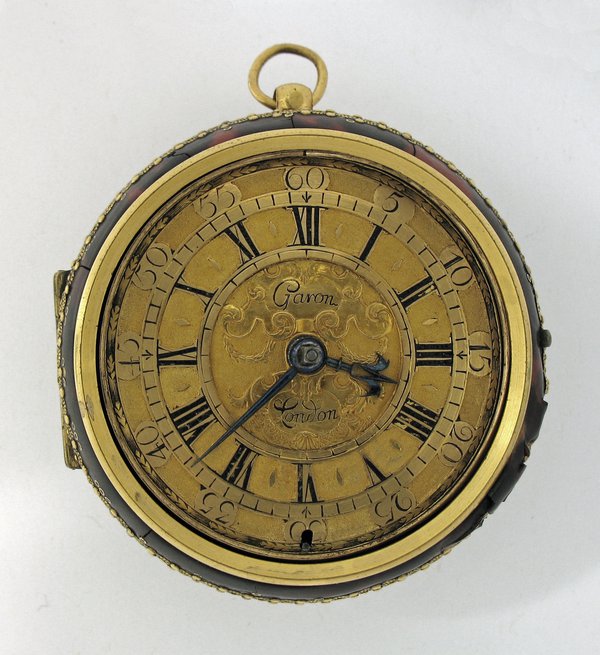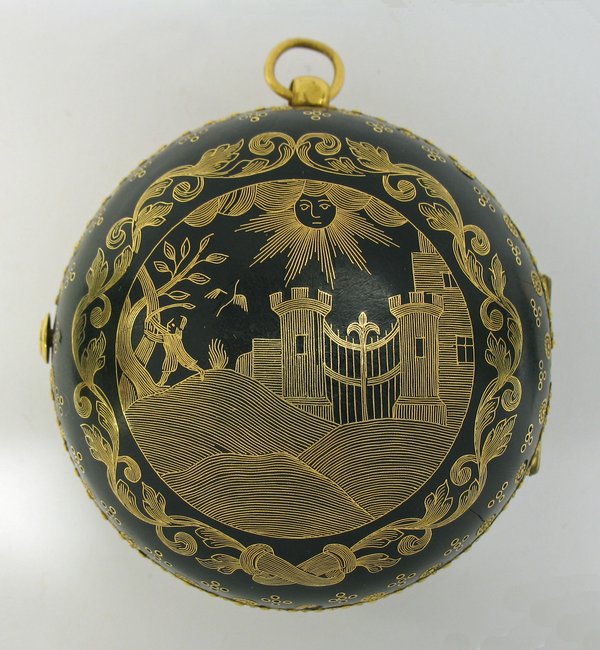 Whilst this watch by Peter Garon is not the gold one described, there is no doubt, judging from this example, that a Garon watch was not something anyone would want to lose. The tortoise-shell (turtle) outer case inlaid with gold wire is a work of art in itself.
Peter Garon was a Huguenot who was formerly known as Pierre Garon and he had something of a chequered career. Brian Loomes in Early Clockmakers of Great Britain gives the following account.
Peter Garon was apprenticed to Richard Baker in April 1687 and finished his term in 1694. However, because he was still an alien, he was refused freedom by the Clockmakers' Company but the Lord Mayor of London did grant that freedom in the same year. He became a Freeman in the Clockmakers' Company in August 1694.
In October 1696 he admitted forging the name of a Mr. Legrand on a watch of his own making. In 1697 he was warned about taking unofficial apprentices and by 1709 he was clearly in trouble again.
'Whereas the acting Commissioners in a Commission of Bankrupt awarded against Peter Garon of London, watch-maker, have certified to the Right Honourable the Lord High Chancellor of Great Britain, that the said. Peter Garon, both in all things conformed himself to the late Acts of Parliament made against Bankrupts: This is to give notice that his certificate will be confirmed as the said Acts direct, unless cause be shewn to the contrary on or before the 2d of March next.'
London Gazette 7th-10th February 1709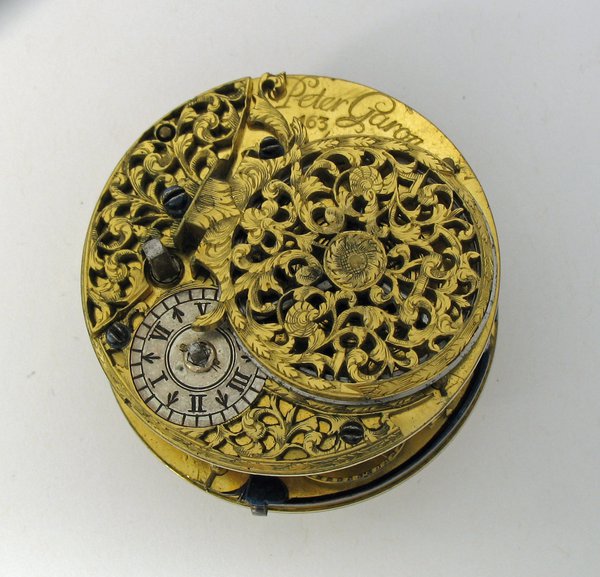 Note. We are hugely indebted to W.R. and V.B McCleod and John R. Milburn (no relation to the above) for their researches into the lost watch advertisements in London newspapers from the reign of Queen Anne.