Time in Old Bohemia
This post was written by David Thompson
Many thousands of people today have stood amazed in front of the Astronomical Clock in the Old Town Hall Square in Prague, but I wonder just how many have managed to make sense of the dial. In modern times, perhaps it makes little sense.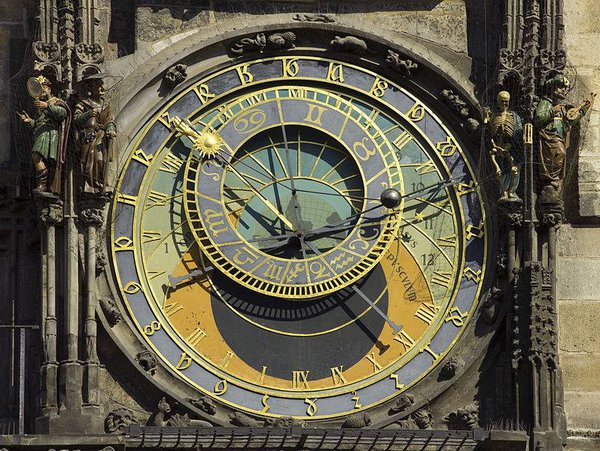 The clock was made by Jan Šindel in about 1410, and from as early as the 15th century, the clock had a 24 hour dial which showed the so-called Bohemian Hours, a system in which the day began and ended at sunset.
This means, of course, that the 24-hour ring around the outside had to be adjusted periodically so that the 24th hour coincided with sunset.
In the early part of the clock's life this was done manually, but later an automatic mechanism was installed to adjust the position of the ring. In medieval Prague, a knowledge of how long it was to sunset and the imposition of curfews in the city was useful knowledge. For instance – a simple glance at the dial indicating 19 hours tells you straight away that it is five hours to go before sunset.
As well as telling the time, the dial also has moving sun and moving effigies of the sun and moon, showing where in the zodiac they lie throughout the year. Useful astrological information.
The ecliptic circle with the zodiac signs and the sun and moon effigies rotate together once per day, but gradually over the course of the year, the sun and moon effigies with make a complete circle of the zodiac.
All this is achieved by some sophisticated gearing located behind the dial and driven by the clock mechanism in the tower. With the horizon circle with shaded buff areas, the periods of Aurora and Crepuscular, dawn and dusk are also shown,
Today, the clock is controlled by a more modern 'regulator clock made by Romuald Bozek in the 1860s, but for the most part, the clock mechanism is still that which has been in existence from the beginning of its history.
Looking at the illustration here, you will see that the time is just a few minutes past 13 hours. On the fixed chapter circle the time is shown just before IX o'clock in the morning and hour 24 is just before 8 o'clock in the evening – correct for a July date. The sun is in Leo and the moon is in Aries.
So next time you stand in front of this amazing clock, you can really show off by knowing how to read the dial.